This year, the Perk hired eight new baristas, four boys and four girls. This story features the four new girls who are getting in the swing of their new jobs as Perk baristas.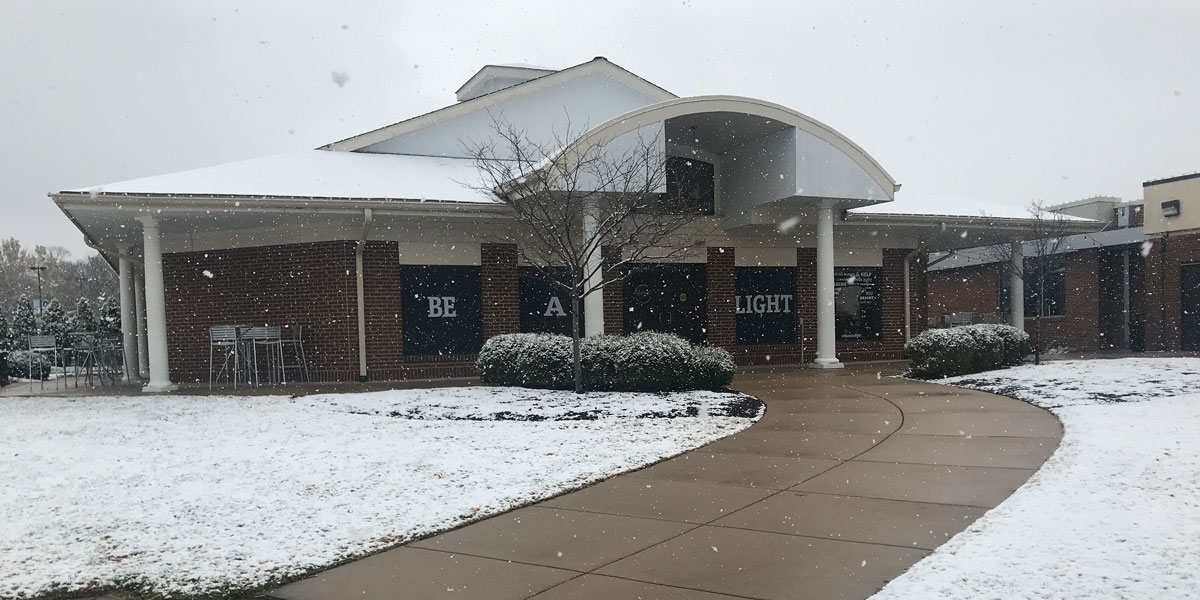 Photos by Haley Sandvoss
An exterior look at Missouri Baptist University's coffee shop the Perk, on a recent snowy day. The coffee shop, the largest free-standing college coffee shop in the state, is extra popular as a gathering place this time of year.
__________________________________________________
The Perk this time of year is filled with the smell of peppermint coffee and the sight of students buried in laptops near a warm fireplace where they huddle to bear Missouri winter weather.  
Missouri Baptist University is known for having one of the biggest coffee shops on a campus, students know it as the Perk.
This year the Perk has not only changed management, but staff as well, hiring eight new baristas — four girls and four boys — to take your order and make you a hot cup of coffee to keep you warm and caffeinated for a long day.
These new employees, four who are females, range from a variety of hometowns and majors.
Kelsey Keling, a sophomore nursing major from Troy, Missouri, has been working at the Perk since August, while sophomore Ally Gisher, a junior from Benton, Illinois, who is majoring in behavioral science, is new to the Perk this semester.
Kelsey Dotson, a junior from Labedy, Missouri, who is double majoring in special education and elementary education, is a seasoned student who started working at the Perk this school year, while senior Jessica Yost, a Christian ministry major from St. Louis, is the final new barista girl this year.
Training for these barista girls was very similar to the boys' training, starting off the semester as any new barista worker does, learning the ropes of the job. Even though they all went through it, each worker has a different story to tell.
For someone like Dotson, she only had about one quick hour of training.
"As silly as this sounds, it was really frustrating at first because I'm so short," said Dotson, who is 5-foot-1. "I can hardly see inside the pitchers when I steam milk for lattes, so if you don't already know who I am, I'm the barista that steams on her tiptoes."
However, Gischer and Keling both had previously worked at coffee shops, so coming to the Perk consisted of minimal new training.
"Training was fairly easy as I worked as a barista at a small coffee shop in my hometown called Cornerstone Coffee and Confections," Keling said. "The only thing that was a bit tricky was memorizing the drink recipes."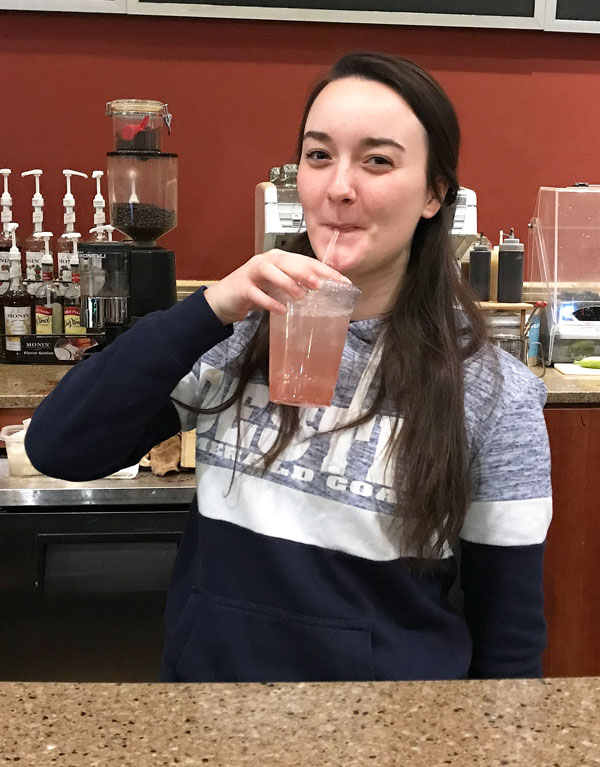 Yost had a good head start after asking previous baristas how to make certain drinks.
Another barista taught her how to "steam the milk, and the basic shots/flavoring ratios," Yost said. "Beyond that, it was up to me to look for videos to figure out latte art, as well as I was also able to ask my husband and roommate a lot of questions, as they have both been baristas for some years."
Baristas get to talk with and know whoever walks in their doors each day.
Working at the Perk means potentially making new friends and bonding with co-workers and customers.
Keling said she likes working at the Perk because it takes her out of her comfort zone.
Gaining skills and experience drew Yost to the job, while Gisher said she's on campus often and saw the open position as a way to use her free time and start memorable conversations.
If you happen to order a turtle latte at the Perk, be sure to keep an eye out for Dotson.
"I joke a lot with the baristas from last year that they all knew me as the 'turtle latte girl' before they knew me by my name," Dotson said. "If I wasn't sleeping or at observations I was at the Perk, and I finally came to the realization that if I was going to spend that much time at the Perk I might as well get paid to drink my turtle lattes."
Some days at the Perk are quite busy, if they are hosting an event or if it's after class and students are flooding in to get their coffee before their next class.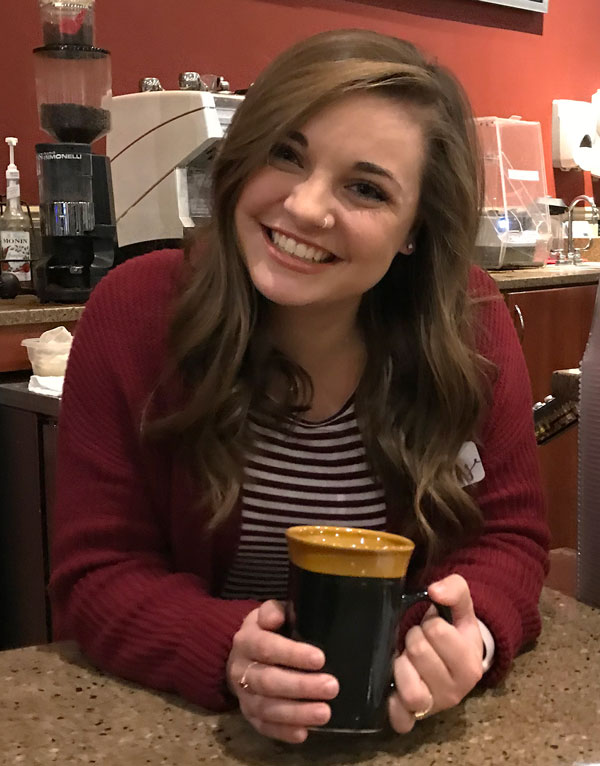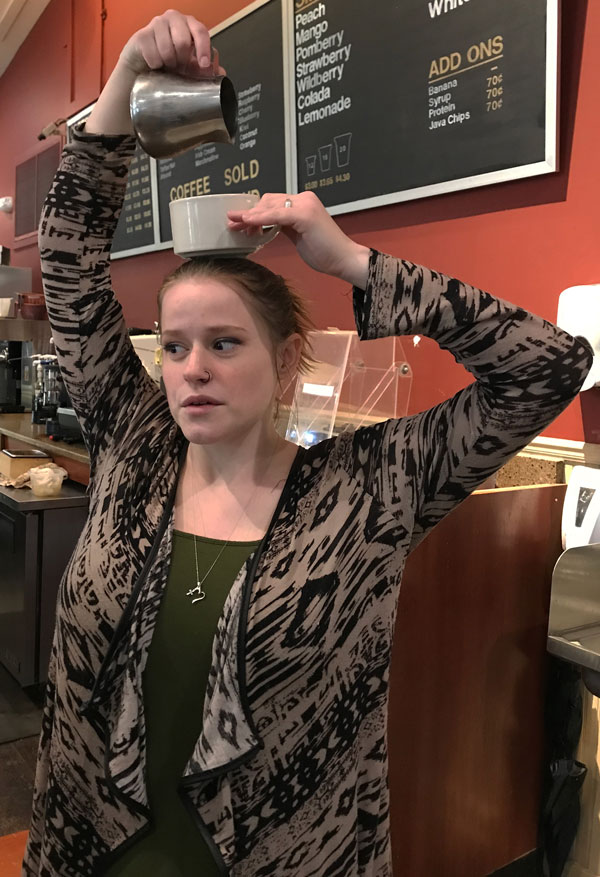 For Yost, there are times she gets busy with large orders coming in.
"Being busy is my favorite time to work because I really thrive in that work environment," Yost said. "When it's slow, I get to have some down time, which is also nice. You really get to see a lot of people and make a lot of people happy with the drinks you get to make."
Keling has the same work vibe of Yost. Times of hectic and calm cycle throughout the Perk, providing for casual conversations with customers from time to time.
Gisher strives to make the Perk an enjoyable environment for whoever walks through the doors.
"Aside from making drinks, we clean, make sandwiches, interact with customers and make sure the Perk is a friendly, chill environment to work and socialize," Gisher said.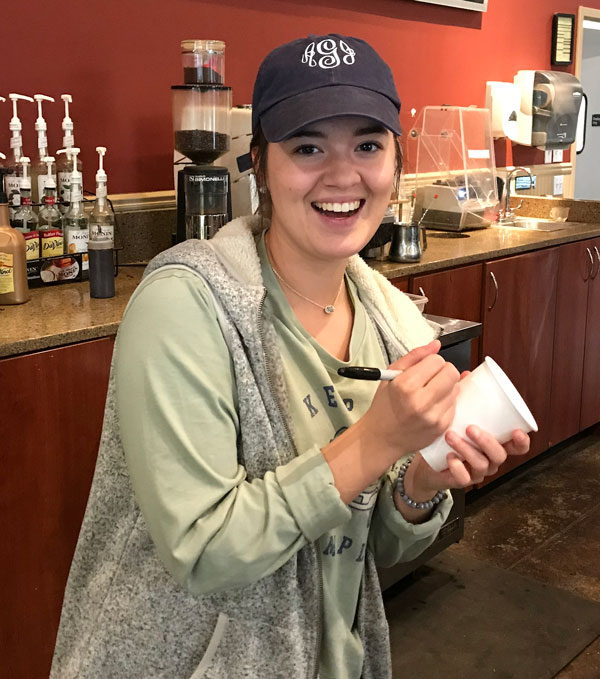 Only taking night classes, Dotson gets what she refers as "the leftover shifts."
"Since I have a pretty open schedule, my shifts are at random times of the day," Dotson said. "I love this because I get to meet a lot of new people and build relationships with almost all of our regulars."
If you run into one of these new barista girls, they can tell you their most memorable story so far while working at the Perk.
Dotson has two particularly memorable moments throughout this year.
"Most memorable time, when I spilled a 5-pound bag of coffee beans. Or maybe the time that Carter and I worked Spartan Preview Day a couple of weeks ago when it was nearly 85 degrees," Dotson said. "We must have made like 50 smoothies and frapuccinos within 15 minutes. It was so stressful, especially because we didn't have a manager there."
While they all enjoy the bonds and memories they've made, they each have their favorite drinks to make.
Gisher's favorite drink is a lavender latte.
"We only have the lavender syrup seasonally, but it's a must try," Gisher said.
Keling isn't a big fan of coffee, which may be surprising coming from someone who works at a coffee shop, but she enjoys making coffee with the many smells it can produce.
"To be honest, I don't really prefer coffee but my favorite drink to make is the brown sugar vanilla latte," Keling said. "It smells so good when you make it, and latte art is super fun to do, so that's a plus."
Yost said she can really get into the art that goes behind making a good cup of coffee.
"Honestly, any coffee drink is a lot of fun to make. There is such an art and experience in everything that you do to make it, from flavors, to pulling shots, to steaming and pouring the milk," Yost said. "Coffee smells so great and just makes me happy to work with."
Dotson doesn't have a favorite drink, just an all-around enjoyment for making latte art when the time comes.
When you walk by the Perk at MBU, stop inside and look for one of these four new barista girls and make a connection with them. MBU is all about making connections and growing, so head inside for a delicious drink and some enthusiastic company.
Also check out the four new barista boys who joined the team this semester.
Eight baristas new to the Perk this semester aspire to spread joy and caffeine to all.