The Missouri Baptist University Spartans women's lacrosse team looks forward to starting the new season after having a monumental year on the field in spring 2021. The team continues to work, build, grow and reflect together with sights set clearly on making history for their program and establishing a strong position within the conference.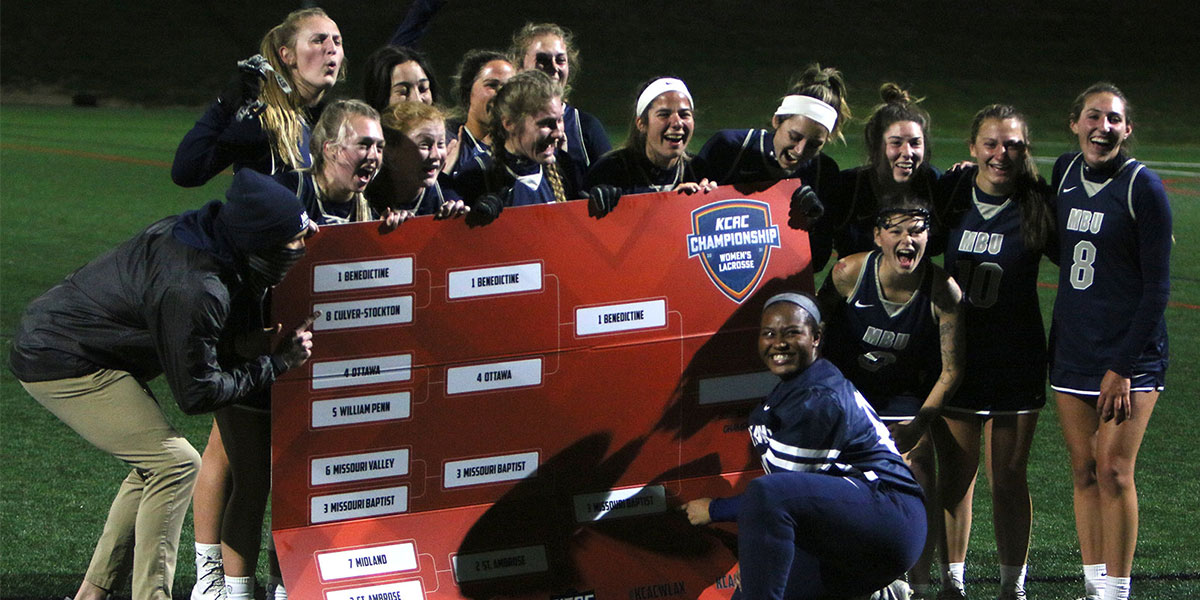 The MBU women's lacrosse team poses with the bracket poster as graduate Kaitlin Mills places the Missouri Baptist sticker in the position of the third and final round of the KCAC tournament after defeating No. 2 St. Ambrose, 12-10.     Photo by Dan Dotson

After a historic year finishing second in the Kansas Collegiate Athletic Conference Championship, the Missouri Baptist University women's lacrosse team has created high expectations for this upcoming spring season. 
Records were broken, awards were won, history and memories were made. The team was recognized for many achievements obtained last spring during the 2020-21 school year.
The Spartans finished the season with a 10-3 record (9-2 in conference), making it to the conference championship before losing to Benedictine College, the No. 4 team in the nation, at the Benedictine field in Atchinson, Kansas.
The Hall of Fame Banquet was held Oct. 3, 2021, in the SRC gym where nine individual lacrosse players were recognized for their hard work in juggling their athletic and academic careers.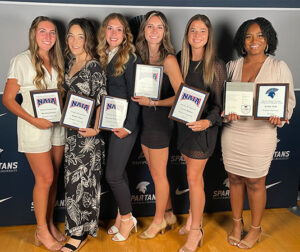 Student-athletes recognized during the annual banquet for earning NAIA All-American awards were: Rebekah Broughton, junior; Loryn Dotson, junior; Brianna Fischer, junior; Amelia Shaw, junior; Kamryn Bell, junior; Jordan Haeusser, senior; Jessica Scalise and Ashley Avery, who both graduated in May 2021 and are currently working on their master's degrees. 
Additionally, MBU graduate Kaitlyn Mills received the Champions of Character Award and Academic All-American First Team.
Even during an intense season, the women's lacrosse team achieved a 3.73 GPA, the highest cumulative GPA among women's spring 2021 sports.
Head coach Max Ruhl continues working toward his goal from last season, building the team by signing six new players, including four freshmen and two transfers, along with two graduates returning this upcoming season after being granted an additional year due COVID-19.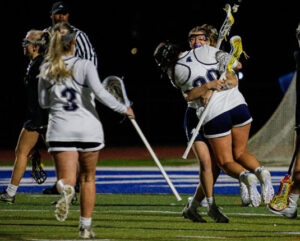 Building onto the coaching dynamic, Lindenwood University graduate Gianna D'Alto has joined the team as the assistant coach, adding her personal experience from the Division II Lions women's lacrosse team, who won the NCAA DII National Championship title in spring 2021.
The Spartans just finished their 2021 fall season, where they played a scrimmage game against Missouri State University on Oct. 22, winning against the Bears MSU club team.
Based on last season's positive results and Ruhl's projections for the upcoming season, the Spartans women's lacrosse team is expecting to have an even bigger impact moving forward with upcoming games. 
LOOKING BACK
Looking back over the past couple years, the women's lacrosse team had to face many challenges after losing their entire season back in spring 2020 due to COVID-19 and transitioning into a new season in spring 2021.
With the pandemic still around, the Athletics Department took numerous precautions before games last season by having regular wellness checks and COVID testing. If a player tested positive for COVID-19, the entire team had to quarantine for two weeks due to contact tracing.
Although these precautions were undesired, they only acted as a minor road bump for this determined squad.
"I think we'll play even harder than ever because there won't be anything holding us back anymore," Bell said back in February 2020, after she and her team ultimately lost their season. 
The team followed Bell's prediction a year later, in spring 2021, as they played one of their best seasons in team history, qualifying for the KCAC Championship for the first time in program history. 
There were plenty of changes made in the time between 2020 and 2021. Not only did they lose their 2020 season to the pandemic, but they lost their head lacrosse coach, Lindsay Carlile, who moved on to a different coaching job.
With Carlile gone, MBU Athletics was on the lookout for their next women's lacrosse coach, hiring Ruhl Aug. 1, 2020, as the fourth head coach in program history. He officially began on Aug. 13, 2020.
Some of Ruhl's experience in coaching began while working as a Fighting Scots student-athlete at Ohio Valley University, where he started a brand new NCAA DII women's lacrosse program in 2015 after he graduated.
He also worked at Frostburg State University as the strength and conditioning graduate assistant and assistant coach for Ohio University's Division I men's lacrosse club team.
Ruhl spent 2019-20 as the head women's lacrosse coach at NCAA Division III Gordon College until COVID-19 hit.
Having a new coach was not always easy for the Spartan players as the coaching dynamics were extremely different from what they were used to the previous year under Carlile, but the team was able to stick together and adjust to their new coach's stricter style of discipline.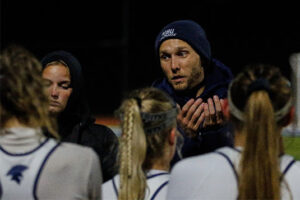 Coming to a program he had never worked with before in fall 2020, Ruhl had placed performance expectations on himself as a coach, setting personal goals based on information he had gathered by observing the team, including players' individual strengths, the ins and outs of the university, and gaining players' trust.
These factors would allow Ruhl to look for ways to help the program grow in confidence and perform at a higher level.
"I wanted to come in and start the process of creating a more competitive culture amongst the current team members, to help them see their potential and see who would rise to the challenges ahead," Ruhl said in a text message. "It was an opportunity to take a program that had not yet met its potential at an institution that has the facilities and necessary support to become a nationally ranked program."
After many months of practice, training and changes, the MBU women's lacrosse team was ready to begin their first-ever full KCAC season, which was ultimately more than what they had predicted as they had their best performance to date with an overall record of 10-3 in the COVID-shortened season.
"We only had a few games, so no one got to see the potential that our team had. Now that we have played multiple games and built up chemistry, it is evident how good we really are," Chayleb Deves, a junior midfielder from St. Louis, majoring in marketing, said in a text message reflecting on her freshman year season.
Throughout last season, the team broke several records, one game at a time, despite their small roster of 14 players.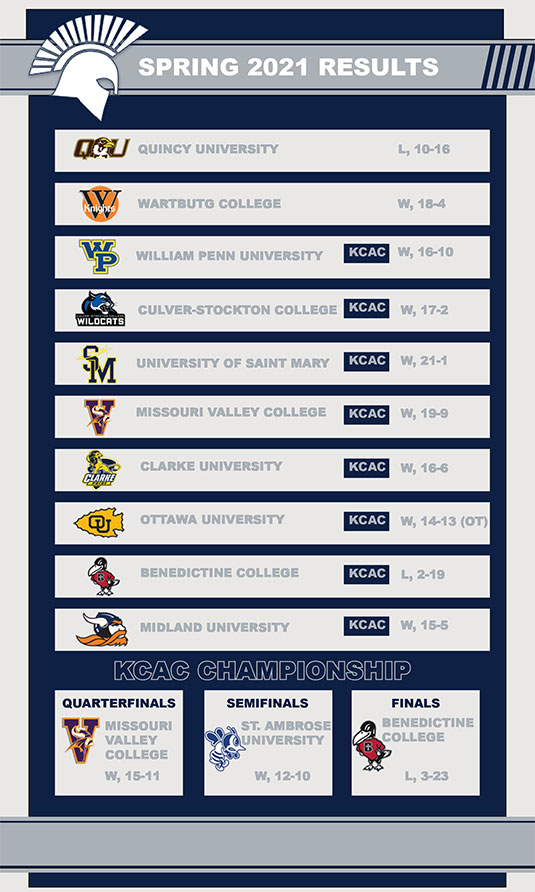 The first major record broken was at their game against Culver-Stockton College on Monday, March 15, 2021, where they had eight different goal scorers in a single game, which had never been done before. 
The next game, the Spartans played against the University of St. Mary's on Thursday, March 18, and matched the program's highest scoring game with 21 goals, which had not been done since 2015.
"For us it's not about individual records or stats, it's about the team and our pursuit to win together," Ruhl said.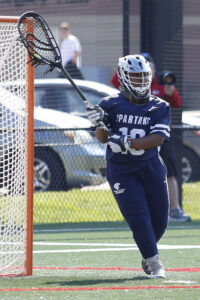 Players and coach agreed the Spartans' game against Ottawa University on Thursday, April 8, was the biggest win and proudest moment together, as they were neck and neck the entire game, beating Ottawa in overtime, 14-13, as Mills made a game-clinching save in the cage and Bell scored the winning goal that gave the Spartans the No. 3 seed in the KCAC Tournament.
The pivotal game also included a pivotal moment, a quick decision by Ruhl during a timeout when he laid out a plan to win the game, but as that plan was falling through he yelled "cycle" to his players, which means the two players behind the net would play against the goal circle. The complete change of plans paid off as the Spartans sealed the historic victory.
"We came together and did something in a split second without coaching, it was a moment where we trusted ourselves and what we were capable of," Ruhl said. 
Although these were key moments for the season, the team did face a few minor setbacks, but they were able to power through and finish strong.
Ruhl said what surprised him most was "how this team responds to adversity. We've had two major setbacks from COVID-19 outbreaks, played some very difficult games, and still we are sitting at 9-2," Ruhl said in a text. "That doesn't just happen with coaching. That happens because individuals come together and believe in who we are and what we are capable of."
The team has been proving its athletic ability, but the small bittersweet moments have created a strong family atmosphere and team chemistry, on and off the field.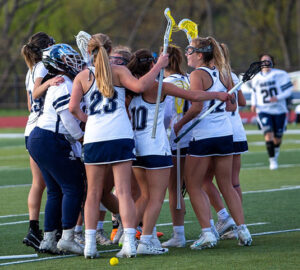 "The family atmosphere on this team is the reason why we are able to do what we do. We all love being around each other and have laughed more around each other than I have in my entire life," said Haeusser, a business administration major and MBU midfielder from St. Louis.
After the Spartans finished last season by claiming the No. 3 seed in the championship tournament, they played against No. 6 Missouri Valley College on Saturday, April 16, 2021, winning 15-11 and pushing them to the semifinals against No. 2 St. Ambrose University on Thursday, April 22.
At the semifinals game, MBU took control of the field and beat the Bees 12-10, allowing the Spartans to move into the Championship game against Benedictine College on Saturday, April 24.
"It was a hard fought game, but we felt more comfortable than we have in the past. We played true to ourselves and gave it all that we had," said Broughton, a pre-medical biology major and defensive player from Wentzville. 
After finishing last season as runner-up in the KCAC Championship Tournament the Spartans earned the first spot outside of the Top 10 in the final NAIA Women's Lacrosse Coaches' Poll.
After the Spartans defeated the No. 2 and No. 3 seeds in the conference, St. Ambrose got knocked down from 36 votes in the Top 10 ranking to 25 votes, and Ottawa dropped from 24 to 4, allowing MBU to go from 3 votes to 33 votes in the final round.
"Regardless, be proud of this year and how far we got," Ruhl said to the team through a text. "You impressed a lot of people and won some big games this year."
Now that Ruhl has been able to get to know the team and how they play, he has set new goals for the program for spring 2022, both for their performance and personal growth. 
"[Some goals are] winning against every conference school, receiving top 10 ranking, winning a conference championship, making the national tournament, but most importantly is building up a group of individuals who believe in what we are after," Ruhl texted.
Finishing the 2021 season just one win shy of a conference championship has motivated a team that continues to grow as players commit to their beliefs and goals, putting extra work outside the season.
"[As a team, we expect] to play wholeheartedly for each other and to work relentlessly on and off the field to become successful individuals who know how to work together," Ruhl said.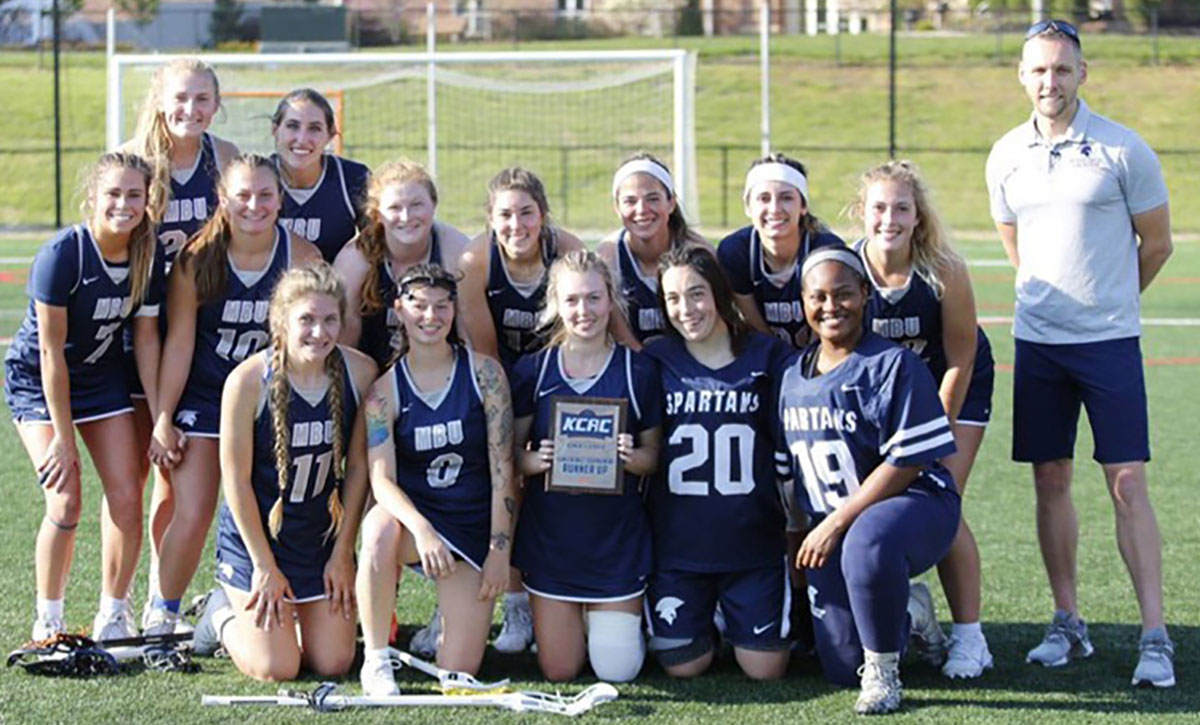 The MBU women's lacrosse team poses with the Runner Up plaque after finishing the game against Benedictine. The Spartans played against the Ravens in the KCAC championship game but lost, 23-3. Top Row: Chayleb Deves, Brianna Fischer. Middle Row: Jordan Haeusser, Natalie Patrick, Melina Custer, Caroline Karr, Loryn Dotson, Kamryn Bell, Rebekah Broughton, Max Ruhl. Bottom Row: Jessica Scalise, Sameera Hammad, Ashley Avery, Amelia Shaw, Kaitlin Mills.     Photo courtesy of Kamryn Bell