With Super Bowl Sunday just around the corner, Missouri Baptist University's students, staff and faculty share what their plans are for this year's Super Bowl and reminisce on how the game of football has touched their lives. And don't forget, a Super Bowl party will be held Sunday, Feb. 13, in the Dining Hall. Kickoff is 5:30 p.m.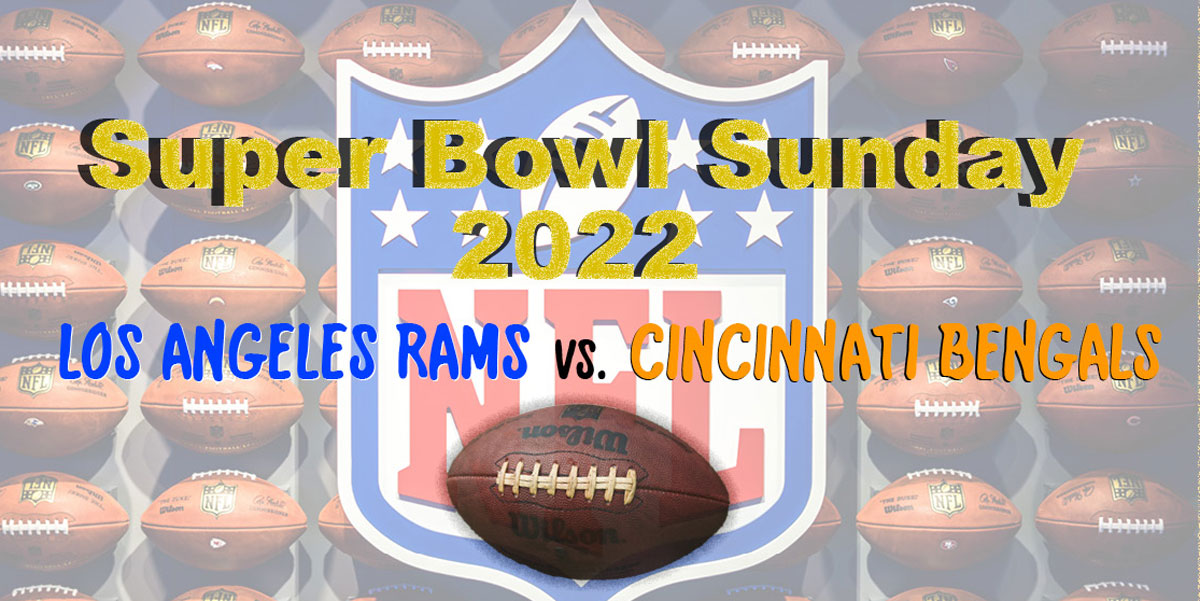 Tune into Super Bowl LVI to watch the Los Angeles Rams play the Cincinnati Bengals to see which team will win the coveted Vince Lombardi Super Bowl Trophy.     Graphic created by Jessica Kunkel
TOUCHDOWN! "You just won the Super Bowl, what are you going to do next?" 
Every year as the NFL kicks off, football fans across the nation root for their team, hoping they make it to one of the biggest sporting events of the year — the Super Bowl. 
This year, Super Bowl LVI is scheduled to be played at 5:30 p.m. on Sunday, Feb.13, at SoFi Stadium in Inglewood, California, where the Cincinnati Bengals and the Los Angeles Rams will go head-to-head to claim the desired 2022 Super Bowl trophy.  
With the enthusiastic atmosphere that comes with the Super Bowl, this Sunday is sure to bring fun-filled Super Bowl parties and gatherings.
Needless to say, MBU students and faculty alike are ready for Super Bowl Sunday.
Julie Moores Shares Family Football Fun
Football has found its way into the homes of America dating back to the 1800s, and with the sport comes competitive action and an entertaining atmosphere. 
For Julie Moore, Institutional Review Board coordinator and doctoral office assistant, football was a big part of her childhood growing up, which has carried into her love of many aspects about watching the game today.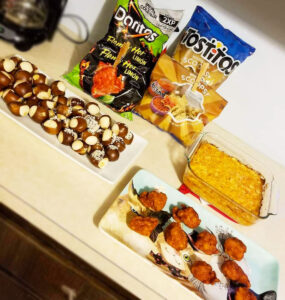 "Football was a very big deal in my home growing up," said Moore. "Both my dad and my younger brother, Eli, loved football. Football was on every Thursday, Saturday, Sunday and Monday. It was NFL on Thursday, Sunday and Monday, and college football all Saturday."
Throughout her life, football was at the epicenter of Moore's household and she appreciated the strong bond it created within her family.
Since Moore can remember, she and her family would spend time each week making football picks whether it be college or NFL teams. 
"Every year, Eli will get out a new notebook and write out each week of football games. Each week, we will pick who we want to win each game and Eli writes our picks in the book. At the end of the week, he tallies our scores and sends us an update of who had the most picks right. At the end of the year, the person who picked the most weeks right gets bragging rights until the next football season," said Moore.
Moore's family picks their teams differently and utilizes different methods of research on how they choose the team they think will come out victorious. 
Specifically for Moore, Super Bowl Sunday has been a blast because in the past there have been many other events that have fallen on this particular day. 
"The Super Bowl has coincided with my birthday (Feb. 2, and also Groundhog's day) two times — 2014 and 2020. The two times it has been on my birthday were very special to me. In 2014, a friend and I coined the term, "Happy Super Groundhog Birthday Bowl." And my friend asked the Walmart bakery to put that on a cookie cake. In 2020, it was more bittersweet: My dad passed away in March 2019, so my birthday in 2020 was the first without my dad. For the Super Bowl to fall on my birthday — a sport my dad loved on the birthday of someone he loved — made it a little extra special to me, even though he was gone," said Moore. 
Though this special party only occurred twice for Moore, these two incidents made her happy because she could celebrate her birthday while also celebrating something that was special to her dad.
Without her dad, the Super Bowl and her birthday in 2020 was more memorable for Moore because her other family members made this day extra special to honor her dad and his love for football.
This year, Moore is excited to watch the Super Bowl with her friends and family, keeping her dad at the forefront of her celebration.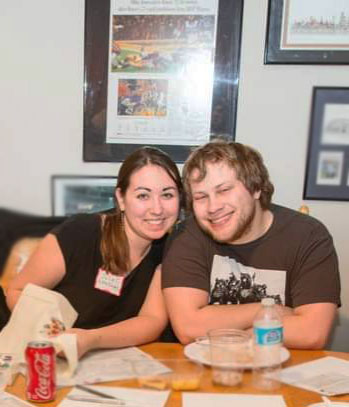 "Because the Chiefs did not make it, my Super Bowl pick is the Cincinnati Bengals. Go Orange Cats!" Moore said. "My favorite thing about the Super Bowl is the time spent with family and friends, delicious snacks, funny commercials and the comradery around watching a game together.

Celebrating and watching the game of football wouldn't be complete without friends and family, and because of her family's fondness for the game, Moore has been able to make lasting football memories.
Ethan Metzler Celebrates the Super Bowl
Similar to Moore, Ethan Metzler enjoys the game of football and is looking forward to watching this year's Super Bowl.
"Each year before the Super Bowl I like to try to get outside and throw the football around and move around before I sit and watch a game for a few hours," said Metzler, residence director of Pillsbury Huff Hall, who played football for MBU as a student-athlete. 
Some people get so invested in watching the Super Bowl that they forget it can be a large time commitment, but Metzler gets pumped up for the game by messing around with a football beforehand.
As one of the leaders of reslife activities, Metzler will be helping with and attending a Super Bowl party on MBU's campus, scheduled for 5:30 p.m. Sunday, Feb. 13, in the Dining Hall.
MBU students are sure to attend this watch party as it is such a great opportunity to enjoy some delicious food, fellowship with friends and cheer on the upcoming Super Bowl champions. 
Though Metzler will be helping with the MBU Super Bowl watch party, he plans to find some time to watch the game and have a good time with all those who attend. Metzler is a big football fan but he isn't rooting for any particular team.
"This is a rare year that I am good with whoever wins," Metzler said. Being a (Denver) Broncos fan, it would be cool to see Von Miller win another Super Bowl since we just traded him to Los Angeles this year. But the Bengals haven't ever won a Super Bowl, so that would also be cool to see."
Metzler appears to be knowledgeable about the game of football and has predictions about how he thinks the game will pan out.
"If the Rams can get their offense going and give Matthew Stafford good protection to throw the ball to their playmakers like Cooper Kupp, the Rams have a pretty good chance to win," said Metzler. "The Bengals defense has to play the way they did against the Chiefs in order to win this one. I predict that the Rams win 27-17 over the Bengals, and Cooper Kupp wins the Super Bowl MVP. I hope the commercials will be funny, and the halftime show will probably be inappropriate like it usually is."
Triston Buckley Reflects on His Favorite NFL Team
Sometimes the Super Bowl can be bittersweet for fans who hoped their favorite team would make it to the big game but fall short of being eligible by a loss of a conference championship game.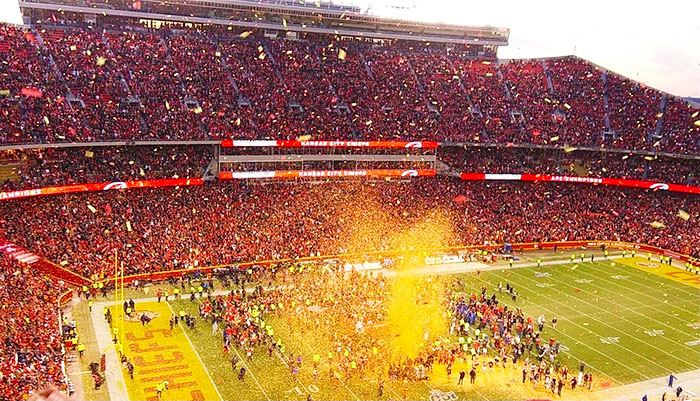 For Triston Buckley, a senior communications studies major at MBU, this feeling is all too familiar. 
"I definitely had the Chiefs making it to the Super Bowl this year again," said Buckley. "It's unfortunate we aren't in the big game but overall we were able to accomplish so much this season, battling numerous adversities to make history. I was really hoping that Tampa would make it as well so that we would have a chance to get revenge after the loss last year."
Buckley has been a Chiefs fan since he was born and has rooted for them to make it to the Super Bowl every year once the NFL kicks off. 
"My dad grew up in Kansas City, so I was really born a Chiefs fan. The day I was born, the Chiefs were playing our ultimate rival, the Raiders. My dad put a Chiefs hat on me, and from then I was a fan. From growing up watching Trent Green throw corner passes to Tony Gonzalez, and watching the hard seasons where we only won two or four games, to the present with Patrick Mahomes leading us to four straight AFC Championship games at home. Chiefs Kingdom is by far the best and loudest fan base," said Buckley.
Being a Chief was a formidable part of Buckley's upbringing. Despite the highs and lows that the Chiefs have endured throughout the years, he is a relentless fan that will support his team no matter the outcome.
"Being a Chiefs fan my whole life, we've had some rough patches. It wasn't till the past four years where we really found another kind of success." 
Buckley had an opportunity to watch the Kansas City Chiefs play the Cincinnati Bengals in the final Conference Championship game at Arrowhead Stadium in Kansas City, Missouri, on Sunday, Jan 30.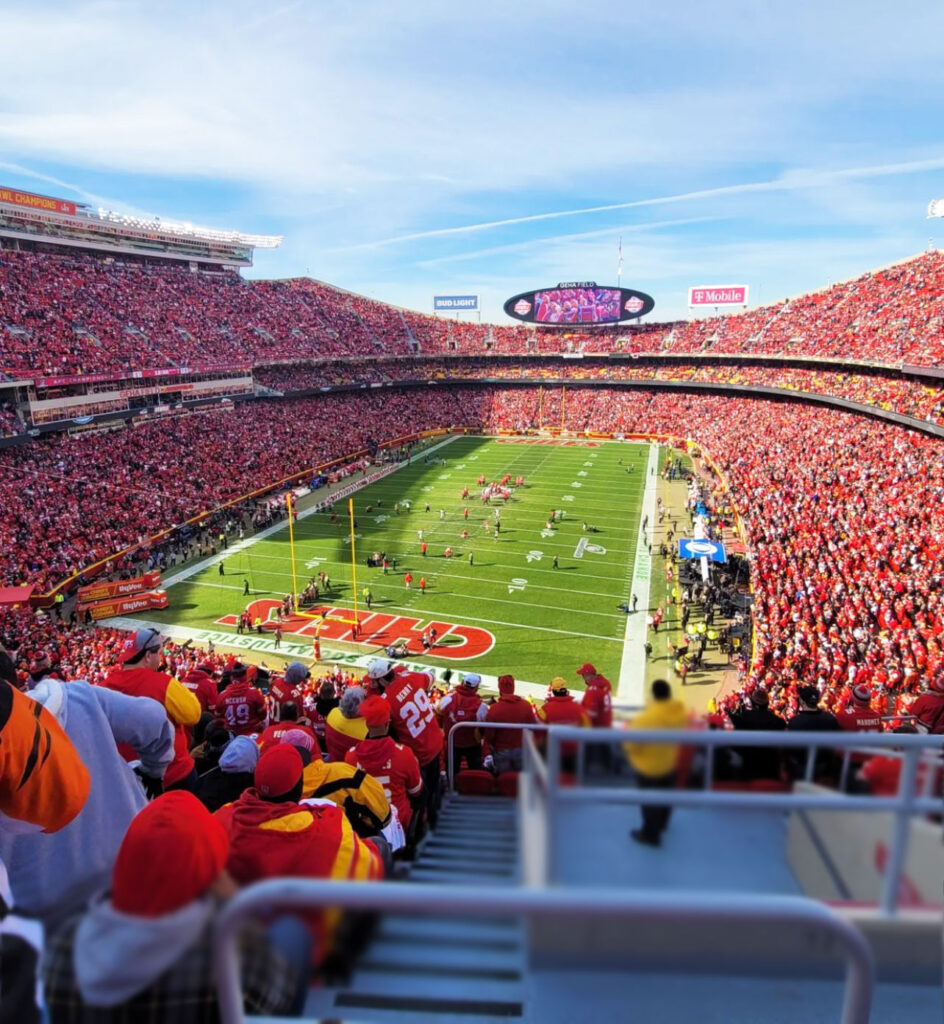 "Arrowhead is one of my favorite places to be in the world. It's by far the loudest stadium in the world," said Buckley. "Us Chiefs fans are extremely passionate about our team and when it comes to game day, it's our job to make it as difficult for the opposing team as possible and get Arrowhead rockin'. There is a reason Arrowhead is the loudest stadium on the planet and on a sold-out Sunday playoff game where the loser goes home, there is nothing that compares to the overwhelming and electrifying environment that you get when you attend a Chiefs game. Just being able to be in that stadium with so much on the line gave me goosebumps."
According to Buckley, this was the peak of the NFL season for Chiefs fans across the nation, so for the Chiefs to lose to Cincinnati, 27-24, was quite the deficit for this esteemed fan base.
In the past when the Chiefs did make it into Super Bowl Sunday, Buckley and his family would adorn his house in Chiefs gear they have accumulated over the years and tune in to the big game to support their team. 
However, though his beloved Chiefs did not make it to the Super Bowl this year, Buckley is hopeful for next year's NFL season, remains faithful to his team, and can't wait to see them back in action next year. 
"Although we didn't accomplish our goal of making it to the big game, I have no doubt under Coach Andy Reid that with the number of leaders we have on our team that we will be in this position again in the near future."
Carissa Steele Predicts a Fun-Filled Sunday
Unlike Buckley who has devoted himself as a highly esteemed Chiefs fan, Carissa Steele is simply looking forward to hanging out with her friends and family to watch the game.
"My family goes to a friend's house to watch the Super Bowl," said Steele, a senior business management major at MBU. "In the past, MBU reslife has had Super Bowl parties and I've gone to those."
As the 2022 NFL season played out Steele had some initial team picks of who she thought would end up making it to the Super Bowl. With the Rams and Bengals going head-to-head, she expressed who she anticipates the winner will be.  
"My initial picks for this year's Super Bowl were the Packers and the Bills, but I am now rooting for the Bengals 100%."
Steele is hopeful the Bengals will win this year's Super Bowl and is looking forward to viewing the game on TV this Sunday.
From forming family traditions to building intense fan bases, football is a loved sport that has touched the hearts of many, with its competitive nature and energetic environment.  
Though some teams anticipated to make it to this year's Super Bowl will not be playing this Sunday, students and faculty at MBU can't wait to watch the game as they rally together and cheer on the team they think will win, creating lasting memories as they await the results of Super Bowl LVI.