MBU Athletics has hired a new and younger head coach who is already familiar with the men's and women's tennis programs. Krista Tyson, a 2018 MBU graduate, has taken the reins as head coach for MBU tennis, and she is leading the teams with a philosophy focused on consistency and demonstrating God's love.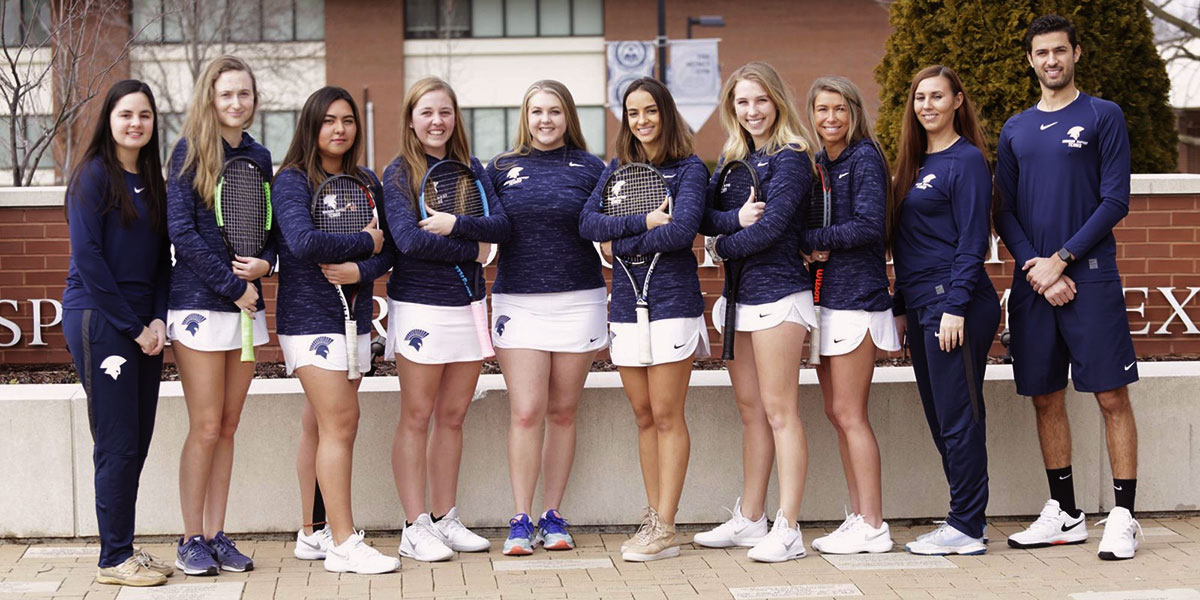 The 2019-20 women's tennis team includes, left to right: Head Coach Krista Tyson, Geena Novelly, Laura Baracaldo, Faith Griese, Madison Feick, Francielly Morena, Hannah Chaney, Maria Brandt, Graduate Assistant Nadin Antic and Graduate Assistant Naoufal El Idrissi.     — Photo courtesy of MBU Athletics
__________________________________________________
Missouri Baptist University men's and women's tennis began the 2019-20 academic year with a new head coach, Krista Tyson, 24, who played on the MBU women's tennis team for three years while an undergraduate and spent one year as a graduate assistant coach for the men and women. 
Not only has Tyson been part of MBU's tennis team before she became head coach, but she has studied at MBU as well, graduating in May 2018 with a major in English and a minor in Spanish, and she is currently pursuing a Master of Arts in teaching.
MBU has provided Tyson with more than just an education, but also a love for tennis, which began at the age of 10 in her hometown, Jacksonville, Florida, and grew into a greater love when she played on the collegiate level at Florida State College for one year before coming to MBU and playing for three years. 
"I love tennis, and I am very competitive. I think what sealed it was watching my sister play her college matches and wanting that competition and intensity for myself," said Tyson, whose sister, Andrea Tyson, played collegiate tennis at Florida State College at Jacksonville. "I love everything about college tennis."
Tyson said she remembers how that love for tennis grew because of a man named Robert Sweat, a local tennis player who spent his retirement years teaching kids how to play tennis at Boone Park in Jacksonville, and invested in Tyson from being a young beginner to a college coach.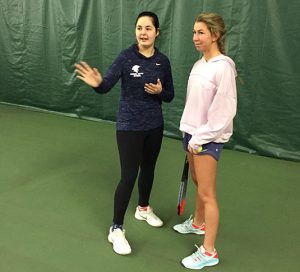 "He taught me throughout my years as a child and a teenager until I was old enough to play high school tennis," Tyson recalled. "He was a man who spent his days at the tennis courts in my hometown and taught kids how to play tennis for free. He taught me to play classic tennis. He had a huge impact on my tennis life and still kept up to see how me and my sisters were doing until he passed away in 2018. He was a huge influence on my love of tennis."
Though Tyson loves the sport, it is the experience that is most valuable to her. "The experience of being a part of a team that is working hard to achieve the same goal is the most valuable part of college tennis for me," Tyson said. "I learned a lot about life on the tennis court with my teammates."
One of Tyson's old fellow teammates on MBU's men's tennis team, Seth Grady, 20, a junior majoring in English with a minor in history, is one of the few remaining athletes who played tennis with Tyson before she graduated and knows of life on the tennis court with her as a teammate, graduate assistant and coach.
"I appreciated how she treated everyone on the team. She treated everyone with kindness. She competed really hard too," Grady said. "She's very personable now, and she's understanding. She works hard, and she does the very best she can."
Another of Tyson's former teammates on MBU's women's tennis team and now one of her players, Geena Novelly, 20, a junior majoring in business administration, agrees with Grady about Tyson as a teammate, graduate assistant and coach.
"I really got to know her when I was a freshman. I thought she was so good at what she did, and I can see why our previous coach liked her so much and why he picked her as the graduate assistant last year because I saw quickly that she really cared about this team," Novelly said. "Even though she hadn't played with us for very long, everybody looked up to her and everybody loved her."
Tyson explained the philosophy she lives by, which is easy for people to identify, like Grady, Novelly and MBU men's and women's previous tennis coach, Cole Stevenson, who coached MBU tennis for six years.
"I try to treat people with the utmost respect. I believe that every person is valuable and should be loved. While sometimes I may fail to do that, I am always trying to treat people like that," Tyson said. "I think the way I act on court should be consistent with the way I act off court."
Acting consistently and loving everyone are invaluable characteristics of a coach, which Tyson is implementing at MBU. 
"I plan on continuing doing what is right and try to be consistent. Consistency is something I definitely need to improve upon," Tyson said. "I just need to be clear about expectations for the team and stick to my guns."
But sticking to her guns with the MBU men's and women's tennis teams has required more of Tyson than she thought it would. 
"The challenges I face are ones I did not even think about when becoming a head coach. I think the biggest challenge for me being a recent graduate is feeling the need to prove myself and gain the respect of the team," Tyson said. "I do not feel as though I am truly seen as a head coach yet."
A challenge Tyson has had to deal with is the authority role of her job, which has taken some time. 
"I have had to change how I carry myself. I realized when I stepped up I had to be the leader, I had to be stern, and I had to be the punisher. The hardest part was figuring out what was a proper punishment, and I had to be OK with some of the people who I played with being mad at me," Tyson said. "Although now I am used to it, at first it was kind of hard."
Another adjustment Tyson has made is differentiating herself apart from the team.
"At the moment, my least favorite aspect of coaching is how lonely it can be. … It can be lonely going from playing alongside people and even being somewhat of a peer to them, to being in charge and having to be the 'bad guy' sometimes," Tyson said. "The social aspect of team tennis had to shift for me, and I think that was hard for me to realize that even though I am not that far in age with the team, I still have to separate myself in some ways."
Although Tyson is aware that coaching can present its various challenges, it did not impede her from taking this job and she is thankful she did.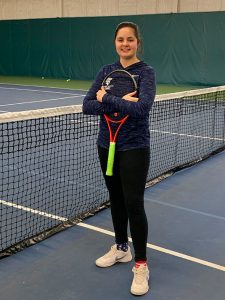 "I have always wanted to coach in some capacity. However, the head coach at a university was a bit of a surprise. Ideally, I wanted to teach English as a second language and coach tennis on the side," Tyson said. "But now that I have this job, I cannot imagine wanting to do anything but coach college tennis. It has its ups and downs, but seeing improvement and making a difference is addicting."
Another addicting component for Tyson as a head coach is the competition and the atmosphere with her men's team: Rodrigo Aguiar, Seth Grady, Donald Kern, Hillary Ncube and Patrick Szymczak; and her women's team: Laura Baracaldo, Maria Brandt, Hannah Chaney, Madison Feick, Faith Griese, Francielly Morena and Geena Novelly.
"My favorite aspect of coaching is definitely the matches and competitions. I love watching my team compete and fight and going out to talk with them in close matches," Tyson said. "It is exciting to see the team implement things that we have worked on in practice in their matches."
Though Tyson and MBU tennis are currently rebuilding the program, Tyson's goals for MBU tennis are more than just skill and winning.
"My goal is if Missouri Baptist is not the best team in skill, that we are the best in respect, integrity and sportsmanship," Tyson said. "I want the team to represent itself in a way that other universities will talk about. In the future, I would love to be the best all around in every way. I have high hopes."