Nick Sailer, a two-sport athlete and Academic All-American at Missouri Baptist University, has moved to the operations side of the university's complex athletics programs, accepting a position as manager of Athletic Operations.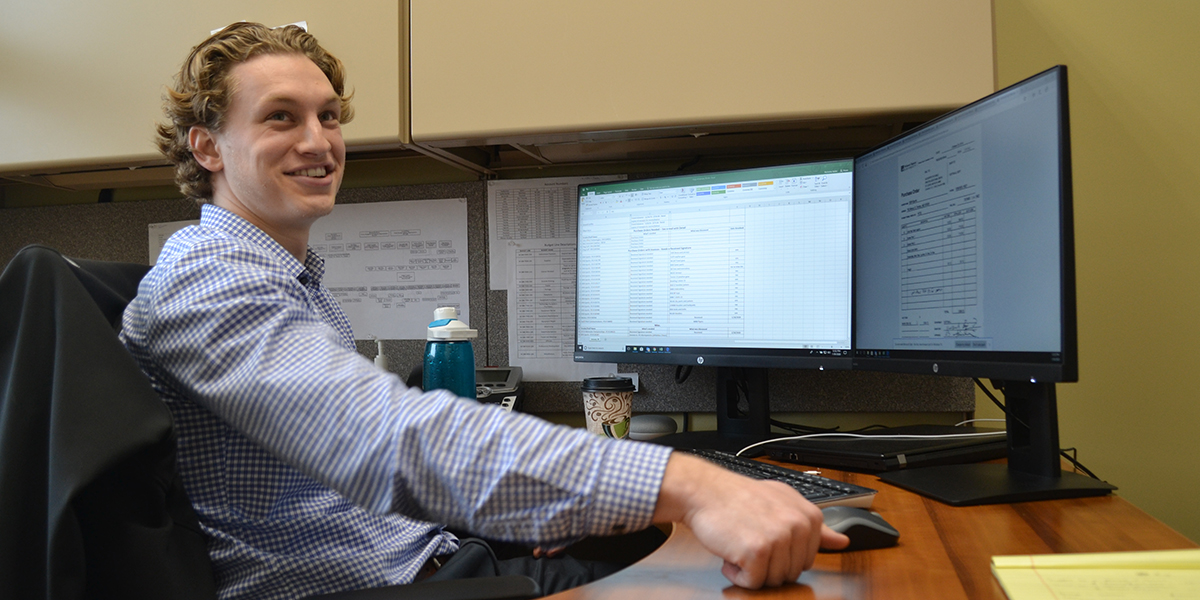 Photo by Trevor Chaney
Nick Sailer smiles as he looks at the two monitors at his desk in his new office in the Athletics Department at Missouri Baptist University, where he recently accepted a position as manager of Athletic Operations. Sailer said he is adjusting well to working alongside colleagues who a short time ago were his coaches.
__________________________________________________
Nick Sailer has made his way from a Missouri Baptist University student parking in C Lot to his much-improved parking spot right next to his new office, as he now works alongside his former baseball coach and MBU Hall of Famer, Eddie Uschold, at the Sports and Recreation Complex.
The transition could imaginably be uncomfortable going from player-student to colleague in such a short turn-around. After all, Sailer just graduated from MBU in 2019, after just three years of college, and now is the manager of athletic operations, in charge of directing student employees and volunteers at football games, fundraisers and all home athletic events.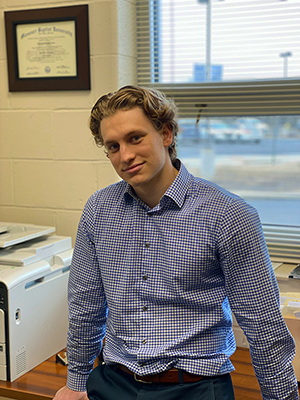 He also approves department purchases while staying within a $3 million budget disbursed to all sports expenses for the year. Sailer, however, said he believes the transition has been smooth.
"The hardest part about it initially was realizing that I was now in a position of power in the Athletics Department and was able to act that way even though just weeks prior I was an athlete," Sailer said. "Immediately having power in a department that you were at the bottom for so long was an odd feeling at first, so I wondered if it would be difficult to really work with coaches rather than work for them, but that was not an issue."
Uschold, associate athletic director and head baseball coach, now works a few doors down from his former player.
"He is doing an awesome job. I am really enjoying working with Nick and getting to know him in a different setting," Uschold said.
Sailer is using his degree in business administration to elevate his career off the field. As a student-athlete Sailer was granted AMC Academic All Conference honors in 2018 and 2019 as well as being named a 2019 Daktronics NAIA Scholar Athlete.
His most impressive accolade comes from being named to the AMC Champions of Character team in 2019. This award is voted on annually by the athletics coaching staff and administration and given to a male and female student-athlete who, according to the NAIA website, "best exemplifies the NAIA's Champions of Character core values of Integrity, Respect, Responsibility, Servant Leadership and Sportsmanship."
Despite having a gift for excelling at school, Sailer said he found himself wanting more in other aspects of athletics. 
"To me, it honestly wasn't a big deal or difficult to receive academic honors — it even became something I was sick of hearing about," Sailer said, noting he would have happily traded those academic accolades for more playing time on the baseball field. "However, that just isn't the way it worked out. I'm very thankful for where my academic standing propelled me in regards to my career and setting up my future. This reminds me of Romans 8:28: 'And we know that all things work together for good to them that love God, to them who are called according to his purpose.'"
The success in the classroom didn't stop Sailer from being a two-sport athlete in baseball and for the esports team at MBU.
He even wrote his name in MBU's record books, being part of the first duo in school history to qualify for a Collegiate Star League tournament, which means he qualified for a national "Fortnite" tournament at the college level.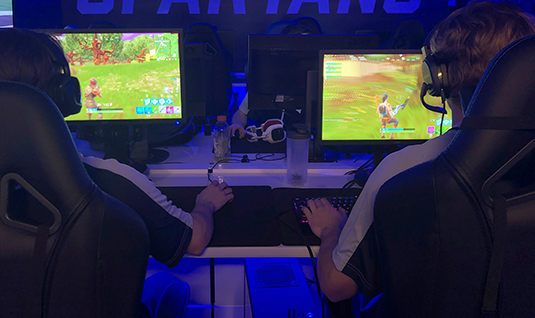 Sailer has some responsibilities in the Athletics Department that he has been aptly prepared for and others that require his inherent ability to adapt and observe. 
"I was definitely prepared for the job that I am currently working. I feel like receiving a college education is really what you make it — if you want to apply yourself, learn and get involved with good situations, the opportunities are there," Sailer said. "I did a fairly good job of taking advantage of my resources while in undergrad, and it helped me tremendously. I would mainly attribute my readiness to the two full-time, corporate internships I held in the prior summers."
Those internships were at Schneider National Inc. and Keesling Financial Group at Stifel in St. Louis, where he learned the ins and outs of accounting, investing and financial planning. 
Life after graduation can be stressful to many students and obtaining a new job could be a major hurdle, but Sailer has possibly had an easier transition than some, given his special circumstance.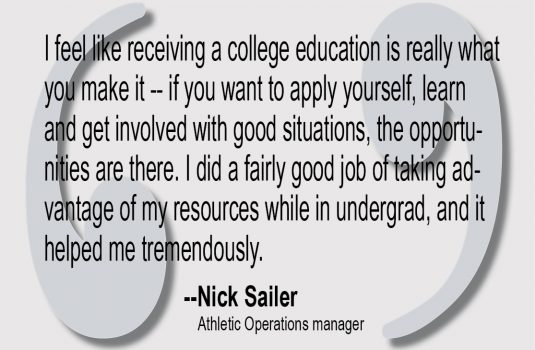 "Because I graduated in three years, all of my closest friends are still studying here, (so) being able to still be around my best friends while they finish up their degrees is valuable to me," Sailer said. "Also, working at a university means that you have university days off, i.e. Christmas break, Spring Break. The extra time off allows me to travel and not feel like I've been sucked into a 9-5 rut I can't get out of."
Having finished school in just three years, Sailer had the choice to keep playing sports but opted in favor of starting his career in business administration.
"Nick is flourishing in his role within the Athletic Department. We miss him on the team but this was a great move for Nick and his future," Uschold said.
While some athletes might agree that Dr. Tom Smith, MBU's associate vice president and director of athletics, can seem like an intimidating presence at times, Sailer has a different view of his new boss. 
"Tom Smith might not want me to say this, but he is definitely not as scary as he portrayed when I was a student-athlete. I honestly was a bit nervous to work for him, but it has been a huge blessing to work for him and learn from him," said Sailer.
Dr. Smith caught wind of Sailer's words.
"Apparently I'm not mean enough."
All kidding aside, Dr. Smith had nothing but praise for Sailer's work ethic.
"Nick's a fantastic worker. And we are the recipients of a guy who has developed a solid work ethic and really knows his stuff, and he's taking us to another level in our accounting phase in athletics," Smith said.
Student athletes maintain a focus throughout the season that could lead them to overlook what goes on in the offices that make everything they do possible, and Sailer has gained a stronger appreciation for both sides of the fence.
"Seeing the behind-the-scenes and inner workings of the Athletics Department and university has been eye-opening. As an athlete, you are just in that headspace where you think everything revolves around athletic performance," Sailer said. "However, so much more goes into what we do and it's been interesting to see and finally learn about." 
Sailer has undoubtedly handled everything on his plate as a two-sport athlete who graduated with a 3.8 cumulative GPA and looks to have the same success in the Athletics Department going forward. 
"I just want to do my best, grow as many skills as possible, and provide value to the Athletics Department and university," Sailer said. "I'm on track to finish my Master's in Business Administration in a year and a half, and when I'm finished with that, I feel that I will have a good sense of what I should do next."