Just when you thought Media Talk couldn't possibly get any stronger, the Communications Department in the Fine Arts Division at Missouri Baptist University is featuring none other than Missouri Gov. Mike Parson, speaking at 11 a.m. Thursday, Nov. 8, in the Chapel.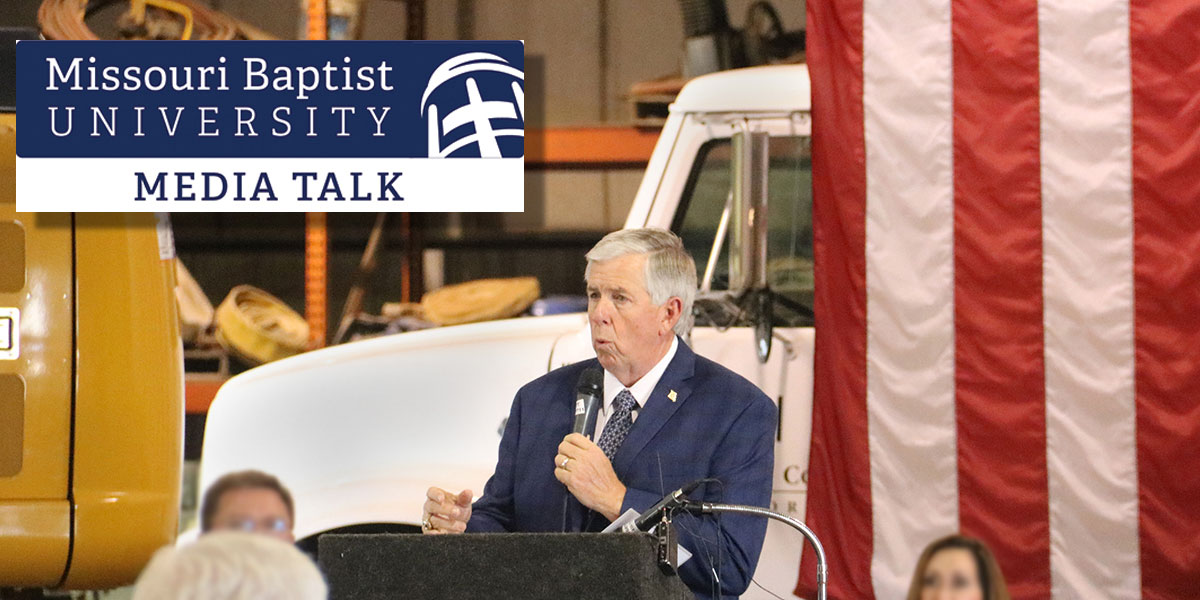 Photo illustration by Molly Munoz — Photo courtesy of the Governor's Office website
Gov. Mike Parson will be the featured speaker at Media Talk, discussing Christian communication and how his faith has informed his approach to taking over the state's highest office.
__________________________________________________
Missouri Baptist University is hosting Missouri's 57th governor at 11 a.m. Thursday, Nov. 8, in the Pillsbury Chapel of the Dale Williams Fine Arts Center as Gov. Mike Parson will be talking about Christian communication during the fall 2018 Media Talk. The historic event, the first time a governor has ever spoken at MBU, is free and open to the public.
"This is an incredible opportunity for communications students to interact with a high profile public figure who exemplifies Christian values and public service," said Amanda Staggenborg, assistant professor of public relations in the Communications Department at MBU, who is responsible for bringing Parson to MBU. "In today's polarizing environment, Gov. Parson shows how professional communication still blends with a shared foundation that transcends throughout all types of leadership styles."
Parson grew up in Wheatland, Missouri, raised on a farm in Hickory County. He served in the U.S. Army in 1975 and found his way to a life of public service in 1981 as a deputy sheriff in Hickory County.
Parson, a Republican who began his career as Missouri governor last June, has since then signed the largest single year income tax cut, signed a balanced state budget and appointed Lt. Gov. Mike Kehoe, as well as making 63 other appointments, according to his website.
Staggenborg secured a commitment from Parson to speak at Media Talk after she began communicating with his office in spring 2018, just after that semester's Media Talk.
In the past, the Communications Department has featured themes of St. Louis communications, health care, sports and internal communications. This semester, the theme is Christian communication.
"The Media Talk has always been communications-centered at the university, and we have always allowed everyone to attend the Media Talk for free to see what communications looks like it real life," said Staggenborg.
MBU communication students Colin Baillie and Ross Munroe will be interviewing Gov. Parson for the Media Talk, discussing his life growing up, his family, advice he would give to students and the influence of his faith on his work.
"The communications field includes skills like relationship-building, strategy and tactical management. Gov. Parson exhibits these daily," Staggenborg said, adding she knew there would never be a time as great as this fall to have Gov. Parson speak, as MBU is going through a change in leadership as well.
Dr. Keith Ross was recently inaugurated as MBU's seventh president, following Dr. Alton Lacey's 23-year leadership, a transition that presented a perfect opportunity for Parson to speak about his own transition into the governor's office and his Christian walk during the process.
"I wanted to remind everybody to highlight our Christian values," said Staggenborg, referring to her initial idea to bring Gov. Parson to MBU.
Getting in contact with the right people was the first step in the process, and for that Staggenborg was able to use her connections in Jefferson City.
"Every single person I meet is a networking opportunity. I might not ever see them again. I might only see them at an event one time, but I might remember them," Staggenborg said. "Or, I might pull out their business card a few months later or have a Media Talk coming up and this person would be great."
Through these connections, Staggenborg was able to get in touch with the right people to make this event happen.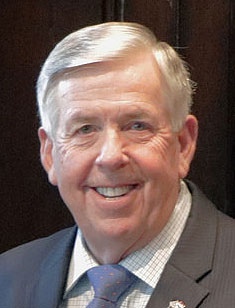 She then asked the governor's chief of staff, Aaron Willard, if Parson would be interested in talking to students.
Staggenborg gained approval from the governor and his staff, as well as President Ross, Dr. Arlen Dykstra, provost and senior vice president for academic affairs, and eventually Aaron Lumpkin, campus minister, because the event would take place during Chapel time.
One lesson that Staggenborg has taught students through this process is flexibility.
"The hoops that I had to jump through, unlike every other Media Talk where we have had a set day six months to a year in advance," said Staggenborg, "we had to completely work around the governor's schedule."
Staggenborg was able to work around the governor's schedule by keeping in constant contact with Parson's staff as well as planners at the university.
This was no easy feat. The governor has days labeled "St. Louis Days,"  which are the days that Gov. Parson makes appearances and attends meetings in the St. Louis area.
Finding that 11 a.m. on a Thursday would be the only time available for the governor, Staggenborg secured the time, date and place, gaining university approval to use Chapel for her historic Media Talk.
Not only will hosting Media Talk in the the Chapel provide more space, as Parson will draw a large crowd, but it has been a dream of Staggenborg's to host Media Talks in the auditorium.
"For the first time we have Media Talk in the Chapel. It has always been in the Performance Hall," Staggenborg said, referring to the smaller space next door. "I have always wanted it in the Chapel, but this one's there by stroke of luck and timing by the governor."
Willard has planned a schedule alongside Staggenborg down to the minute Thursday, beginning with a meet-and-greet with Ross, Dykstra and other MBU dignitaries prior to Media Talk.