Emmy-winning professor Alonzo Medcalf is taking his many years of experience in the broadcast media world and bringing it into the classrooms of the Communications Department at Missouri Baptist University.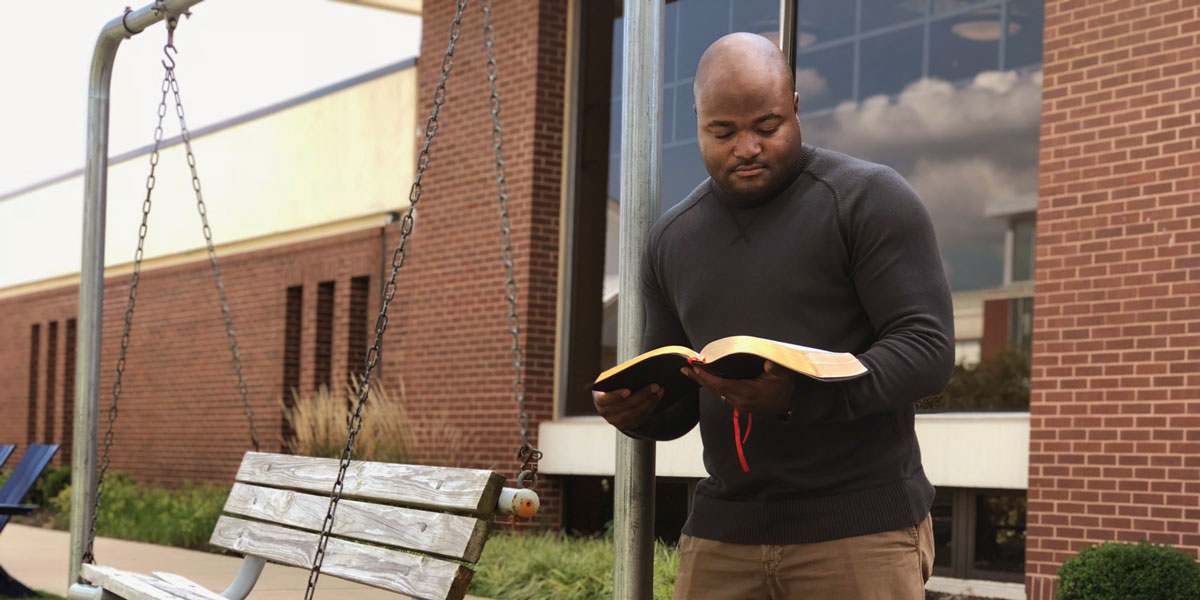 Photos by Savanna Cantrell
Professor Alonzo Medcalf reading his favorite Bible verse while enjoying the recent pleasant weather in the Quad, before this week's snow flurries. Medcalf combines his love for Christ with his love for broadcast media as he brings his experience and skills to MBU.
__________________________________________________
"Some people fall into journalism, and some people plan to be a journalist. I fell into it," said Alonzo Medcalf, the newest faculty member in the Communications Department at Missouri Baptist University.
From being behind the camera to being in front of the classroom, Medcalf has made a smooth transition to directing the Broadcast Media Program by integrating his experience in the field with his teaching style.
Medcalf, who replaced Paula Bennett following her retirement, said his plans for the Broadcast Media Program are to, first, "produce competent practitioners in video production," and second, make sure he keeps the university and the video program as current as it is in the industry.
As a perfect transition from the broadcast industry into higher education, Medcalf was recently awarded the 2018 Mid-America Regional Emmy award for his general assignments report with a homeless dispatch while working at KMOV.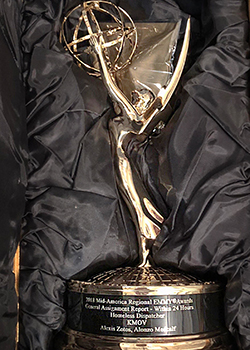 Medcalf was born and raised in St. Louis on the south side of the city, and while sports were always a passion for him, it was not until later in life he realized where he should be. 
He played baseball from kindergarten to high school, then picked up football his freshman year at Oakville High School, making him a two-sport athlete.  
"I had never thought about football or played football up until high school, but the first time I put my pads on I just fell in love with the game," said Medcalf.
As a wide-receiver he was recruited by every team in the Big 12 except Missouri, which is where he wanted to go, but a sprained ankle his senior year caused those offers to drop before his eyes.
"I chose to go the junior college route up in Iowa because I thought, 'OK, this is a small school in Iowa, I was recruited by Iowa, so I could play a little bit ya know, get healthy, and I'll just transfer to Iowa and start playing there.'"
But that is not how his plans worked out.
After his first semester freshman year at Iowa Community College, Medcalf realized college football was not for him, and he ended his football career.
Moving back to Missouri, Medcalf transferred to Missouri Southern State University in Joplin to pursue a degree in communications.
"I went to the school blindly, I had not even visited the school," Medcalf said. "I was accepted and didn't visit, they have a communications department, they have a radio station on campus. I thought, 'Yes, this is the place I want to be.'"
However, only after he arrived at the university did he realize the radio station plays only classical music. While Medcalf became a DJ for a radio station in town, being a DJ for the campus radio station was off the table.
This is when Medcalf decided to go into the television program and start filming different events, and he fell in love with journalism.
He wanted to be a sports photographer.
"It was when I set up like the camera and all that equipment for the basketball games is when I really fell in love," he said.
He found his passion for videography and photography during his sophomore year of college at MSSU, which led to his first news job at KSN channel 16 in Joplin, Missouri, all in the same semester.
"While I'm a student at Missouri Southern State University, and also a student worker in the television program on campus, I decided to pursue a part-time position at an actual news station," Medcalf said.
During his time in Joplin, he began getting involved with the church after some of his friends asked him to come with them, so he started attending Forest Park Baptist Church.
After graduating from MSSU in 2010, Medcalf felt a strong pull to enter ministry and moved to Louisville, Kentucky, to attend Southern Baptist Theological Seminary.
During this time, he took a two-year break from news and worked a desk job at Prima LLC, where he worked as a content developer and videographer for the company, but he said he was not exactly happy with this job.
"I'm at a gas station literally right next to where I worked, and there's a guy, and we used to use these things called live trucks to broadcast the signal when you're live on location," Medcalf recalled. "There was a guy gassing up a live truck, and I'm looking at him just gassing it up and I'm just like, 'I used to do that.' That was me, I used to be the guy driving a live truck to the breaking news situation. And from that point on I was like, 'Well, this desk job life is not me. I need to get back into news.'"
In 2012, while still in seminary in Louisville, Medcalf returned to news and started working at WHAS 11, covering breaking news and more high school and college sporting events.
In October 2013, Medcalf got in touch with Bill McCormick, the news operations manager for KMOV in St. Louis.
There were no available jobs for him at the time, but McCormick worked with Medcalf over a period of several months to help him improve his work.
In February 2014, a full-time job opened up at KMOV that McCormick offered Medcalf; he accepted and moved back to St. Louis and finished seminary online.
"The Lord used me more in Missouri than he ever did use me in Louisville, Kentucky," Medcalf said, admitting that he felt conflicted, as if God somehow could not use him in St. Louis the way he could in Louisville.
Now transitioning from his experience in broadcast to teaching, Medcalf said, "It has always been my desire to teach, I've felt like the Lord has called me to be a teacher. I tried preaching, I am not a preacher, I am a teacher."
With his love for broadcast media, ministry and teaching, doors opened for him to have all three coexist at MBU.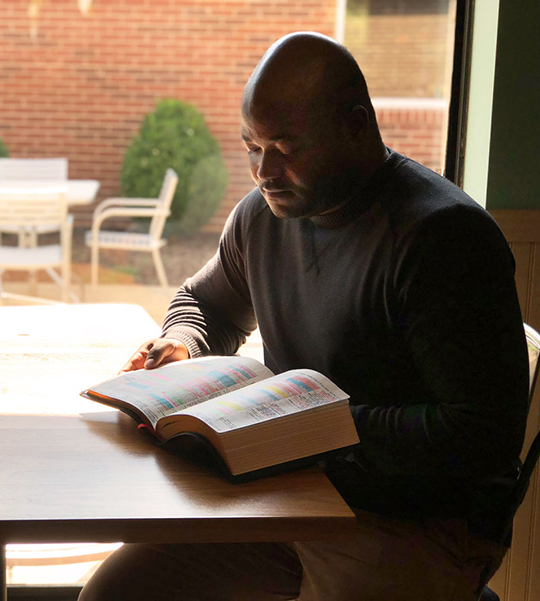 Alonzo Medcalf reads scripture in the Perk before heading to class.