Missouri Baptist University freshman Marshall Willingham brought his hard working and positive mentality to the college football level.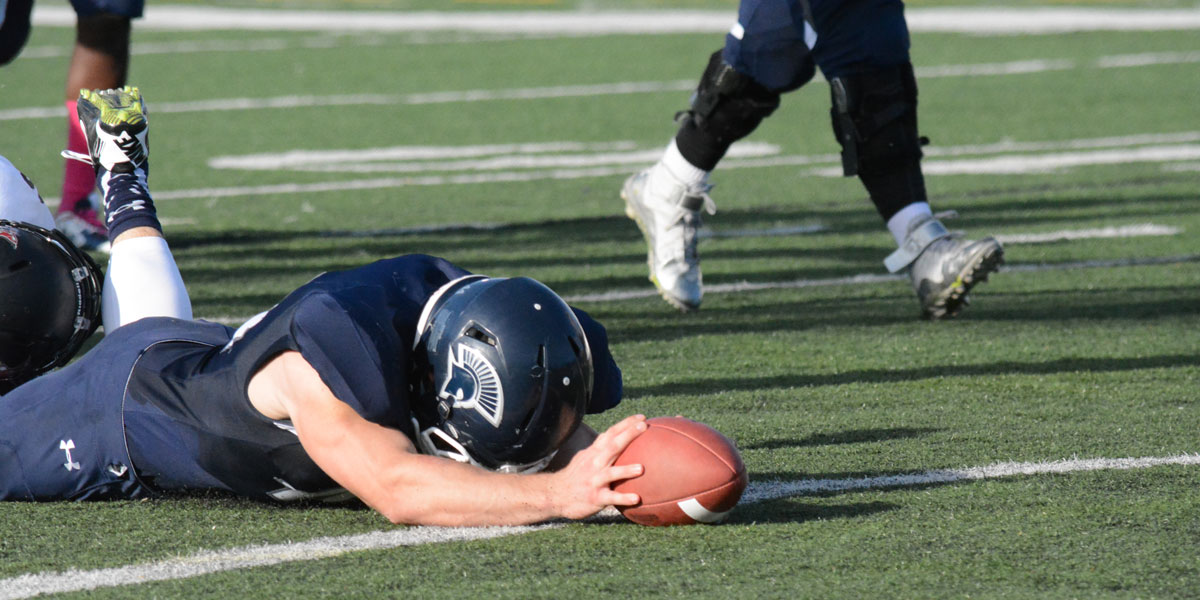 Photo by Ryan Rerich
Willingham stretches across the goal line for a rushing touchdown.
______________________________________________________
There's always a positive thought in the head of Missouri Baptist University freshman linebacker Marshall Willingham about what he can do to make his team better.
He is a self-described "team guy" and is always "that one guy" screaming on the sidelines.
On Jan. 31, 2015, Willingham committed to MBU and ever since he's taken it all in.
"I've enjoyed MoBap a lot. It's a great place to get a quality education and a great sports experience," Willingham said.
So far the 5-foot-11, 215-pound linebacker has gotten to play more than he's expected, which he's thrived on.
"I'm always ready for the occasion," said Willingham, who is from Columbia, Mo. "It's a lot of responsibility as a freshman to come in and start at a starting position, but I've embraced it and hopefully I can continue making big plays and helping this defense out."
Willingham, who runs a 4.47 40-yard dash, has been recruited since he was a sophomore in high school at Hickman, receiving letters from schools like Iowa State, Kansas State, Missouri and Northern Illinois.
Willingham eventually realized he was in a vast pond of players in his position that coaches from various schools were after.
"You figure out in the recruiting experience that they have a large board of lists of guys that they're pursuing," Willingham said. "You have to realize what is hand-written, typed and what the difference is on how much they're pursuing you. I went deep into the game with a lot of Division 1A schools."
Hand-written and or typed means how much coaches from schools care about a player. It takes more time to handwrite a letter than typing, which means the coach cares to an extent.
He had received offers from several Division 2 and NAIA schools, including some from Central Missouri, but opted to venture a little farther from home.
"I came to the conclusion that I didn't want to go to a lot of the local schools from around me," Willingham said.
MBU Spartan assistant coach Charles Coe was the one who pursued Willingham and got him seriously interested in MBU.
"If you know anything about Coach Coe he has probably one of the most exclusive backgrounds of coaching history that I've been able to come across in my football career," Willingham said.
Coe was the head coach of Alabama State from 2003 through 2006. He's served as an assistant coach at several NCAA FBS schools, including Iowa, Kansas State, Missouri and Tennessee. He recruits all over the state of Missouri, including Columbia, and has connections in Florida.
"He told me, 'No matter where you go to school, we care about you over at Missouri Baptist, and I really would like you to come here and I could see you affecting this program right away,'" Willingham recalled. "That was a really big decision maker for me."
In 2013 Willingham transferred to the newly formed Battle High School because he lived in the new school district in the Columbia region.
It wasn't a smooth transition because Battle had many doubters in the Columbia area.
"Everybody made fun of us," Willingham said, as the Spartans went 5-4 his first year there. "We were kind of a laughingstock for our first year."
On the football team he was given an important role straight away because of his leadership and varsity experience he gained as a sophomore at Hickman.
The next season, Willingham's senior season, the Spartans went 5-4 again but their fortunes in the playoffs would drastically change.
Willingham said the team always had what it took to be successful yet could never gel all out once, but it all came together as the playoffs started.
Battle advanced out of their district and beat St. Louis area schools Fort Zumwalt North and Ladue in the quarterfinals and semifinals respectively to get to the Edward Jones Dome, in St. Louis for the state championship game against Nixa.
Then on Nov. 29, two days after Thanksgiving, Willingham and the Spartans were crowned the 2014 MSHSAA Class 5 Football Champions.
It is Willingham's biggest and proudest achievement of his football career.
He finished the season as a First Team All State linebacker, which Willingham says is the highlight of his career on a personal level.
After he graduated from Battle, Willingham moved to St. Louis this past summer to join up with the Spartans football team as soon as he could.
He wanted to be ready for the quick switch from high school to college so he could make an impact in training camp.
"I knew that there was a change of speed in the game from high school to college so I moved here in the summer and did summer workouts with our strength coach (Michael Sweat)," Willingham said.
He trained every day in the summer from 7-8 a.m. and sometimes earlier.
It proved to make a difference as head coach Jason Burianek took notice of Willingham's offseason improvement.
"You want any opportunity you can to get noticed by the head coach and that was one way I did it," Willingham said.
As far as his classes are going, Willingham has made the high school to college academic transition fine, but he is a football player and with practices and other training rituals he doesn't have all night to finish his school work.
"Everything class-wise has been easy, but the thing that I think most people don't realize is the adjustment whenever you play a college sport how little time you have," Willingham said.
Overall, Willingham loves his time at MBU and is content where he is on the team.
So far he's started in two games and has 11 tackles, eight solo and three assists.
He's fitting in well and most importantly he feels valued by the coaching staff and players, which is, after all, what made him want to be here.
"What it came down to was Missouri Baptist just seemed like they really wanted me to be a part of their scheme right away," Willingham said. "I just feel like I have a lot of tools that I can provide the team and step in right away. …  It's been an honor playing for this school."
You can follow Willingham on Twitter @QuietSuccess573