Restaurants nowadays are not merely about food anymore. The atmosphere and the experience are today's keys to attracting customers in the very competitive business of gastronomy. St. Louis offers various locations and diners that provide a good combination of cuisine and ambience, but there is no place quite like Three Sixty St. Louis.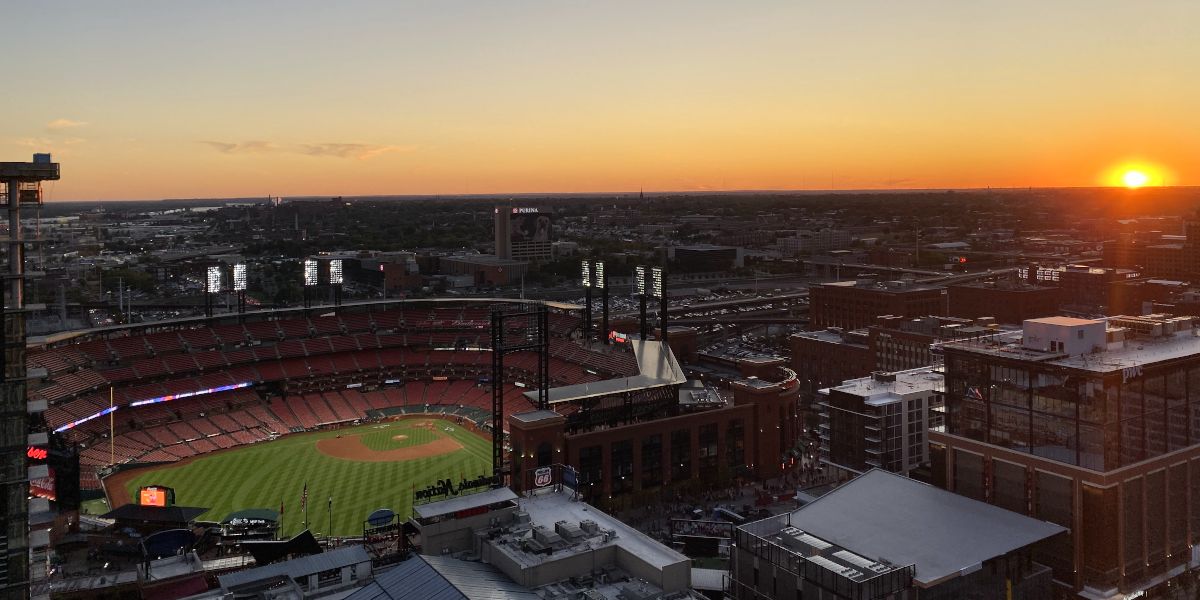 The view of Downtown St. Louis from Three Sixty St. Louis, sitting nearly 400 feet above the ground atop the Hilton St. Louis at the Ballpark hotel. The restaurant, established in July 2011,  features over 6,000 square feet of indoor and outdoor dining spaces. As the weather begins warming up and Opening Day for the Cardinals is less than two weeks away, you should definitely have this on your list for elevated dining, game watching and people watching.      Photo by Patrick Szymczak
__________________________________________________
"I never eat in a restaurant that's over a hundred feet off the ground and won't stand still."
If you agree with this statement by American journalist Calvin Trillin, you should most definitely consider a different site to dine, but for all others, Three Sixty St. Louis will be far more than just a restaurant visit. Although it isn't moving, as in Trillin's case, it is still going to be an experience, as 360 defines its sports bar and restaurant.
Located on 1 S. Broadway in Downtown St. Louis, the restaurant offers a magnificent view from the nearly 400-foot-tall rooftop of the Hilton Hotel.
The name derives from the exclusive 360-degree view visitors get of Downtown St. Louis, providing them a rare perspective from above the St. Louis Gateway Arch or Busch Stadium located just a few hundred feet away.
It is not just the view that makes this place so magical. "Three Sixty" is one of the hidden spots for all sorts of people to come together. No matter if you are young, old, foreign, local, male or female, it brings together people from diverse backgrounds to make the experience even more mesmerizing.
Real culinarians are rarely impressed by ambience or atmosphere, they care for the food. The cuisine of "Three Sixty" does not disappoint but rather adds to the exquisite mood of the location. It successfully merges traditional American dining with the modern approach of "haute cuisine."
Similar to the establishment itself, the menu offers a large variety to choose from. For friends of the traditional American kitchen, "Three Sixty" offers the home-made "360 Smash Burger," which comes along with house fries.
For those who are curious enough, the chefs give you the rare chance to take a culinary trip into the kitchens of Europe, serving various Italian open-flame pizzas or a variation of cheeses, à la française. A trip to Europe for reasonable pricing, if you will, which is rare for a location of this excellence.
What completes the experience in its entirety is the etiquette at "Three Sixty." Unlike various other places, the rooftop restaurant isn't just pretending to be fancy, it is what particularly defines this place.
People view attendance at the establishment almost as a celebration and dress up accordingly. Although there is no official dress code, cocktail-dresses and button-up shirts adorn the overwhelming majority of visitors.
"Three Sixty St. Louis" can be accessed through the elevator in the Hilton Hotel and has its doors open for visitors daily from 4 p.m. to 11.p.m. (Sundays 4 p.m. to 10 p.m.). Since it is also a bar, after 9 p.m. only customers over the age of 21 will be granted access.
If you have not visited "Three Sixty" you should most definitely embrace this experience. Take out your family, your partner, or even your roommate, and add an exciting twist to a traditional restaurant visit, 400 feet above the ground. I am telling you, it is worth the flight.