MBU Theatre's second annual dance concert, "Dancing in the Light," scheduled for Saturday and Sunday, April 9-10, will take you through the evolution of dance as each piece features a period in dance history, and is sure to take the audience on an emotional roller coaster.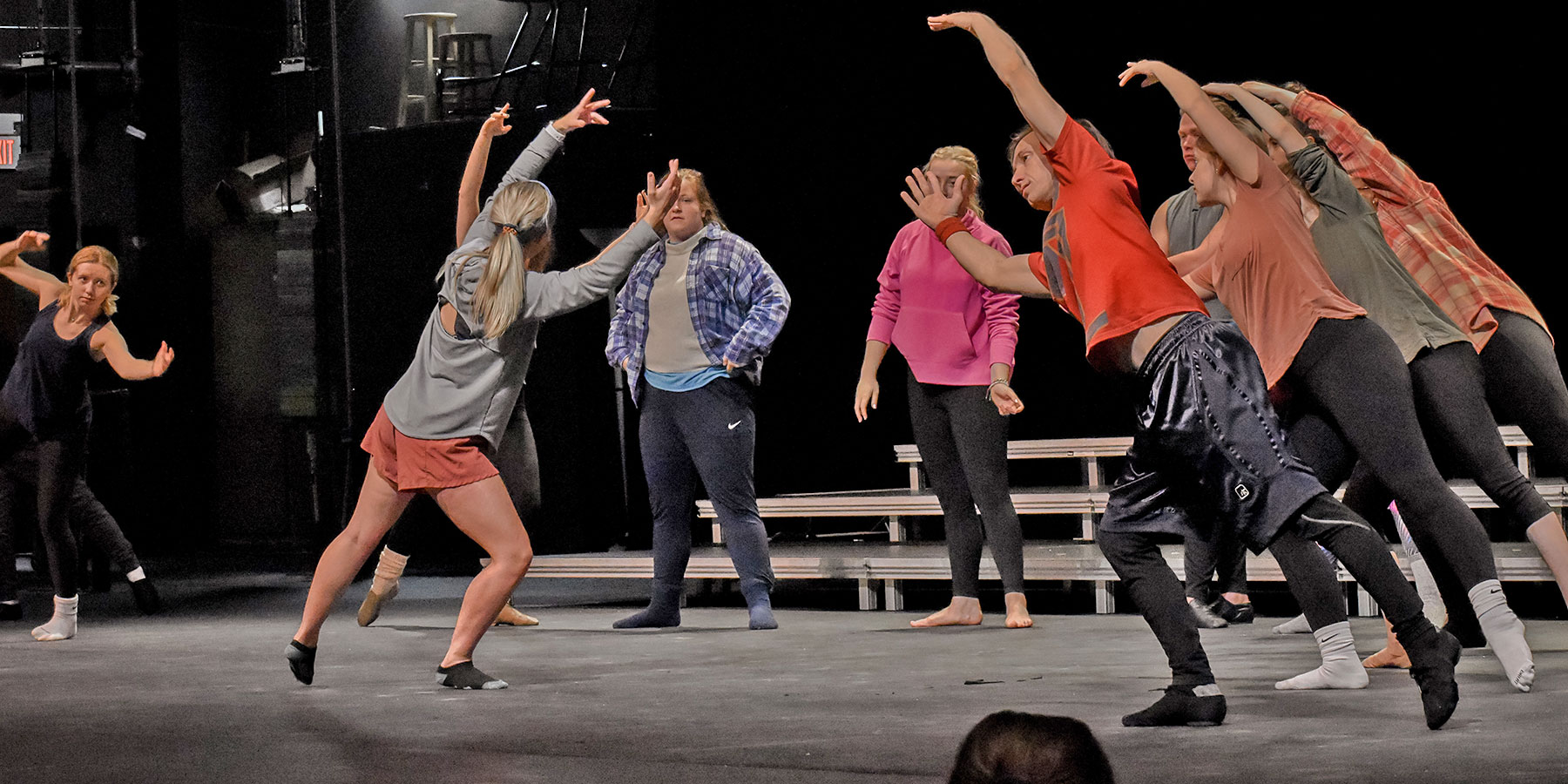 As the performance dates quickly approach, the excitement in the performers grows as they put the final touches on their pieces.         Photos by Anna Jeschke

__________________________________________________
"You don't realize how far you've grown, but it's so rewarding at the end."
Will Launsby, who said this while reflecting on his time in the Dance Program at MBU, was introduced to dance just three years ago.
"Dancing in the Light," MBU Theatre's dance concert, end-caps the scholastic year, in its second run ever. 
The dancers as well as choreographers are excited to showcase the ideas they have been working on since the fall of 2021.
Led and directed by MBU Spartan Line's coach and adjunct dance instructor Claire Ward, the 2022 dance concert is expected to present an exciting variety of pieces. 
"Dancing in the Light," running Saturday, April 9, at 7:30 p.m., and Sunday, April 10, at 2 p.m., has reserved seating, $10 for general admission and $5 for students and children. Tickets will be available in advance at mbuboxoffice.eventbrite.com and at the door.
Each dance is choreographed by a different dancer, including Ward, MBU senior Kaleigh Ryan, MBU junior Lilly Hetz, MBU adjunct instructor Maria Majors and guest choreographers Vance Baldwin and Robert Poe. 
The idea of the show this year is to take the audience through an evolution of dance, beginning with "ballet where we have a strictly ballet piece, and then we're gonna go into contemporary ballet, and then we're gonna take them into more contemporary-modern pieces," Ward said. "And from there we'll kind of go into jazz and musical theatre style of dance, then we'll go to tap from there, and then hip-hop, and then our finale."
These various styles, which are prominent in different time periods, growing in popularity and technique through the years, will showcase the evolution of dance that Ward hopes to portray.  
Ward, who graduated from the University of Oklahoma with a bachelor of fine arts in ballet as well as a master of science in fitness management from MBU, is the MBU Spartan Line dance team coach, adjunct dance instructor, choreographer for MBU Theatre's musicals and director of "Dancing in the Light." 
Choreographing five out of the 10 pieces, Ward explained her inspiration for each piece.
The first piece Ward choreographed, called "Keys," is a fully classical ballet piece inspired by piano keys.
The piece will be performed with a live accompaniment of Bach's Italian Concerto in F Major.
"It's one of my favorite pieces of Bach's music and I'm really excited because we're gonna have a live pianist on stage performing with the dancers, so the dancers are gonna have the opportunity to dance to live music at the same time and I think that's gonna be a really cool way to start off the show because it's the perfect mesh of true classical music and classical ballet," Ward said.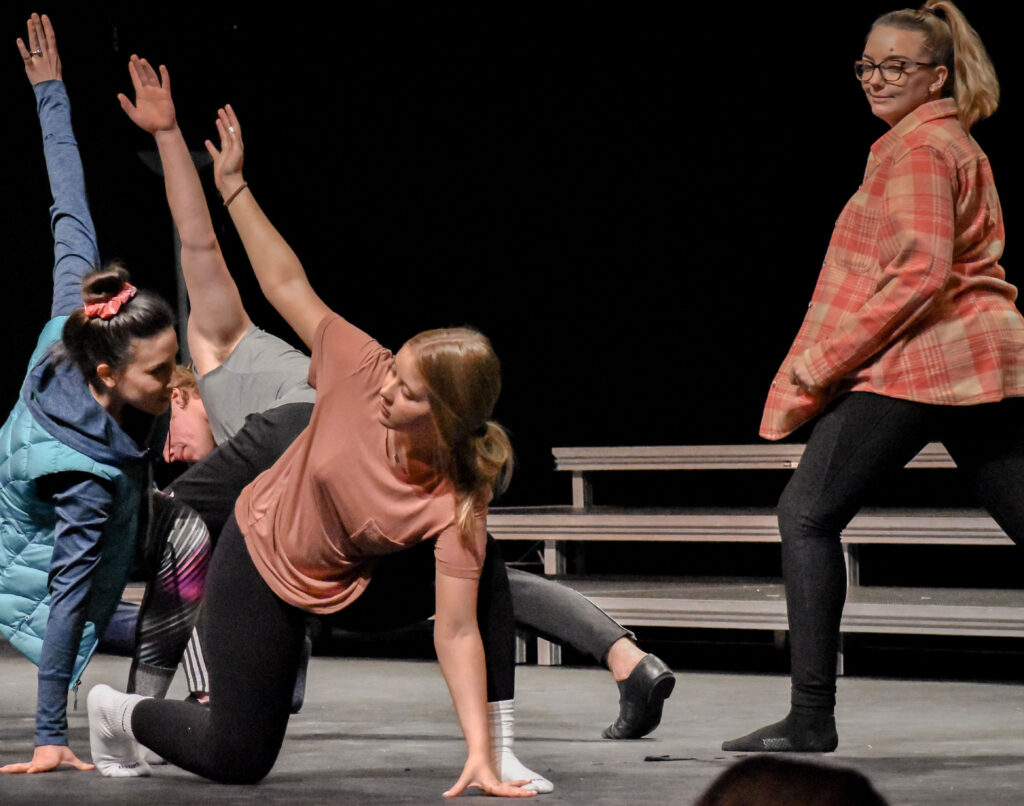 Another piece that Ward choreographed is a contemporary ballet titled, "Aquarium."
Ward said her inspiration for "Aquarium" is, "The dancers are creatures dancing within an actual aquarium, so we're working on exploring what that character is like for them."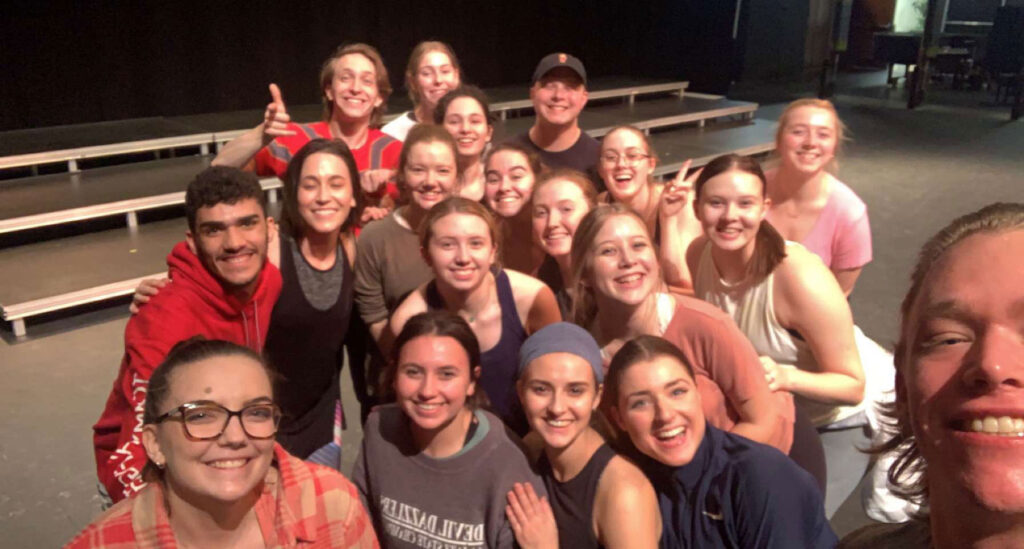 Group selfie by Will Launsby
She added, "The biggest focus on that is, obviously, the style and the technique of contemporary ballet, which is very difficult because they have to stay technically very clean and precise, but allow the freedom that contemporary dance offers, so it really challenges the dancers both artistically and technically."
Along with these individual pieces, there will also be a finale showcasing all of the dancers together.
"The final piece of the show is going to kind of be a mix of every style. We're also going to have a piece that showcases the choreographers, so some of the choreographers are actually going to perform a piece as well, which is going to be really, really awesome for our dancers to get to perform with professionals in the final number of the show," Ward said. "So lots of very exciting things."
Ryan, a senior exercise science major and dance minor at MBU, and also president of the Exercise is Medicine Club on campus, has been a member of the Spartan Line dance team for the past two years. 
She performed in the dance concert in spring 2021, and this year is a student choreographer as well as a performer.
What Ryan said made her decide to participate in this year's concert was, "I just was so inspired by the growth of the dance program over the past couple years, and getting to be a part of it was such an honor, and the dance concert last year stretched me and helped me grow in so many ways as a dancer and as a human being." 
Ryan is the student choreographer of the contemporary piece titled, "Pictures of Mountains," which was inspired by her observation that young people in today's society are struggling with living life in the moment, as technology and COVID have gotten students accustomed to living through screens. 
"We see pictures of things that we wanna do, and videos, and we hear about it through our friends, but we haven't either been able to or don't feel courageous or brave enough to step in and do it ourselves for real," Ryan said. "So this piece is about breaking out of that habit of living life through your phone screen and living life for real again."
Launsby, a junior theatre and business administration major, dance and stage management minor, is thrilled to be a part of this show for the second year.
"I love to dance, and also think it's really cool to be a part of this turning point and new era of Missouri Baptist University theatre and dance, and how a minor was added, and how the program has grown," Launsby said. "So I think it's really an honor and a unique experience to be a part of this."
Launsby said the most challenging aspect of this year's performance of "Dancing in the Light" is, "All of it. I've been dancing for, this would be my third year, so a lot of the things are new."
"The beginning is more of a frustrating time, but it's a good frustrating. It's a lot of hard work, it's a lot of new things, but in three or four months, we'll have it down and we'll look back and be like, 'Oh, wow.' You don't really realize how far you've grown but it's so rewarding at the end," Launsby said.
As a theatre major, Launsby hopes to get as much as he can out of his dance career at MBU, noting that adding the dance minor helps his career path be more well-rounded as he hopes to go into the field of theatre upon graduation.
"I just want to be inside of a theater, whether it's working in the admissions office, or it's on the technical side designing lights, or on the stage performing, singing, dancing," said Launsby. "And this is such a great step to help get me there, and Claire especially has been such a huge encouragement and a foundation for all of it."
For more information about Bob Fosse and his style, works and more, visit masterworksbroadway.com/artist/bob-fosse/. 
To find out more about contemporary ballet visit balletmet.org/experience/performances/contemporary-vs-classical-ballet/.