Many students complain about being busy or having a lack of leisure time, but transfer student Juwan Lee stays positive as he brings a new meaning to the word busy.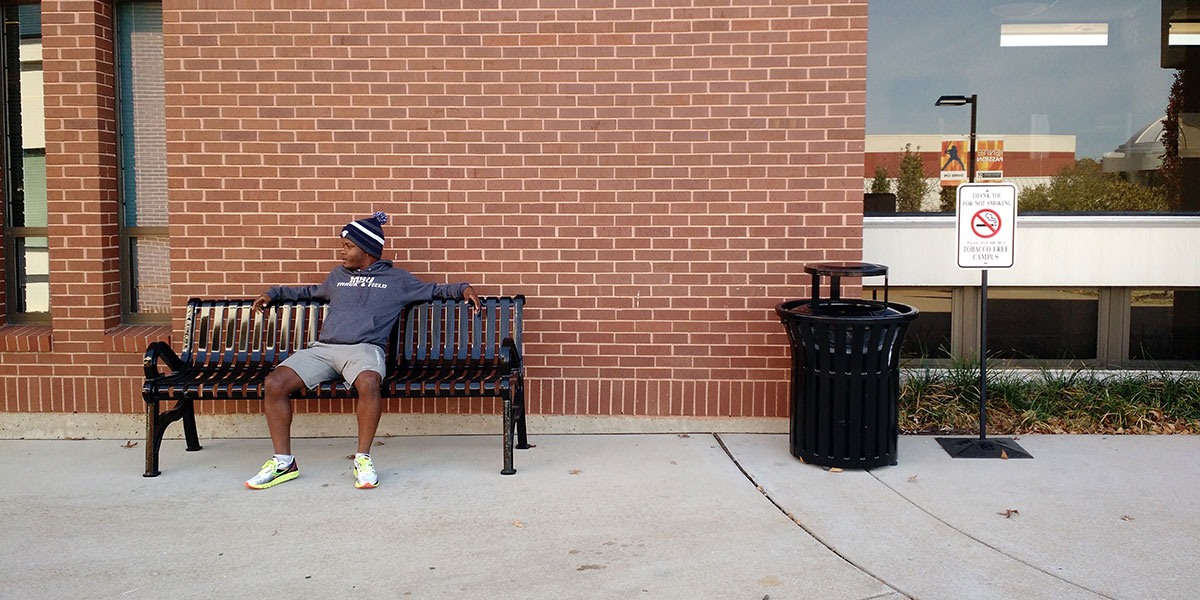 Photo by Joshua Daugette
__________________________________________________
What does a busy day for the average college student look like?
One could say a full day of classes followed by an all-nighter in the library, or morning practice followed by classes followed by more practice with a part-time job sprinkled in.
For Juwan Lee, a recent transfer to Missouri Baptist University, it can consist of practice, class, work, service training and the possible late night with homework.
"I wake up around 7 to get here," said Lee, who has to use public transportation to MBU, where he runs cross country and track while working over 30 hours a week, serving in the National Guard and taking the average 15 credits worth of classes. "I have a couple classes then I do my run or practice for the day, I go to work then do it again the next day."
Lee transferred to MBU in the fall 2015 semester from Culver Stockton College in Canton, Mo., looking to be a little closer to home.
"Travel to and from there was difficult. With Missouri Baptist being so close, it only made sense," Lee said.  
While the travel is easier on Lee, the academics are more difficult, but he is confident he can handle it.
"It's a challenge, but nothing that can't be handled," Lee said, "You just have to get used to doing everything online for the most part."
Much like rising to the academic challenge, Lee is more than willing to rise to the athletic challenges as well.
"It is definitely a challenge because I have to get used to running a whole new distance with a whole new team … but nothing too hard," said Lee.
This is the first year for Lee to run an 8 kilometer (approximately 5 miles) race; he prefers much shorter races.
"I would have to say my favorite race is either the mile or the 4-by-800," Lee said.
Though these are typically fast races, Lee would not describe himself as a go-fast kind of racer.
"Not go-fast, but go quick and hold it for longer," said Lee.
Though he will not admit to being fast, Lee is able to sport some hefty personal records.
"My mile time was 4:46 high school. … I ran a 2:06 split in the 4-by-800 and the team ran a 7:50 something. So, that's pretty good," said Lee.
Setting those personal records as a high school senior in spring of 2014, Lee works to get back into that kind of shape.
"I'm still trying to get back to that kind of speed," Lee said.
After running cross country and track for over six years, Lee is able to say track is his favorite.
"Cross country is fun and all, but track is better for me, I find it more fun to run," said Lee.
Though Lee's favorite sport is track, the men's cross country team loves having him as a member this season.
"I love him; I think Lee has come a very long way since the beginning of the season and to watch him become faster is very encouraging," junior Jacob Pinkley said.
Collin Trower, another junior on the team, agreed with Pinkley regarding having Lee as a member of the team.
"He is a really great addition to the team; not only is it nice having another runner to compete with, but he is just a really cool guy to have around," said Trower.
While many college students end their days after practice, Lee spends almost every evening working his job at McDonald's.
"I only work three to five hours a day and eight hours on Sundays. So, it's not too bad," said Lee.
Lee continues to take the stereotype of busy college student further by also being a member of the United States Army National Guard.
"I was going to go full-time Army, but I was wanting to finish my track career.  So, they came to me and said, 'You can do both' … I just went for it," said Lee.
His job as a front line infantry does not tie in to his criminal justice major, but the tough training teaches Lee to be serious about his responsibilities.
"They are hard on us because our job is pretty important, you can't goof around because you're taking care of the guns," Lee said.
Even though it can sometimes be difficult to balance all of these aspects, Lee knows he can overcome the adversity.
"Sometimes you lose sleep and have school the next day, so it can get hard, but it's not too hard to deal with," Lee said.
When it comes to overcoming the new day-to-day obstacles Lee remembers advice given to him by a previous drill sergeant.
"Everybody is putting their pants on one leg at a time, so there is no real reason to be nervous about doing new stuff," said Lee.
Lee takes and molds this advice for others who are thinking about following this path as well.
"I would say don't be scared to try new stuff because you get used to it after awhile. Sometimes I lose sleep, sometimes I'm tired physically or mentally, but you can make it through."