With several players returning from last season's team, which enjoyed a successful 47-14 run, this year's squad is settling for nothing short of a World Series bid.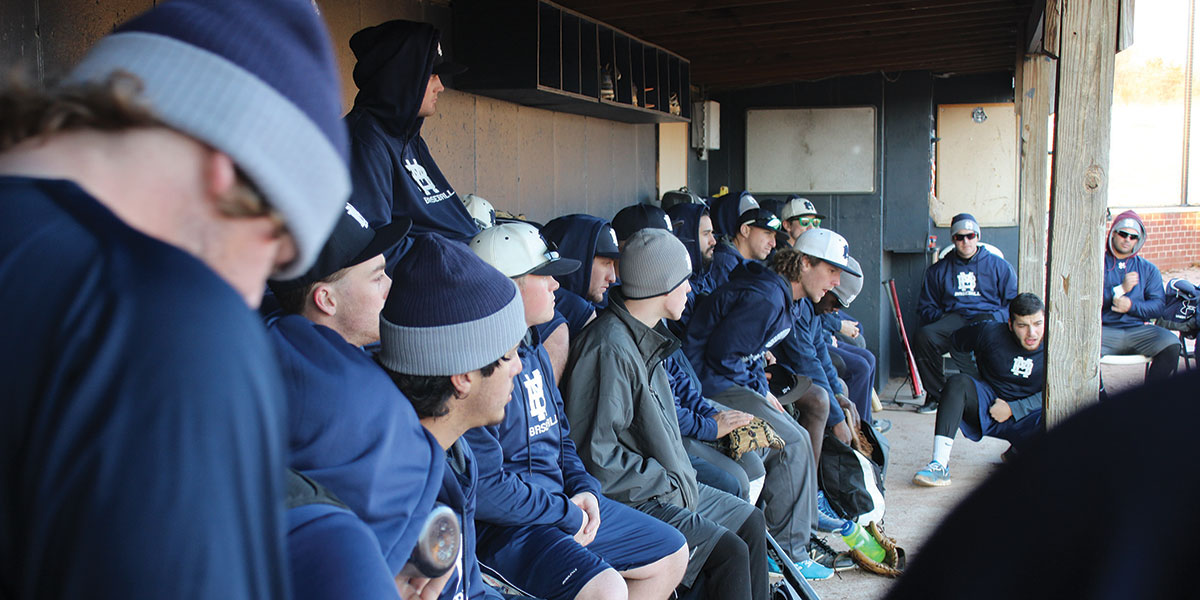 Photo by: Rickie Ross
__________________________________________________
By RICKIE ROSS and COLBY DUNCAN
The bats are cracking and clanging, the gloves have begun to pop, and the sound of metal spikes clacking is resonating in the ears of 39 anxious Spartan players.
The Missouri Baptist University Spartan baseball team has finally begun its 2015 season.
The team is coming off a difficult 6-3 loss to Cumberland University last season, just one win short of a trip to the Avista-NAIA World Series, but the current season is moving ahead in full force and last year is in the books.
The Spartans received a pre-season ranking of first in the nation by Perfect Game, the largest baseball scouting service in America, and ninth by the NAIA this year, and they will be looking to extend that No. 1 ranking all the way to the end of the season.
With many key players returning, including the most seniors in the team's history, the Spartans will be looking for another trip to the World Series and a chance to win the coveted national title.
Among those returning seniors are All-Americans Orlando Olivera, who last year had a .445 batting average with 11 home runs, and Brandon Zywicki, a pitcher who had 16 starts last year, amassing 66 strikeouts in 97.1 innings pitched.
"Preparation is power," said Olivera. "We got so prepared in the fall that right now we're just letting our talent just go through."
With the available talent, old and new combined, many Spartans have expressed the season will be filled with hard work and motivation.
"We're just excited," said Eddie Uschold, who is in his 16th year as Spartans head coach. "That's what we're really looking forward to doing (playing). … I'm excited about what we have, but we've still got a lot of work ahead of us."
Understanding the responsibility that comes with being pre-season ranked No. 1 is something the team will be forced to navigate.
Coming off a 2014 record of 47-14, Uschold has expressed that players must continue doing what they have done in the past.
MBU lost in the Regional Championship last year on its way to the National Championship, which included the top eight teams in the country.
With a 52-game season, not counting post-season, the team is shooting for a perfect record.
"I have never been on a team like this. We gel so well and everybody is so talented, it doesn't matter who is playing or who is pitching, we are going to win no matter who we play," said pitcher Randy Wynne.
The Spartans have also acquired several new pitchers for the 2015 season, including Marcus Cresentini, a transfer from the University of Tampa, and Austin Sweet, a transfer from Fullerton College, whose velocities top out around the mid-90 mph range.
"I'm feeling strong," said Sweet. "We're gonna win it. It's great. Fantastic."
The team has also obtained several position players, including University of Kansas transfer outfielder Brian Poupore and Northeastern Oklahoma A&M transfer catcher Hector Candeleria, who are hoping to help the team win its first national championship.
"We have very good talent as a team and if we play good baseball we can be champions," said Candeleria. "I feel proud because I'm part of that team that has a lot of success."
Over the last 15 years, MBU baseball has shown consistent progress.
"There is literally not a weakness on the team," said sophomore left-handed pitcher Daniel Hartmann.
Players are feeling excited and anxious to get the season moving along, as the preliminary preparations have finally come to an end.
"I feel great about this season," junior right-handed pitcher Max Osnowitz said.
Local senior infielder Jacob Rhodes added, "I'm pretty excited about the season. Um, looking forward to getting things started … just can't wait until things get into full swing and … we're ready to play some games every week."
That time has finally come, and one additional component this year is sheer chemistry.
"I have been on the team for five years and the team this year is unlike any other team since I have been here. Our connectivity is amazing," said pitcher Chris Cordova. "Every guy on the team is a caring guy that cares about our team. This year we don't have any drama queens that only care about themselves, which is very hard to come by in NAIA baseball."
The Spartans  have now traveled to Hattiesburg, Miss., and Jackson, Miss., in consecutive weekends spanning a 6-0 record and claiming victory over the reigning NAIA champion Cumberland University, 11-2.
The team travels to Lebanon, Tenn., this weekend to play another three-game series against Cumberland.
The Spartans will look to continue their current winning streak as long as possible and accomplish their overall season goal of winning the national championship this June.
__________________________________________________
2015 Perfect Game NAIA Preseason Top 25 Teams
| | | | |
| --- | --- | --- | --- |
| Rk. | School | Mascot | 2014 Record (Conf.) |
| 1 | Missouri Baptist | Spartans | 47-14 (22-5) |
| 2 | Oklahoma Baptist | Bison | 56-9 (22-4) |
| 3 | LSU Shreveport | Pilots | 45-18 (19-5) |
| 4 | Oklahoma Wesleyan | Eagles | 58-8 (23-1) |
| 5 | Faulkner (Ala.) | Eagles | 50-16 (22-8) |
| 6 | Georgetown (Ky.) | Tigers | 46-11 (23-3) |
| 7 | Doane (Neb.) | Tigers | 42-11 (20-0) |
| 8 | Southeastern (Fla.) | Fire | 46-16 (20-7) |
| 9 | Belhaven (Miss.) | Blazers | 42-21 (17-13) |
| 10 | Brewton-Parker (Ga.) | Barons | 32-13 (19-7) |
| 11 | Embry-Riddle (Fla.) | Eagles | 40-21 (22-5) |
| 12 | Lewis-Clark State (Id.) | Warriors | 47-9 (24-4) |
| 13 | Davenport (Mich.) | Panthers | 42-17 (24-6) |
| 14 | Judson (Ill.) | Eagles | 42-19 (22-5) |
| 15 | Cumberland (Tenn.) | Bulldogs | 49-20 (17-9) |
| 16 | Point Park (Pa.) | Pioneers | 40-18 (16-4) |
| 17 | Georgia Gwinnett | Grizzlies | 53-13 (8-1) |
| 18 | British Columbia | Thunderbirds | 35-13 (20-8) |
| 19 | Tabor (Kan.) | Bluejays | 51-13 (24-4) |
| 20 | The Master's (Calif.) | Mustangs | 37-18 (23-13) |
| 21 | Northwestern Ohio | Racers | 34-16 (22-6) |
| 22 | Concordia (Calif.) | Eagles | 34-17 (21-15) |
| 23 | Jamestown (N.D.) | Jimmies | 36-10 (14-4) |
| 24 | Bellevue (Neb.) | Bruins | 40-17 (18-6) |
| 25 | Mount Vernon Nazarene (Ohio) | Cougars | 44-12 (31-5) |