Quarterback Carousel
The injury curse is striking the Missouri Baptist University football team hard this year as the Spartans must rotate through multiple quarterbacks while the team strives for their first win.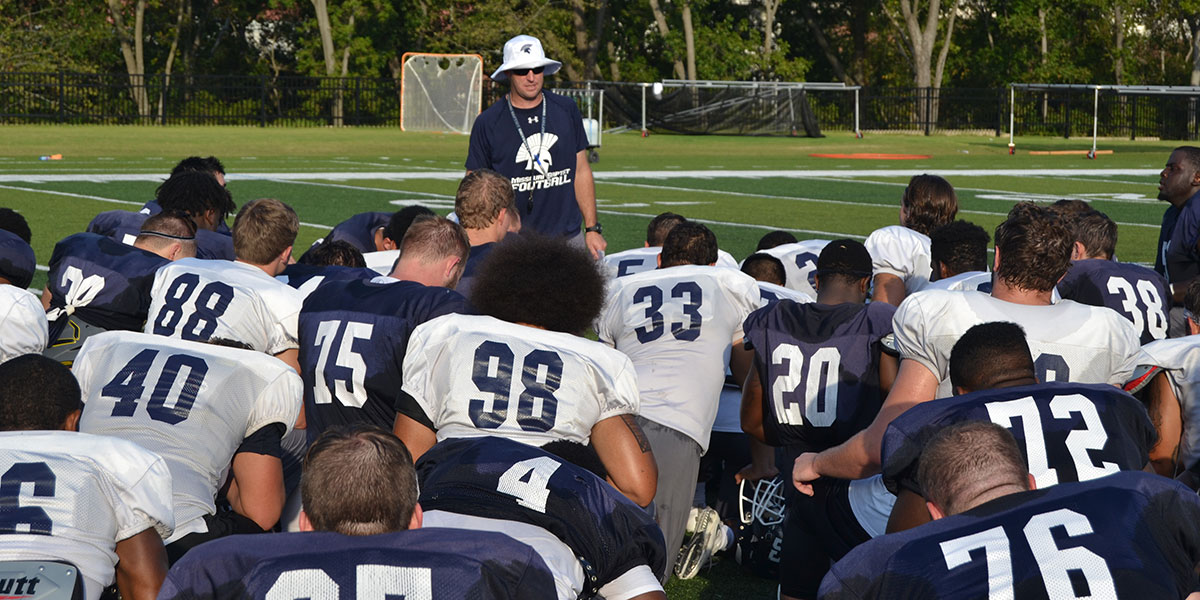 Photo by Aaron Feeley
________________________________________________
The quarterback position has often been called the most important position in sports, and for good reason.
Football has become the most popular and sometimes polarizing sport in the United States, and the explosion has spread throughout every level, starting from the professional level and working down through college and high school, all the way to youth football leagues.
If football is being played, people are watching intently.
At the epicenter of the game is the position of quarterback, the man who takes command of the offensive huddle, calls and changes plays at the line of scrimmage and ultimately is expected to lead his team over the course of a season.
But, what happens when a team is without a solidified starter at what is arguably the most important position in sports?
The Missouri Baptist University Spartans are learning exactly what it means to use a multi-headed attack at the quarterback spot, thanks to a combination of injuries and general competitiveness at the position from week to week.
The Spartans are now three games into the 2016 season, and despite showing strong signs of improvement from the previous seasons in the team's short three-year history, they currently stand at 0-3.
In these three games, the team has played four different quarterbacks and, factoring in last season, the Spartans have played a total of seven.
The starter going into the season, William "Billy" Ritchey, No. 16, a junior from Jerseyville, Ill., left during the second game of the season, MBU's home opener against Siena Heights University, with an ankle injury and has not played or practiced since.
Ritchey's replacement is sophomore Gunnar Griffin, No. 17, from Paso Robles, Calif., who played until the injury bug turned its ugly head once more and forced him out of the game with a shoulder injury.
Junior Jordan Norwine, No. 11, out of O'Fallon, Mo., finished the game at quarterback, but the Spartans turned to freshman Sergio Lopez, No. 15, from Oceanside, Calif., to start week three's matchup at home against the University of Saint Francis.
Justin Winslow, MBU's quarterbacks coach and offensive play-caller, didn't think youth at the position hurt the Spartans' offense or gameplan.
"I mean, you may have to change a few calls early on, maybe let them hand it off to get them into the game a little bit, but at the end of the day it's just about making those throws," Winslow said. "And, regardless of age that's what they are going to need to do."
Winslow pointed out that Lopez was playing pretty well in the game, especially due to his mobile style and running ability.
"I think [the University of Saint Francis was] definitely surprised by Sergio's athleticism and rushing skill, and we got a few good runs because of that," Winslow said.
Unfortunately, Lopez would then become the third quarterback to suffer an injury and for the second consecutive week MBU called upon Norwine to finish the game under center.
The Spartans will now set their sights on facing the No. 1 ranked team in the country, Marian University, with either Norwine at quarterback or sophomore Jacob Hunt, No. 18, from New Berlin, Ill. Game time is 1 p.m. Saturday, Sept. 24, at the Christian Brothers College field next to the MBU campus.
Winslow said often times when major underdogs go into a matchup like this it can be a momentum-swinging game in one direction or another.
"It's always a great opportunity when you play great teams like Marian," he said. "I think everyone's looking forward to this opportunity."
No solid timetable is currently set as far as when the injured quarterbacks will return, but as of yet none of them have practiced, so for now the Spartans will roll on with a quarterback rotation on their hands.
Now the question looms, when all the quarterbacks are back and at full health, will the Spartans choose a signal-caller and stick with him or will they continue to ride this QB carousel?
Tags: Christian Brothers College, football, Gunnar Griffin, Jacob Hunt, Jordan Norwine, Justin Winslow, Marian, MBU, MBUTimeline, Quarterback, Sergio Lopez, Siena Heights University, Spartans, University of Saint Francis, William "Billy" Ritchey

Aaron Feeley
Aaron Feeley is a staff journalist and anchor for MBU Timeline. He majors in Broadcast Media here at Missouri Baptist University. Feeley plays Tight End for the MBU football team and came to St. Louis from his hometown of Naperville, Illinois. Feeley enjoys watching, playing, and broadcasting almost any sport and hopes to work as a sports broadcaster after graduation.