This coming season there are six graduating lacrosse players who have stuck together all four years. They talk about their team, and how they want to finish their lacrosse career.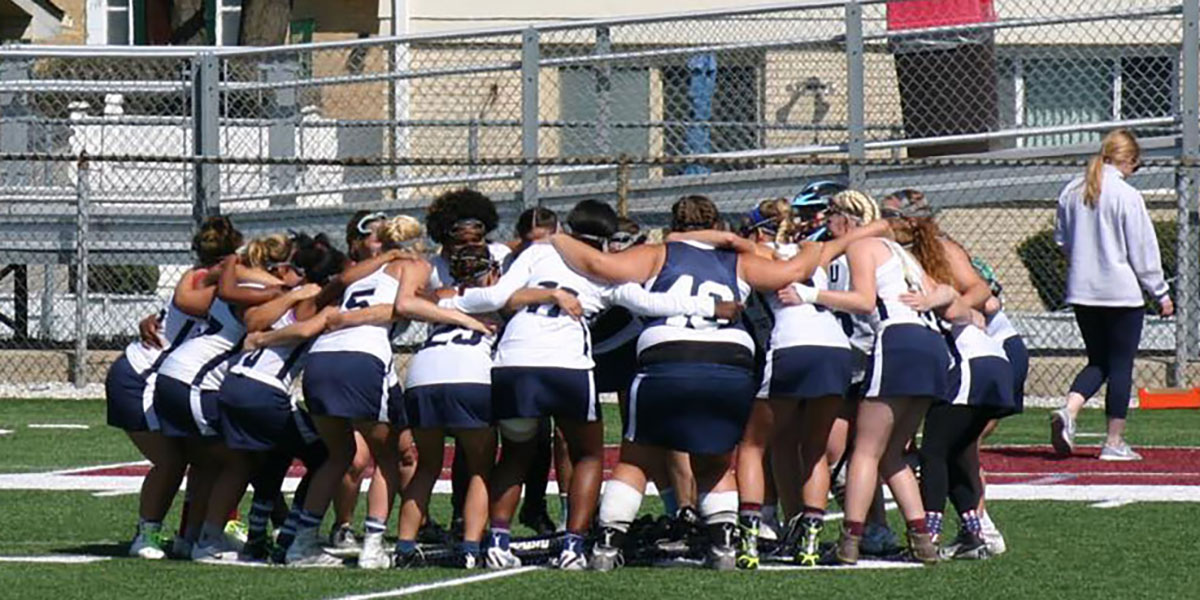 __________________________________________________
Twenty seconds left on the clock, the crowd is going wild, but you hear nothing except for your own heartbeat racing as you get closer to the goal … and then everything goes black.
For now that is the reality for the six graduating seniors on the women's lacrosse team this coming spring.
These six players arrived together as freshmen and have made it through to graduation as a unit.
It is uncommon at smaller universities for a group of girls to stay together on a team all four years.
The women's lacrosse team started in 2006 and remained fairly small until two years ago, when it began seeing recruiting efforts pay off.
"I'm ready to see what this season has in store for us. I'm bummed it is my last year but I'm ready to move forward," said senior Rachel Bianchi, a business major from St. Louis.
But maybe some of the players are not ready to move forward. What will life be like without lacrosse?
There will surely be less stress. One of Bianchi's regrets during her lacrosse career was "not balancing my class schedule better and making it so my courses weren't overwhelming during season."
Senior Mary Krause, a exercise science major from St. Louis, agrees that balancing school and lacrosse has not always been easy, especially when she adds a second MBU sport into the mix.
"The only time I thought about quitting was because with playing volleyball as well, it was a lot of work and took up a lot of time with trying to work and go to school," Krause said.
Playing lacrosse might make the school year a little more stressful, but some find it is worth the stress.
"Picking up lacrosse my freshman year, I loved the girls automatically and thought it was such a cool sport," Krause said. "I'm so glad I stuck with it."
Your team is everything during your career. After all you spend most of your time with your teammates.
Senior Victoria Metzger, criminal justice major from St. Louis, has had her fair share with overcoming obstacles but she admits "my teammates helped me stick it out."
Metzger said, "I am going to encourage everyone with the physical aspect and always finish as a team."
Some of the girls on the team are natural born leaders, like senior Rebecca Wright, a business major from St. Louis, who has been captain for the past two seasons.
Wright said her "intentional actions will be positive reinforcement for the new faces and show some tough love along the way. I want everyone to be as passionate about lacrosse as I am."
The six seniors on the women's lacrosse team who will be graduating this coming spring have stuck it out through thick and thin.
Metzger hopes to be a police officer after graduating, Wright hopes to have her own lawn care business, while others may still be pondering what to do.
"I stayed with the program and MoBap all four years because, one, I like consistency, but two, because I love the organization. It has introduced me to my now sister-in-law, and some of my best friends," said Wright.
Not only have the six soon-to-be graduates watched one another grow as individuals and as a team, they have also watched head coach Amanda Sullivan grow, as it was her first year head coaching in 2013.
Sullivan certainly holds a special bond with the graduating seniors.
"It is definitely a different kind of bond I feel," she said, adding the team has "seen me grow as a coach more than anyone, and it is bittersweet that it is (the team's) final year."
Four years of playing with one another, the women have had the chance to grow and become a stronger team, as they look forward to playing one last season in hopes of making it to Nationals.
Last season, the team lost to Robert Morris University, in Chicago, during the conference tournament, which ended their hopes of going to Nationals.
Sullivan thinks this "graduating class has helped shape what MBU lacrosse is, starting from such a little team to growing into one of the best teams in the league and making a name for Missouri Baptist women's lacrosse."
As this group of women has begun practice for the upcoming season, they will soon realize the clock is always ticking and their time here at Missouri Baptist University is running out.