With a strong background and passion for basketball, Coach Samuel Pearson is excited for the season ahead at MBU. He believes the team's defensive skills as well as their ability to unite will help make this season a success.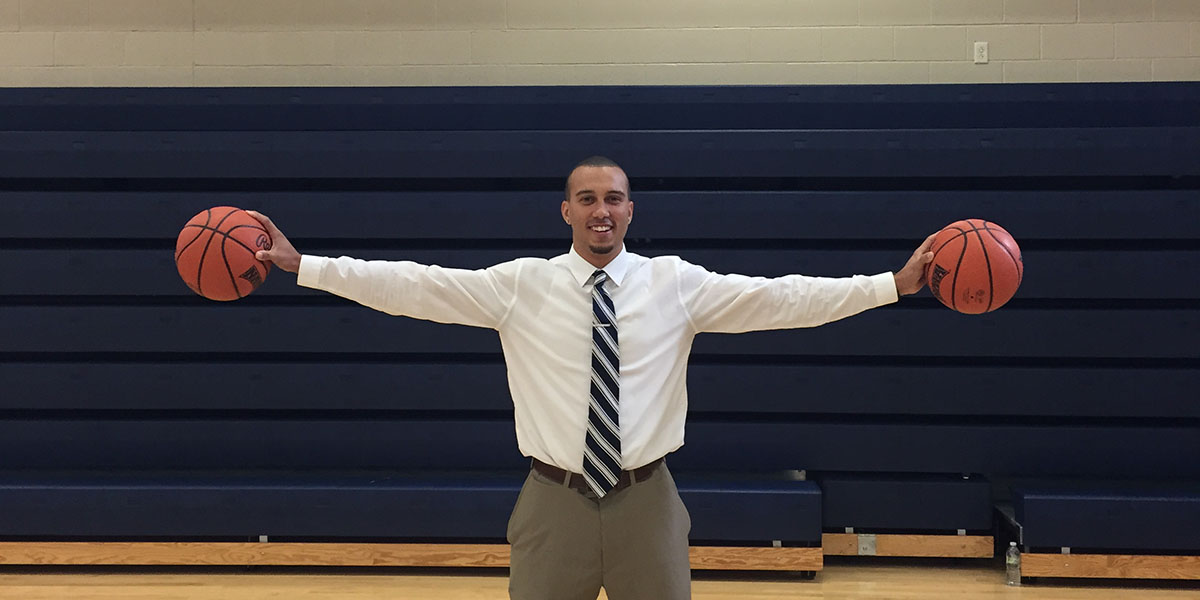 Photo by Spencer Randolph

__________________________________________________
As a native of St. Louis, Coach Samuel Pearson is excited to be a part of Missouri Baptist University's women's basketball program, serving as assistant to head coach Iris Dixon.
"There was a definite purpose for me to be at Missouri Baptist," Pearson said as he reflected back on his undergraduate basketball career here in 2011-12.
Missouri Baptist came into his life during a time of struggle and he explained that he was able to persevere through the word of God he received from his head coach Ray Farrell, and the overall atmosphere of the university.
As a transfer student from Tennessee Martin University, Moberly Community College and Southeast Missouri State, Pearson was a solid point guard and needed asset on the 2011-12 MBU team. Unfortunately after becoming the leading scorer and preparing the team for post-season play Pearson fell to a broken hand his senior year, ending his career as a player.
"Basketball has impacted my life greatly," he said, looking back on his experience as a player.
He graduated with an undergraduate degree in liberal science in 2012 and received his master's degree in sports management two years later. He is a husband and father to two children, Samuel III, 4, and Sophie, 7 months.
To start off his coaching career, Pearson was the assistant varsity boy's basketball coach at Orchard Farms High School in Portage Des Sioux, Mo., and also served as the head junior varsity coach.
As a support to the head coach of the program Pearson helped to improve the varsity team's record by 12 wins over the previous season's record.
"I let my players play," he explained. With a trust that the principles and ideas drilled into the players at practice will be demonstrated during games, he described his coaching style as "hands off."
He continued, "Instead of negatively disciplining players for their mistakes I try to help them understand how they could have done something differently."
Looking ahead to this season, Pearson explained how leadership and unity are key ingredients to the success of the team. Specifically, he said, "We all play for Missouri Baptist. We all have one common goal."
As the season approaches, Pearson is looking to maximize on the team's natural ability, specifically on the defensive end of the court.
"Defense will be our strength this season. Locking down on defense, limiting offensive turnovers and unforced mistakes, and working to get a good shot will be the key for us," he said.
With a goal to win four or more games before Christmas break, Pearson believes that "controlling the controllables" on the court, and unifying the team will play a major role in achieving this goal.
The team's first game is scheduled for Nov. 3 at College of the Ozarks.
As a personal motto and helpful key to the success of the team this year Pearson said, "You have what it takes, but it will take everything you've got."