With his first season at MBU, Brock coaches his players to have a growth mindset on and off the court.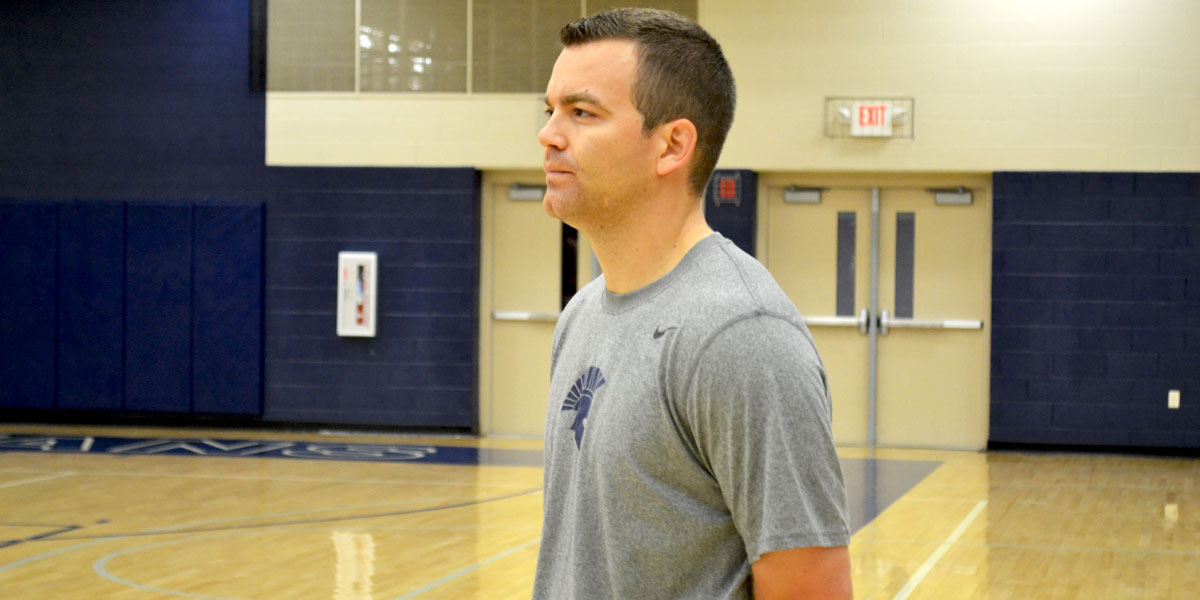 Photo by Brittany Gammon
________________________________________________
Spartan basketball gets a fresh start this season with the new men's head coach, Matt Brock.
"One thing we're really trying to change is just the attitude and the culture," said Brock. "When teams haven't had success, it's easy to kind of get into a mode where you almost expect things to be hard and expect things to not go in your favor, so we want to change that into more of a winning mentality and winning culture."
Brock spent the last three years coaching basketball at Columbia University, a rival to MBU in the American Midwest Conference.
As the associate head coach at Columbia College, Brock led the Cougars to record 93 wins and only 11 losses, with 35 consecutive wins.
The MBU Spartans ended the 2014-15 season with a 6-24 record.
For the first time in Columbia College history, the Cougars received the top ranking in NAIA.
"I'm familiar with the conference. I'm familiar with the coaches and teams that we'll play," said Brock. "You kind of have a reference point for everybody that we'll play in the AMC conference."
The mindset for the team sets the tone for the season, and winning isn't Brock's only focus.
"I definitely want a growth mindset where we're not just focused on results. We obviously want to have good results, but I think we can get the right kind of people here and recruit the right type of player and person and get them to buy in to a growth mindset," said Brock. "If we win by 20 or if we lose by 10, the next day we're just going to get better, and hopefully as you get better every day, at the end you're playing your best."
For Brock, coaching goes beyond great plays.
"I feel a huge responsibility for pushing these guys in maturity and character," said Brock. "I think as a coach you can do that. You can help shape that, and push them not only to grow as a basketball player and student but also into a person and grow into a man."
Brock played on the Truman State University basketball team from 2001-06.
Once a student athlete, Brock offered sound advice to his students.
"Well, I think athletes — and I struggled with it too as a student athlete — get caught up in their identity being a basketball player and not grounded in who you are because of Christ," Brock said. "I think once I figured that out, that my identity was not in whether we won or lost a basketball game, but being one of Christ's children and in being part of that family defined my life instead of bouncing a basketball."
Skip, Brock's father, coached 19 seasons of basketball at Camdenton High School in Camdenton, Mo.
He currently coaches at Carl Junction High School in Carl Junction, Mo.
As his high school coach, Brock's father continues to influence his son's personal coaching style.
"He's been a very successful coach over 30 years and still coaches to this day," said Brock.
Coaches are often known by their style of leadership. Brock is passionate but engaging.
"I'm very interactive. I'm not a yeller and a screamer but I definitely coach. I want to teach the game and teach the game the way I think it's supposed to be played and played successfully."
Aside from the strategy and logistics of the game, there is one thing Coach Brock wants his players to learn.
"I hope if they don't know Jesus they know about him first and foremost. Hopefully, they will see that I believe in them a little more than they believe in themselves," said Brock.
With hopes high and visions strong, the future is shining bright for the MBU men's basketball team.
Support your Spartans for their home opener at 7 p.m. Tuesday, Nov. 3, against Concordia Seminary.