Missouri Gov. Mike Parson has been leading a life of public service for over 30 years, letting his faith influence his leadership and guide his decisions.

Photos by Stacy Rohan
Gov. Mike Parson, left, is interviewed by Ross Munroe, middle, and Colin Baillie, right, during MBU's fall 2018 Media Talk, hosted by the Missouri Baptist University Communications Department.
__________________________________________________
Missouri Baptist University hosted Missouri Gov. Mike Parson in the fall at the Pillsbury Chapel as he discussed Christian communication and his leadership style in public service.
Amanda Staggenborg, assistant professor of public relations in the Communications Department, provided students in her Media Interviewing Theory and Techniques class with the opportunity to meet with the governor before he took the stage.
"It was very nerve wracking, but also awesome because I was talking to someone with power and influence and I had never done that before," said Anika Conley, senior communications major.
Communications students Colin Baillie, senior, and Ross Munroe, senior, led the interview with Gov. Parson, asking about his leadership and his identity in Christ.
"I was not nervous, that's for sure. It all came down to that day," said Munroe. "Once it was over, it was like that's it, we're done. It was an incredible experience."
Baillie and Munroe focused their beginning questions on Parson's faith as well as its role in his leadership.
Parson talked about his motivation for his work: "One of the great honors I have as governor, I get to introduce the first lady of the state of Missouri, Teresa. Believe me, when you've been married for 30 years, she can motivate you."
"What motivates me every day, truly, is to be a public servant and to take the values that I've learned as a young man, Christian values, that are so important to me to be able to do my job every day."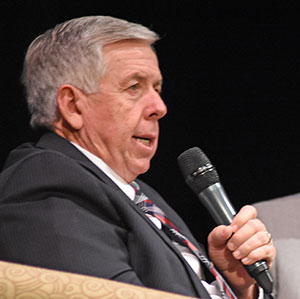 Parson talked often of the importance of Christian values. He shared with the audience a tool he uses to keep himself grounded while being busy with his duties.
"I read five Bible verses every morning, first thing I do when I get up," said Parson. "That always helps me to get grounded and then I think it's always important for me to realize that I'm not in control."
Each morning he wakes up thinking about the well being of the people thinking, "How do I help you to really live the American dream?"
Parson also told his personal back story, relating to his audience by mentioning that he felt a lack of purpose when he was in high school, growing up in Wheatland, Missouri, a town of 1,093 people.
He said he found his passion after serving the country in the U.S. Army in 1975, followed by a career as deputy sheriff of Hickory County.
"If I had not served my country, I do not necessarily think I would be sitting here in front of you  today," Parson said.
Conversation flowed as the governor informed MBU students of God's work throughout the course of his life.
God's work is most apparent through the families he communicates with during tragedies and carrying that burden alongside them.
He is able to show his faith through works in the public eye, effectively blending faith and politics.
"The important thing to do is don't let people try to tell you there is a separation between those two things [church and state]. Do not let people try to convince you, 'Oh we are at church, we don't talk politics.'"
Parson spoke about the myth that there's an absolute separation between church and state, explaining the misinterpretation is that the church can take part in state activities, but the government should not interfere with matters of the church.
Parson's passion for his career was evident when speaking about his Christian values, including his love for state, country and family.
Spending time with his family is high on Parson's priority list: "I have to say family and farm. I'm a farm boy at heart," said Parson, talking about his favorite things to do in his free time.
The conversation then moved toward the growth and initiative to encourage young people to vote.
Parson explained that young people need to realize that these elections affect them, their health, their taxes and their education.
He talked about the reality that most young people have yet to realize what a privilege it is to vote.
Missouri Baptist student Erin Dunnegan, a junior public relations major, shared her voting habits: "My mom is the recorder of deeds for Jefferson County so I know a lot of the candidates personally. I talked to them about what they believe and what their stances are.
"Nationally, I research, listen to debates and find out as much information as I can. I might be one voice but at least it's getting heard," said Dunnegan.
The governor spoke about the significance of building networks in his work, pointing out the importance of relationships with the media as well as the truthfulness and forthcoming answers.
Conversation was not solely focused on his career as Parson also revealed his past stint playing basketball on the Army team as well as his love for the St. Louis Cardinals.
"I'm totally red. How I became a Cardinals fan is that we listened to the Cardinals on the radio, my grandparents did. That was always a big deal to listen to them on the radio."
Parson left the audience with parting comments, reminding students to be themselves fully, let the past stay in the past and and to keep faith through life's difficult path.
"Just be who you are. Let faith run its course. Let wherever you're led, go. Don't be afraid of what tomorrow brings," said Parson.