In hopes of creating lifelong friendships, hosting outstanding events and raising awareness and money through philanthropy, MBU's sorority is in full swing of the new school year.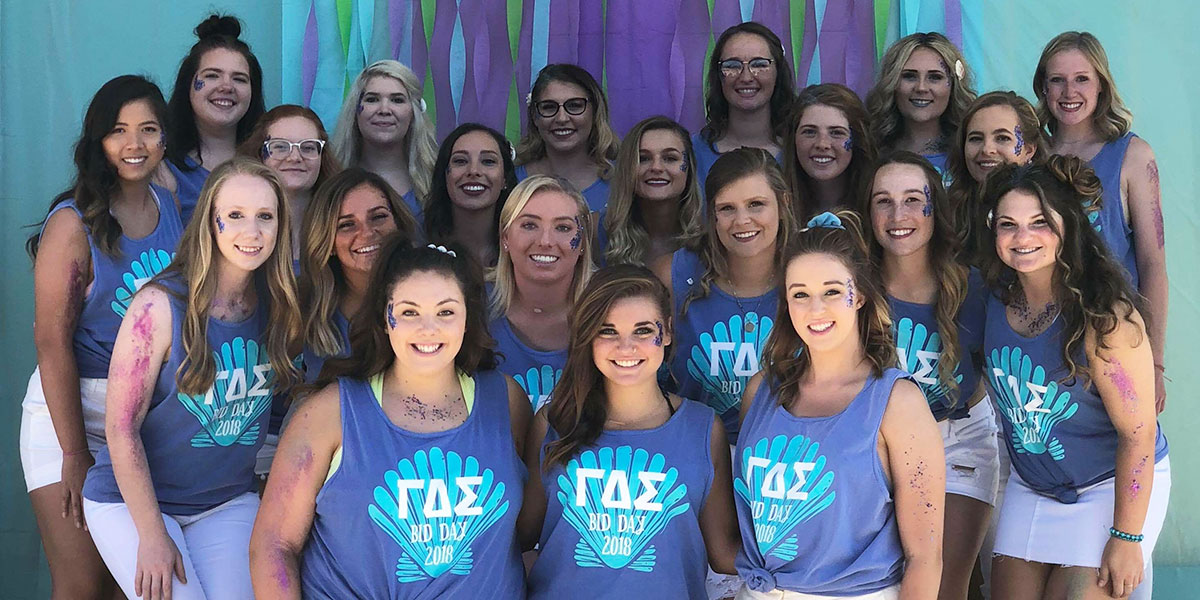 Photo by Kelsey Dotson
The sorority gathers for Bid Day to recognize the newest members of Gamma Delta Sigma. Front row, from left to right, Allison Horrall, Kelsey Dotson and Madison Smith serve as the executive board. The theme of the 2018 Bid Day was "We Mermaid for Each Other." 
__________________________________________________
Huge houses, hundreds of girls, weeks of preparing for rush week and nervous hearts all vying to find the perfect group of sisters. At MBU, you don't have to deal with these stressors, there is just one sorority on campus.
That's right, MBU does in fact have a sorority known as Gamma Delta Sigma. Though the sorority is quite small, the women in the sisterhood have a passion for leadership, philanthropy and each other.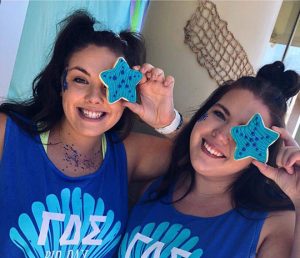 The first step of recruitment is when the sisters attend Spartan Preview Days and Welcome Weekend to get their word out. There, they hand out a packet containing an application, an FAQ page and the rush week schedule.
Their tables often include their merchandise: T-shirts, monogrammed items and of course their giant glitter Greek letters.
The current members of the sorority say they are approachable and outgoing, and love to share what the sorority is all about to new or prospective students. Their smiling faces and bubbly personalities make them approachable and always wanting to relay their purpose at MBU.
To give a little history on the sorority itself, Gamma Delta Sigma was founded at Virginia Tech University by two graduate students in 2008. They wanted this sorority to focus on women of all backgrounds, who were proud of who they were, wanted leadership skills and could develop a sisterhood with a diverse group.
In 2013, the sorority came to MBU where Jerica Marie Mosello (formerly Drago), MBU alum, and then-Virginia Tech student, Miccah Bartley, created a plan to extend to the MBU campus.
Gamma Delta Sigma was chartered in March of that year and still resides today.
Andrea Robb, sorority adviser, manager of athletic operations and adjunct instructor of theatre, said she made lifelong friends as a student in the sorority and that's why she wanted to help continue the sorority at MBU by offering her resources.
Robb, whose job is to advise the women, making sure they follow university policies and uphold the sorority's rituals and policies, said her favorite part is when the women stop by her office for things other than the sorority.
"I love getting to know them and helping them reach their full potential outside of the organization," Robb said. "Their lives and identities are so much bigger than Greek letters. Are we sisters? Yes. But I want them to know their worth is defined by so much more."
Each sister has a specific role that plays a part in helping the organization run smoothly. This way, with the organization being so small, the workload is not placed on a limited number of members.
The executive board consists of Kelsey Dotson, president; Allison Horrall, vice president, and Madison Smith, treasurer.
"Each member of the sorority plays a special role in the sisterhood. We all have a specific title that comes with a delegated task or job. When everyone fulfills their duties, the organization comes together and events run smoothly," said Kayla Stotler, co-event coordinator.
As vice president of new membership and bid mom, Sofia Orlando is responsible for making sure all the potential new members (women who are rushing) are educated on the sorority before becoming a sister. She has weekly meetings with them prior to bid day to teach them both the history and what they plan to do together as a sisterhood.
As bid mom, Orlando must also ensure that all the women are comfortable and making an easy adjustment into Greek Life.
Other members of the sorority include Lindsy Hawkins, vice president of communications, who is responsible for advertising and social media management; Diana Rosa, rituals chair, who makes sure that all ritual events are being executed in accordance with the rituals binder and in a timely matter.
In addition, Madison Bond, chaplain general standard manager, who watches for inappropriate social media posts of the girls, asks them to submit their GPA and submits any suspicious behavior to the executives.
The main goal of the sorority is to present an opportunity for some of the women on campus to make new friends.
The women have the opportunity to become very close while in the sorority. Often their reason for joining is to create new friends, and many end up leaving with lifelong relationships.
"My favorite part about the sorority is not only the friendships I've made but the ways that me and my friends have been able to put on events that shine a positive light on Greek life at MBU," Robb said.
After deciding to end her student-athlete career with softball, Dotson wanted to find something else on campus that she could be involved with, making new friends and affecting her life in a larger way.
She chose to join Gamma Delta Sigma in hopes of finding those characteristics.
"All of my closest friends, even my three roommates, came out of being in the sorority. There's probably no chance that I'd be friends with them if it wasn't for GDS," Dotson said. "I never once thought that I would be the kind of girl to join a sorority, I always thought they were overrated and 'extra.' It's ironic because now I'm the president. Time and time again, God has proved me wrong."
GDS will be hosting a Be The Match event for bone marrow donors and an event with the International Justice Mission called Threads.
With Be The Match, an organization specifically for blood cancer, GDS hopes to raise awareness and get students to donate bone marrow.
Threads is an event that will be held in the spring for sex trafficking victims. Boxes will be placed around campus asking for donations of clothing, then the sisters will set up their own resale shop in the Quad and all proceeds and donations will be sent to IJM.
As far as sorority events, Gamma Delta Sigma holds a few yearly traditions, including the Preference Dinner, Bid Day, Initiation, Spoils Week and Big/Little Reveal, Fall Retreat, Secret Sister Christmas Party and Spring Formal.
When she first came to MBU, Marissa Black, co-event coordinator, wanted to plan events and continue to build up the sisterhood. She saw potential in the sorority and wanted to not only be a part of it, but she wanted to hold an important position and get women interested in what the sorority has to offer.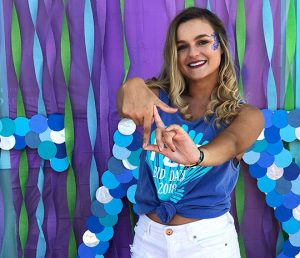 With MBU being a Christian university, students are constantly surrounded by the Christian atmosphere in all areas of the university.
Dotson said in previous years, God has not been a huge part of the sorority, and this year she wants to change that.
She hosts devotion time at the beginning of each chapter meeting.
"God Hears Her" is a devotional book the women read together at the start of every chapter meeting held on Wednesday afternoons in the Field Building.
In the future, Dotson hopes to host an event called Freedom Fast, also through IJM, that begins with prayer and consists of 24 hours without food and ends with worship.
Dotson said she believes it is harder to recruit and help GDS succeed because they don't have more sororities or even a fraternity to compete with. Currently, she said it's viewed as just another club, especially because they don't have a house, which is what a lot of women are after. She thinks if there were Greek housing on campus, they would be more well known.
Unlike most sororities at other universities, GDS only has a fall rush due to the small size of MBU. The number of applicants is higher in the fall and they tend have more interested women when they are new or incoming students.
In most cases, they don't have the freedom to turn someone away if they want to join, but if the executive board sees that a potential new member doesn't display Christian values or uphold a quality code of ethics, that person could potentially not receive a bid.
Whether you're in the sorority, interested in their events or considering joining next year, look for these women all around campus.
They want to uplift the community at MBU through their philanthropy events, socialization and involvement in other areas of campus, and overall, spread light on others at MBU.
The recruitment process concluded Sept. 23, and the new members were initiated shortly after. Be on the lookout for GDS's upcoming events and see if you can help too.