Eight Missouri Baptist University video production students had the sole responsibility of directing, producing and editing six interviews with MBU faculty members to use as promotional videos for the fourth annual Faith and Research Conference held April 7-8, 2022, in the Pitch Room of the Learning Center. Click here to see the post where the interviews can be viewed.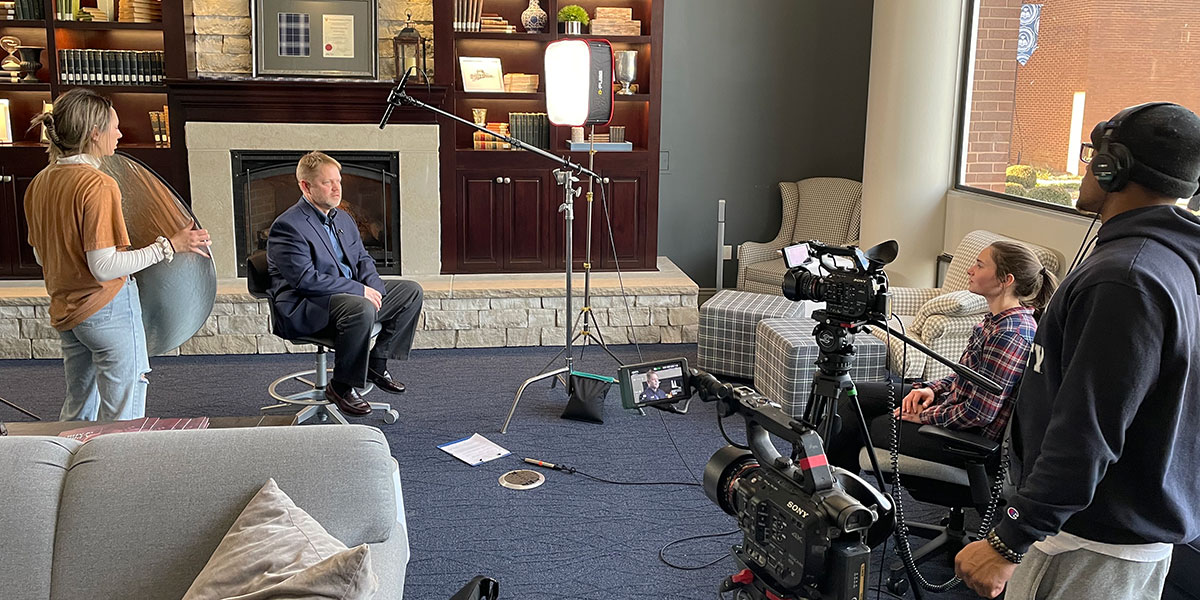 Kaylee Ascher interviews Dr. Jason Jordan while Kamryn Bell works as a grip holding a reflector to create a shadow on the right side of Jordan's face and Jazz Terrell works as the camera operator.        Photo by Dr. C. Allin Means
"It seems like you did a lot of work for two minutes of something," Dr. Timothy Delicath said to a team of four Missouri Baptist University video production students after they finished recording a short interview together in the auditorium of the Dale Williams Fine Arts Center one recent late afternoon.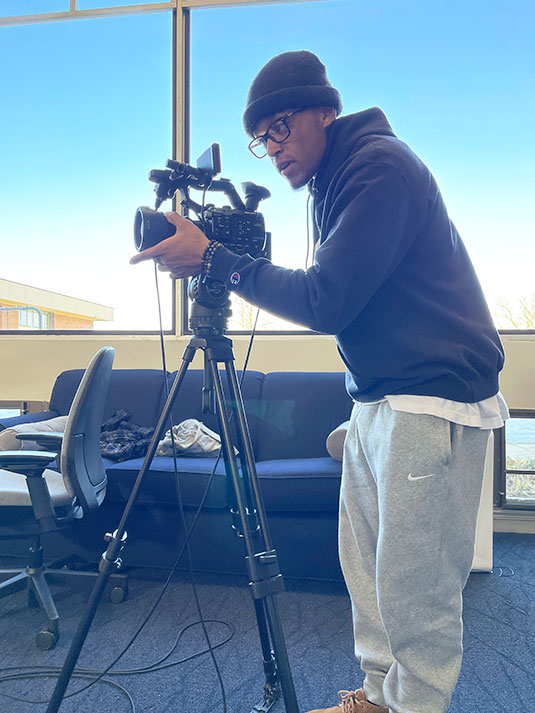 All eight students in the Advanced Post Production class of Alonzo Medcalf, assistant professor of communications and multimedia production, agree wholeheartedly with this sentiment, because the call time for each video interview was an hour before the scheduled interview, while the actual interview may only last a few minutes, not to mention the hours of editing each student spends on each of the six interviews.
These eight students had the sole responsibility of directing, producing and editing six interviews with MBU faculty members to use as promotional videos for the fourth annual Faith and Research Conference, which was held April 7-8, 2022, in the Pitch Room of the Learning Center as well as the Performance Hall of the Dale Williams Fine Arts Center.
The students were evenly split into two production houses the students named, one called Apex Productions, including Austin Richards, a senior broadcast media major from St. Louis; Demingo Loggins, a senior broadcast media major from St. Louis; Alexander Brown, a sophomore broadcast media major from St. Peters, Missouri, and Christian Backa, a senior broadcast media major from Kerava, Finland. 
The second team, Quad Productions, includes Kamryn Bell, a junior broadcast media major and criminal justice minor from St. Charles, Missouri; McKenzie Sheehy, a communications major from St. Louis; Jazz Terrell, a senior double major in communications and broadcast media, from Indianapolis, and Kaylee Ascher, a senior broadcast media major and journalism minor from Moscow Mills, Missouri.
Medcalf pitched the idea to Dr. Allin Means, director of the Communications Department, who directs and organizes the conference each year, with the idea of his students producing the videos for the FRC this year in order to help them gain confidence in themselves to produce professional video within the safe learning environment of MBU.
"He actually came up with the idea and I agreed it would be a good idea and a great opportunity for our students to get some experience in a professional environment of videography," said Means, professor of journalism and communications in the Fine Arts Division.
Medcalf said he wanted to give his students a taste of what it would be like to do video production in the real world.
"I want them to understand how a production happens and functions and works together," said Medcalf, "but I want them to get out of it is more of a desire to do it in the real world. I don't want them to just learn about it, I want them to take what they've learned and to put it into action and say, 'I can actually do this as a job,' and I want them to be more inspired and have more courage to say they can actually do this in the real world."
Each production team had a dedicated director, producer, grip, gaffer and camera operator for each video shoot and then rotated roles for the next interview, so all of the students in the production group obtained experience from each role.
"I think it's just a great opportunity for students, within a certain controlled setting, because we're all very understanding, and everyone the students interview are willing to work with the students and help them with these projects," said Means, who approved the finished videos. "But at the same time, it is absolutely real world exposure. This is not just a lab kind of controlled exercise that we do in class that never leaves the room. This is an exercise where these videos will be seen by hundreds, perhaps thousands of people, not only this year but each year moving forward, because the conference will continue to grow and it will continue to use these videos moving forward."
Apex Productions was assigned to interview Guy Danhoff, assistant professor of health and sports sciences; Dr. Keith Beutler, professor of history, and Delicath, associate professor of educational research.
Quad Productions was assigned to interview Dr. Larry Smith, director of interdisciplinary studies and director of MBU Honors; Dr. Amy Harrison, assistant professor of higher education and program director, and Dr. Jason Jordan, assistant professor counseling education.
The very first interview recorded, conducted by Quad Productions, was with Jordan, whose interview answered the question of the importance of this year's Faith and Research Conference theme, "Mental Health and the Wholeness of Creation."
"Working with the students for the Faith and Research Conference was very fun. They were very professional, and very prepared, and capable, and overall it was just a joy," Jordan said.
Not all of the interviews went as smoothly, however. Both Apex Productions and Quad Productions had to re-record three of the interviews due to improper exposure or composition.
Each of the faculty members generously agreed to re-shoot the interviews and understood the need for the students to correct their mistakes.
"It was excellent," Buetler said when asked about his experience working with the students. "I appreciated the follow-up they would do and we even did a little bit of reshooting, I think because of the exposure of the images. And I just appreciate perseverance and staying with it until we get it right."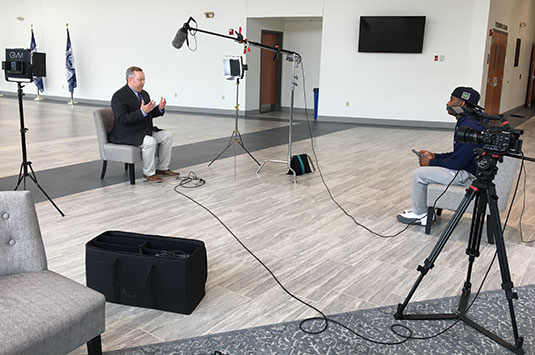 Before production began, each student production house was assigned to meet with Means as the client, who gave both groups of students his vision for the promotional videos and hoped to give the students the creative freedom to produce the videos based on their own skills and vision while also making sure the videos stayed true to the level of professionalism the videos would need to be for the scholarly Faith and Research Conference.
"There's nothing more real world than producing videos for a real world conference like this. This is the fourth annual Faith and Research Conference and each year it continues to grow, and so when students can be involved with the video production side of things, with the videos being used for promotion for the conference, there's in turn a direct correlation between the work that they do and the success of the conference, because these videos will be used to help us promote the conference and get the word out on the conference," said Means, noting that early presentation proposals had him projecting this year's conference would double in size and participation from last year's conference. "So it's a direct reflection on them, you know, the quality of the work that they do, and the professionalism with which they carry themselves, and the end results of the videos they produce are a direct reflection on the students, they reflect directly on the Broadcast Media Program, the Communications Department, the conference itself, and really the university as a whole. So really, there's a lot riding on these videos."
The students and Dr. Means met and decided on a prompt for each interviewee to address in their interview, so that each video would be concise, thorough and different from each other.
Bell, who hopes to produce crime documentaries after graduation, said, "My favorite part about this assignment is being able to work with more equipment. I'm very used to just using a mic and a camera, but now we're using lights, multiple mics, multiple cameras, and just learning how to use multiple things like a real life production."
This learning experience will provide the students with experience of working as a group, just as a production house would run in the professional world.
"I'm hoping that they will get a real world live production, this is how a big group works together. They've spent a lot of time working as an individual to shoot projects, but I want them to work in a group and I want them to go through the phases of being a director, being a producer, being a grip, being an actual camera operator," said Medcalf, who hopes the students will grow from this experience.
"I want them to experience the group production aspect because that's what happens out in the real world."
Terrell, a student camera operator and co-producer for Spartan Digital Network, said he is used to working with a team.
"I like working in a production group because I don't have to do everything myself," said Terrell, who is used to working with a team on various student projects. "It's helpful to be able to rely on other people, so you don't have to rush or feel rushed to do everything that you have to do."
"We have our problems," said Richards, but said he believes that his group is really good at communication. "One of the things we are … good at doing is just communicating and making sure everybody knows their job, making sure everybody knows what to do, setting up everything for the interview, preparing for the interviews, and making sure we email each other back and forth. To me, I feel like we work better as a group."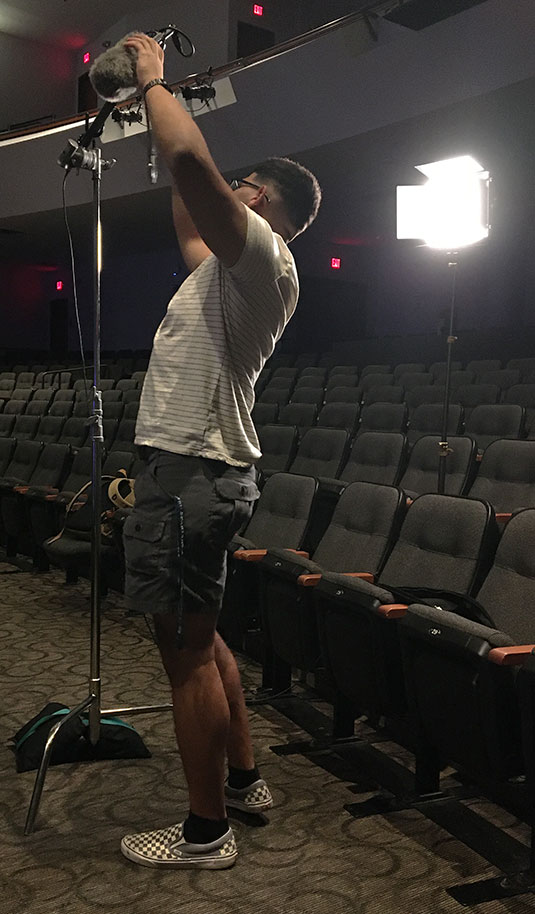 Terrell added: "I've had to adjust not overlooking somebody else's opinion just because I want to do something a certain way, so being able to adjust and adapt to what other people have to say and their views and their opinions goes a long way. It helps everybody in the end for our project."
Backa said he believes this assignment will help him grow professionally in his chosen career field.
"It forces us to work as a team and so you have to consider everyone's weaknesses and strengths and by that figure out how to optimize the whole team and the production for the best quality," Backa said.
Bell, who originally suggested the name Quad Productions, said, "Working in a production group makes it a lot easier and more calming knowing that I can have people to help me out or just work together, and we can just give each other advice, help whenever we need help, and just work as a whole group as you would in the real world."
Medcalf said he believes this experience was important for the students to be able to take the knowledge they learned in the classroom and apply to a real-life production shoot.
"You can't just do video production as a theory. It's not enough for me to say, 'Read this textbook and apply this knowledge.' You have to get hands on and actually do it. It's utterly important, absolutely important, to have this type of experience if they plan on doing this for payment," said Medcalf, who realizes the need for the students to use the skills they've developed individually and apply it in a team setting.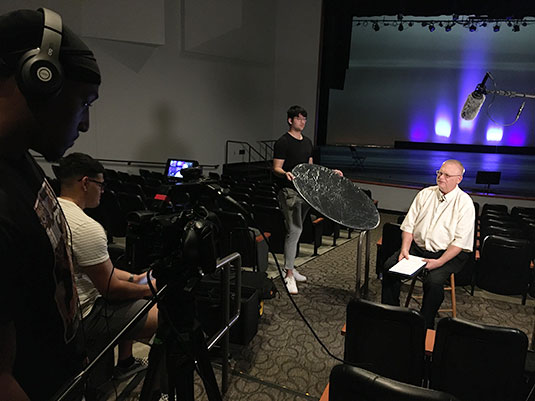 Richards said he believes he learned from the experience of re-shooting two of the videos. "Even though we had to do it all over again, it was fun and I gained experience from it."
The promotional videos these students produced are published and were actually used to promote this year's conference, and will be used for future conferences.
"I haven't completely finalized the numbers yet, which I will be presenting to our Board of Trustees, but so far my estimates show our overall attendance at this year's Faith and Research Conference was about triple attendance from last year," Means said. "So to say these student video productions matter, well, I guess that goes without saying. The numbers will speak for themselves. It's a huge endeavor, and every part of the promotional process matters. Our promotion of this conference is really completely up to us, our students' video work, our faculty, emails, our social media, word of mouth, ourselves. This work really does make a difference."
Medcalf has confidence his students are capable of producing professional videos for the Faith and Research Conference, but is also aware they still have a lot to learn about video production.
"I'm very confident, but I'm also aware that this is still an institution of learning. Not only am I confident, but I also know that they still have a lot to learn, because they have not done it in the real world. They've only done it in the classroom," said Medcalf, who has spent the last four years imparting video production knowledge and experience to MBU students. "I'm confident enough to turn them loose on individuals at this university to produce projects for them, but they still have a lot to learn in order to get out into the real world to actually do it for a paid gig."
Medcalf recognized that students will not always produce perfectly air-able work, and there will need to be some adjustments made, but he said he hopes "that they produce work that is really good as-is, as opposed to making changes. I want to make sure that their work is able to be viewed on a website and people say that this is really quality work."
Medcalf hopes to use this assignment as a learning experience for the students, because he realizes he is not always going to be able to help his students troubleshoot issues, so he wants them to be able to go out and problem solve on their own.
"I want them to hit a roadblock. I want them to be able to troubleshoot themselves out of that roadblock. I'm not going to be able to be there every day to guide them on how to do it," said Medcalf. "They have to say, you know, 'This is not working. What do I do?' and they need to be able to troubleshoot their way out of it, because I feel like they've gained enough knowledge along the way to actually do that."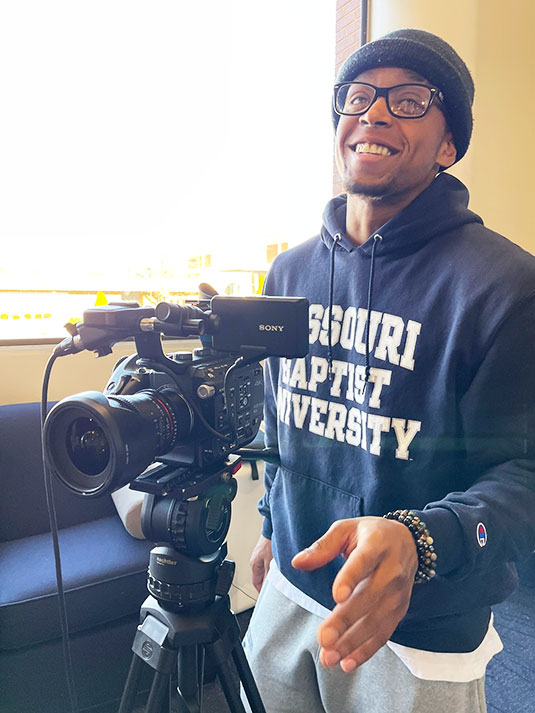 Loggins did not exactly hit a roadblock, but to use a driving analogy, he had to buy a new car.
"While I was doing my video in the studio," said Loggins, who edited Danhoff's interview, "I was editing, and my whole timeline was deleted and I had to think fast because it was due that evening, so I had to remember what I edited and try to redo it as quickly as possible and find a quicker way to still make everything look clean."
Richards, who hopes to work as a video editor after graduation, also noted that after the group had finished shooting all three of his team's interviews, the editing process was not difficult.
"It was cool. The editing process was not that bad, but I had fun shooting the videos for all three professors and I hope when everybody sees the videos they enjoy it. I'm happy that I got it done," said Richards.
The students completed recording and editing all six interviews just a fews days ahead of the fourth annual Faith and Research Conference, and just in time to promote it.
"They cut it pretty close, but they got the videos done and we got them up to the website, MBU Timeline, and they really look great," Means said. "Overall, they did very good work. Like I told them going into this project, it does not get anymore real world than this, and they came through and delivered. It speaks well for Mr. Medcalf's direction and for the work ethic of our students in the Communications Department. It is exceptional. These students will be able to do this kinda work for a living. I look forward to seeing what they do in the future."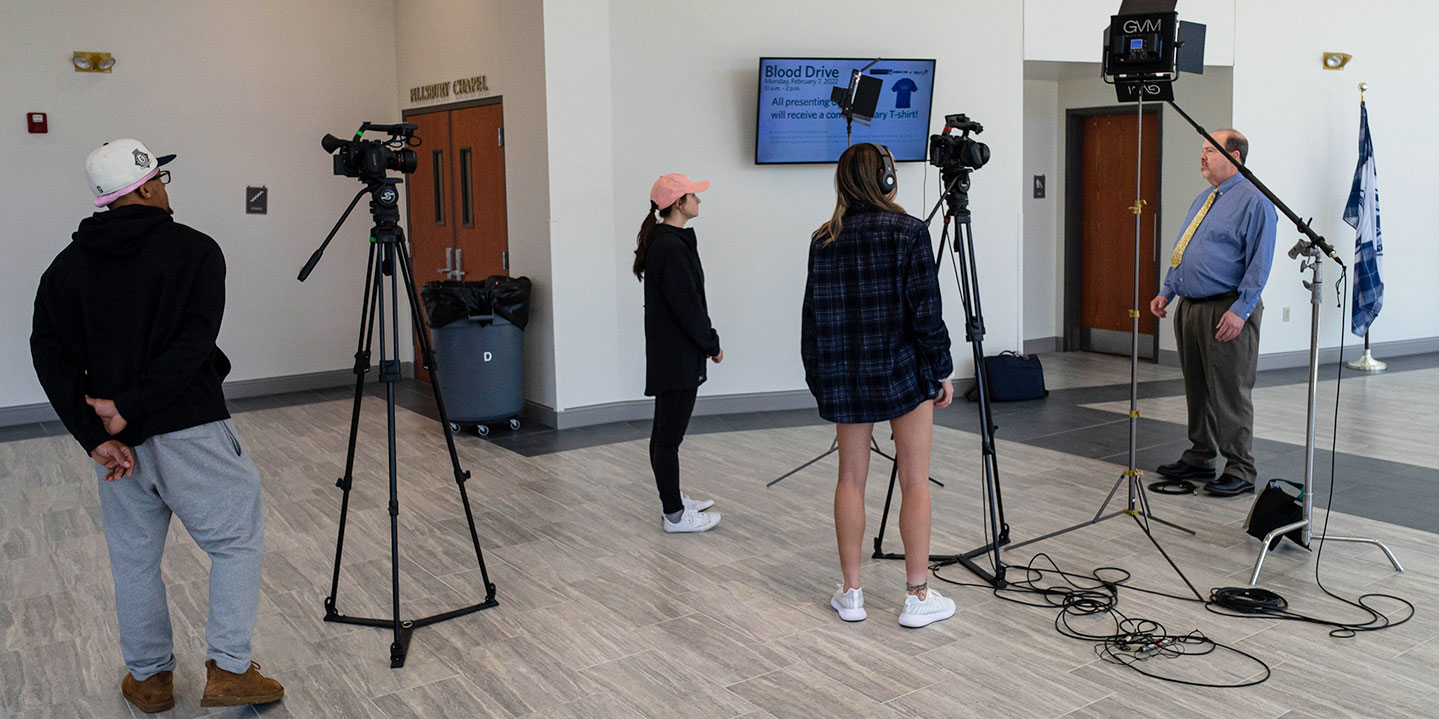 Quad Productions interviews Dr. Larry Smith in the Great Hall of the Dale Williams Fine Arts Center. It was all hands on deck for this interview. Jazz Terrell, Kaylee Ascher and Kamryn Bell all worked as grips to set up the equipment before the interview subject arrived.     Photo by Christian Backa