Fresh off of wrapping up "The Drowning Girls," the Theatre Department at Missouri Baptist University began rehearsals on their next production, Lawrence Kasha and David Landay's "Seven Brides for Seven Brothers," which opens this Thursday.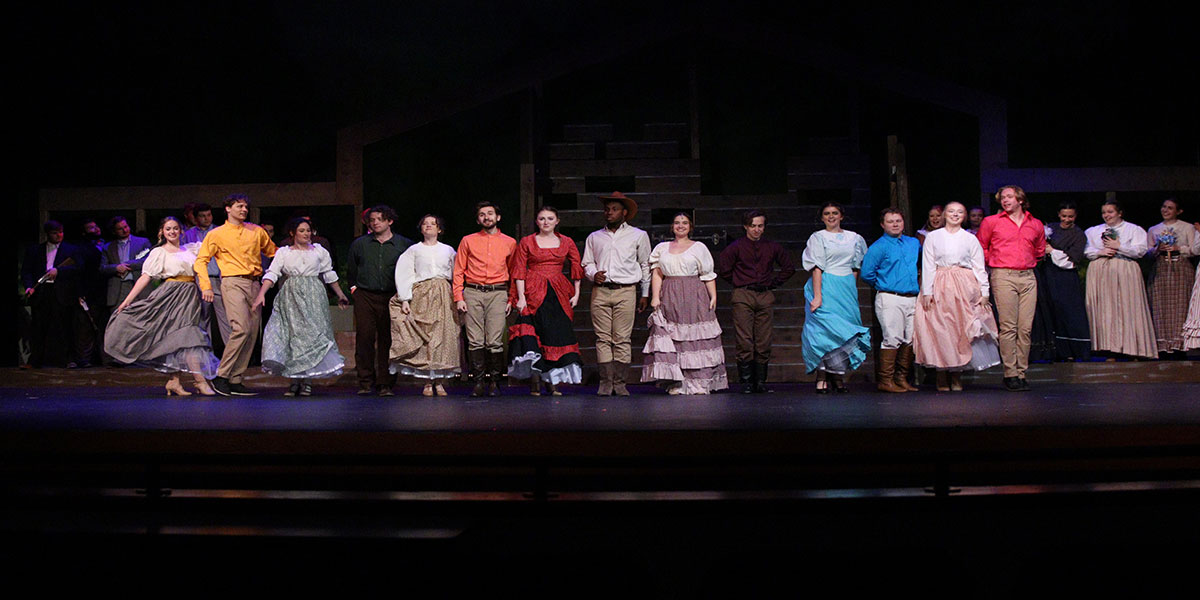 Left to right, Maddie Cook, Evan Clawson, Sophie Karase, Michael Cox, Claire Baur, Nathanael Pezzo, Kaylin Penninger, Greg Carr II, Sabrina Furman, Bradley Bliven, Haley Clegg, Gavin Young, Jenny Duncan and Will Launsby perform in the musical, "Seven Brides for Seven Brothers," in the Pillsbury Chapel, which runs this Thursday through Sunday.     Photos by Hamin Lee
__________________________________________________
As the fall 2021 semester continues, MBU Theatre has been hard at work rehearsing for their upcoming musical, "Seven Brides for Seven Brothers," which opens Thursday, Oct. 28, and runs through Sunday, Oct. 31, at the Pillsbury Chapel.
This romantic comedy, which runs 7:30 p.m. each night and 2 p.m. Sunday, provides a look into the lives of seven unruly brothers who live on the Oregon Frontier. They all share the belief that men know what a woman's place is in life and how to keep her there.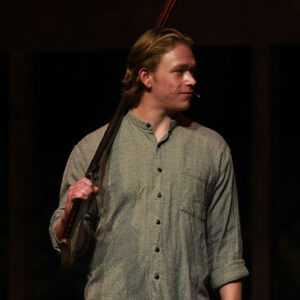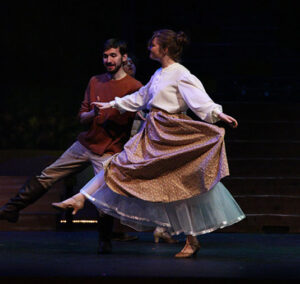 According to Music Theatre International, this "battle of the sexes" is based on the book by Lawrence Kasha and David Landay. With music and lyrics written by Gene dePaul and Johnny Mercer, this musical adapted for the stage from the 1954 movie of the same name has been enjoyed by people all over the country since 1982.
"I would call 'Seven Brides for Seven Brothers' a celebration. It's filled with larger-than-life characters, dance numbers replete with acrobatics, ax jumping and arm wrestling, and a soaring score that transports you back to the Golden Age of Musical Theatre," Director of Theatre and Dance Kasey Cox said in an email. "As for this production, I would call it a culmination of the tireless work of our students, staff and faculty who are ever committed to taking MBU Theatre to the next level of performance. This is a show for the MBU history books and I am excited to share it with our MBU family."
General admission is $18 and $5 for students and children. Tickets are $10 for faculty, staff and alumni, and $15 for seniors.
For more information and to purchase tickets for "Seven Brides for Seven Brothers," visit mbuboxoffice.eventbrite.com.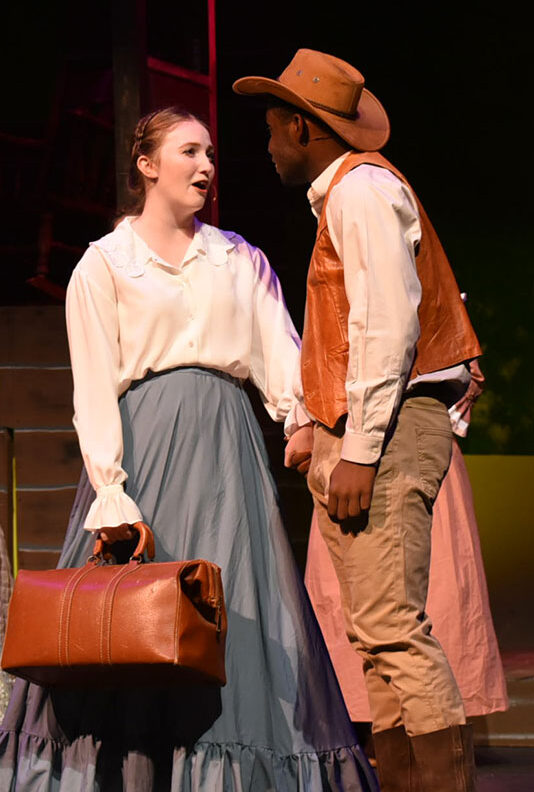 Cast
Adam – Greg Carr II
Benjamin – Evan Clawson
Caleb – Will Launsby
Daniel – Gavin Young
Ephraim – Michael Cox
Frank – Nathanael Pezzo
Gideon – Bradley Bliven
Millie – Kaylin Penninger
Dorcas – Maddie Cook
Ruth – Jenny Duncan
Liza – Haley Clegg
Martha – Sophie Karase
Sarah – Claire Baur
Alice – Sabrina Furman
Nathan – Nick Damon
Luke – Will Clawson
Matt – Aaron Williams
Joel – Nicholas Smith
Zeke – Joey Barker
Jeb – David Gregory
Mr. Hoallum – Hayden Bennett
Mrs. Hoallum – Alicia Neale
Mr. Sander – Jack Myers
Mrs. Sander – Olivia Leek
Preacher – Emerson Lentz
Townspeople – Ally Armstrong, Morgan Cane, Madison Coumerilh, Jamie G'Sell, Ashley Harris, Melody Quinn