The MBU Theatre Department will be performing "Eurydice" this weekend at the Pillsbury Chapel. The show involves a different acting style than what the performers have done in the past, but many of the performers have enjoyed the learning experience they received.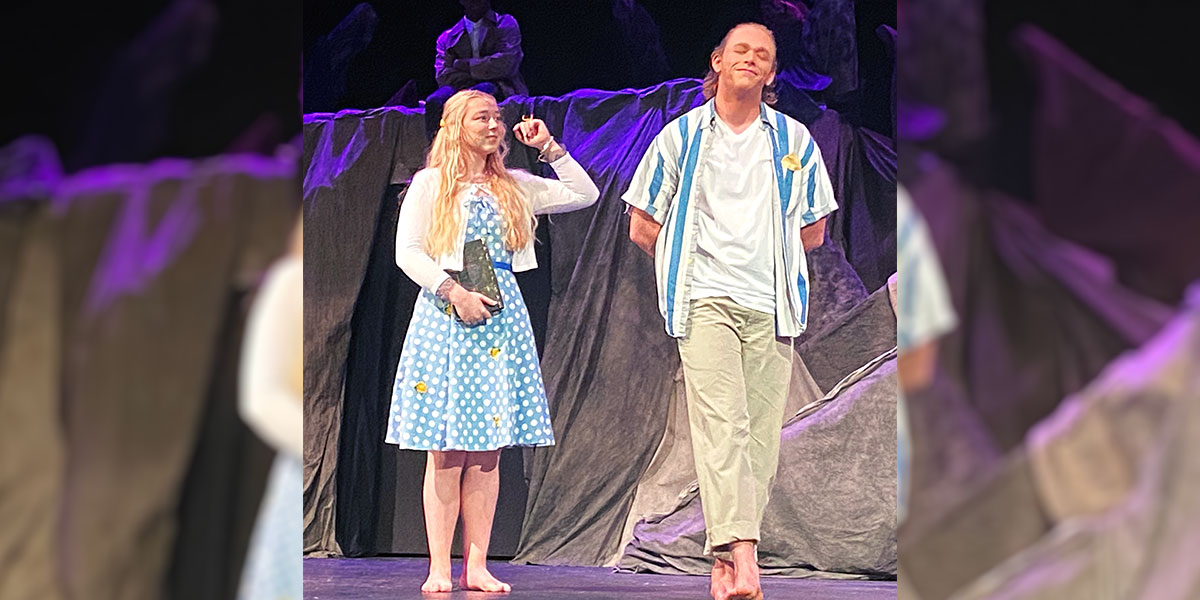 Jenny Duncan and William Launsby play the roles of Eurydice and Orpheus, two characters with very different personalities, who are in love with each other in MBU's performance of "Eurydice."     Photo by Sarah McGowan
__________________________________________________
By SARAH McGOWAN
Take a journey into the underworld this weekend with the MBU Theatre Department as they put on their final production this semester, titled "Eurydice," which brings classic Greek mythology to life on stage, with re-imagined modern characters who encompass a vast range of personas, including childish bullies, an artistic Orpheus, a youthful and quizzical Eurydice, a loving father, and a very interesting man. 
The production, written by Sarah Ruhl, runs Thursday, Nov. 18, through Saturday, Nov. 20, at 7:30 p.m. each day, and at 2 p.m. Sunday, Nov. 21. Tickets cost $5 for students and children, and $10 for general admission, and they must be purchased in advance. To purchase tickets for "Eurydice" and view more information regarding COVID-19 guidelines, visit mbuboxoffice.eventbrite.com.
Jason Stahr, who has had a 36-year theatre career and has spent 10 of those years with MBU, is directing the production and has enjoyed his experience with "Eurydice," as well as the meaning behind the show. 
"It is a love story," Stahr said. "Everybody loves a love story. It is about the connection of husband and wife, and the connection of family, of father and daughter, and also the depths to which people go for love."
Stahr's inspiration for the show comes from Song of Solomon 8:6-7, which reads in the NIV: "Place me like a seal over your heart, like a seal on your arm; for love is as strong as death, its jealousy unyielding as the grave. It burns like blazing fire, like a mighty flame. Many waters cannot quench love; rivers cannot sweep it away. If one were to give all the wealth of one's house for love, it would be utterly scorned."
The cast has also enjoyed working on this production because it is a different style of acting than other productions. 
William Launsby, a junior theatre and business administration double major, who plays the role of Orpheus, explained that working in the acting style of the show has been a learning process for the entire cast.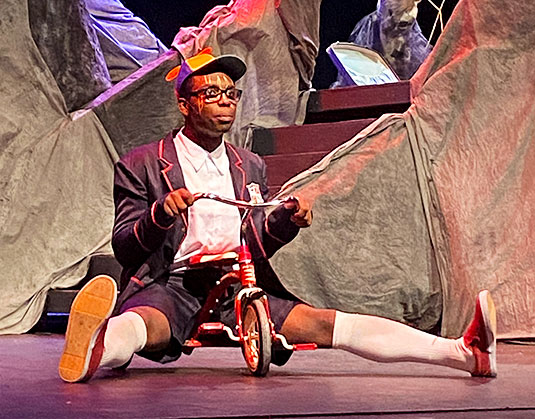 "The acting style for this show is a lot different. Typically in the acting classes … we are taught about motivations, and what drives your character … versus this show, is like a reflection of Noh theatre, which is an old Japanese-style theatre, and it's very big, and very performative, and more of that aspect rather than the deep thinking and very emotional parts," Launsby said. "And so, it's been really difficult, saying lines and doing things without thinking about, 'Why am I doing this?' and just doing it."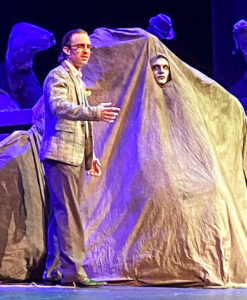 Some cast members have also strayed from their comfort zones to portray characters that do not reflect their own personalities.
Jenny Duncan, a sophomore theatre major and dance minor, who plays the title role of Eurydice, explained the differences between her and her character's personalities, noting that her character's personality is quizzical and youthful.
The difference in personalities between the two has been challenging for Duncan to portray on the stage.
"She's [Eurydice] very left-brained … and I am not a left-brained person, so just kinda switching my mindset to someone who doesn't understand things like music, or anything like that," Duncan said.
Other members of "Eurydice" have also learned a lot from the production.
Ashley Harris, a sophomore speech/theatre and secondary education double major, who is the assistant director, said that her experience with the show has given her more room to learn and grow. 
"In productions, I have been the assistant multiple times, I've been assistant stage manager on multiple occasions, and assistant technical director for one of our shows last year, but this position has definitely gave me more of a leadership role, and a lot more to work with," Harris said. "My favorite part of this production has been probably working with Mr. Stahr, and just seeing how he differs from other directors I've worked with, and him giving me more creative control."
Many members of the show agreed that their favorite parts of being involved in the production were the people they've worked with.
"Like it's been super fun working with all these people, and like when we're out there, we're having to be vulnerable with them and trust them and so it's just building our friendships even more," Launsby said. "And getting to know others that I didn't know as well, and the ones that I do know well, just having fun and playing off of them."
Sophie Karase, a junior musical theatre major, who plays the role of The Little Stone, agreed. 
"My favorite part has been exploring this new style with the entire cast, and learning the play off of each other, because whatever somebody else is doing, whatever they give you, can just make it that much bigger whenever you're performing," Karase said.
Cast:
Eurydice: Jenny Duncan
Orpheus: William Launsby
Eurydice's Father: Bradley Bliven
Interesting Man/Hades: Gregory Carr II
The Little Stone: Sophie Karase
The Loud Stone: Sabrina Furman
The Big Stone: Evan Clawson