"The Secret Garden," a musical based on the book by Frances Hodgson Burnett, will be performed in Pillsbury Chapel from Oct. 6-9.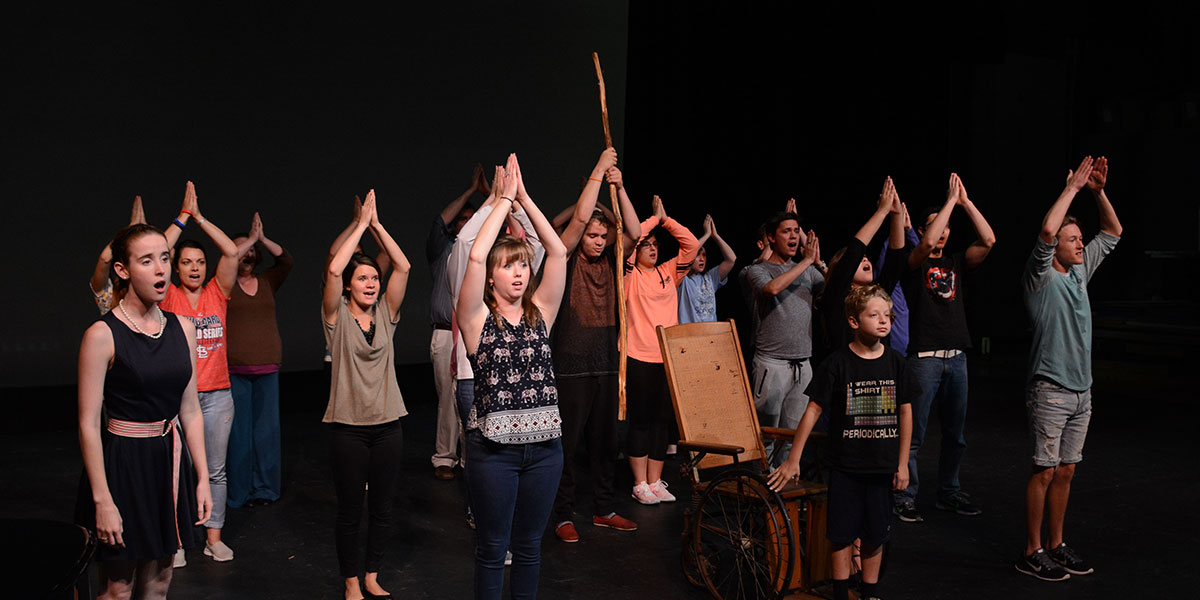 Photo by Christian Robinson
__________________________________________________
Originally intending to do "Sound of Music," MBU Theatre is now presenting the musical, "Secret Garden."
"Part of it was out of necessity, we had originally planned on doing the 'Sound of Music' and last year that title was restricted because there is a national tour going," said Dr. Joy Powell, director of "The Secret Garden." "So we had applied for the rights and appealed the denial of those rights for about six months and we came to the conclusion we weren't going to get the rights so we had to pick a different show."
After the rights were denied the directors looked at a list of shows that were good for students to know about and to take part in, which is how "The Secret Garden" was ultimately chosen.
"Twenty years ago I was involved in it when I was an undergrad … and 2016 is the 25th anniversary year from when it premiered on Broadway so it's kind of a special year to do that because of that," said Powell, who has been on faculty since fall 2003.
"The Secret Garden" is a show of healing and hope, a poignantly relevant topic in today's world.  
"I really like the story because it's about this little girl who has a lot of difficult things happen in her life and yet she still, wherever she goes, brings a sense of hope," Powell said, "and because of the circumstances she finds herself in and she is sort of thrust into a new place with new people and she starts to help bring hope to them as well."
Even though the cast is made up of some new faces, Powell said she is impressed with the job that is being done.
"We have a lot of new students this year, this incoming class of freshmen and transfer students are doing great and working hard, and our returning students are stepping up and being the leaders that they need to be. This cast is really fun and very positive and they're doing an awesome job," said Powell.
A variety of students are taking part in the show.
Students talked about different challenges the show presents, specifically on portraying their character.
Rebekah Side will be portraying the part of Martha.
"She's super energetic and she just goes for what she wants and she really doesn't hold back," said Side, who is in her fifth show with MBU. "She has a very unusual accent so I've had to study really hard to get the dialect down and that's definitely the most challenging part."
Portraying the role of Lily Craven is MBU junior, Kristianna Pirrie.
"She's a much better person than I am, which is hard because it's a lot to live up to. She's got this incredible heart, like compassionate heart, and so living up to that is really a privilege," said Pirrie.
"Secret Garden" marks her first show with MBU.
"So getting to explore how she loves Archibald with this unconditional love and being able to figure out why she loves him that way has been kinda cool."

Pirrie, a music education major, continued on the challenges of portraying her character.

"It's always hard to, ya know, you're almost comparing yourself to that person. You really have a lot of respect for the character. I think one of the most difficult parts," said Pirrie. "Also, she is a rock for lots of different characters in the show and she remains the same and all of these other characters are either trying to get over her or understand what she was like."

Jamin Walker, who recently transferred to MBU from Rend Lake College, is portraying the villain of the show, Dr. Neville Craven.

"The fact that he is a villain. I'm a very upbeat, peppy person and he is very stone, very calm, he walks around like he owns the room and it's an internal anger and it's difficult to portray that subtly," Walker said.

One challenge echoed from almost everyone in the cast was the music.

"I would say the most challenging part is the music. It's really, really challenging music for everyone," said Powell, associate professor of theatre arts. "The score is really, really stunning. It's just beautiful music and challenging for the singers and the orchestra, which any theatre artist or musician likes because they like a good challenge."

Pirrie echoed the challenge: "The music is incredibly complicated and incredibly beautiful but it's really complex."

Walker spoke on the importance of the music to this show.

"It's not all sung through but music plays a very intense part of every aspect of it and there's musical cues that get played and it's in a minor key for almost the whole show so it's not depressing but it has an eerie feel to it that I haven't experienced before," said Walker, a Benton, Ill., native.

The theme of the show is more mature and serious than that of what most people would typically expect from a musical.

"It's a show that has a lot of mature themes like loss and reconciliation and redemption and when you think of musicals you think of this, like, fun song-and-dance thing, but this is a really serious show and it's rare that you get to do a show that is this serious," Pirrie said.

"Secret Garden" can be seen Thursday, Oct. 6, through Sunday, Oct. 9, in Pillsbury Chapel. Tickets are available through Special Events.