MBU media students use their talents to explore current topics, raise awareness about important causes, and pay homage to their family traditions through three video documentaries.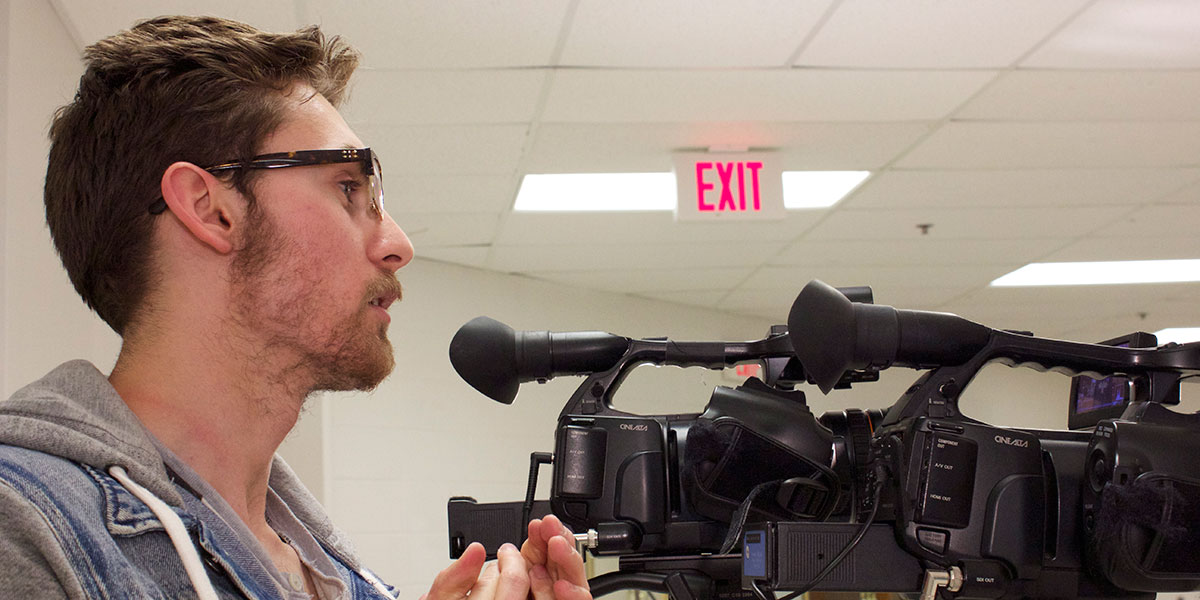 Photo by Jesse Kassebaum
__________________________________________________
As students begin to wrap up their time at MBU, many seek opportunities to practice what they have learned in hopes of gaining valuable experience before they enter the workforce.
Communication students Lydia Milan, Katie Seffens and Rickie Ross are showing off their skills through video documentary storytelling projects they will be presenting April 19 in the Recital Hall.
All three of these students are currently enrolled in a documentary class taught by Paula Bennett, associate professor of communications.
For Milan, a junior majoring in broadcast media, her documentary is rather unique.
"My documentary is on water bath canning pickles at home," said Milan. "My family has canned for generations and it was something I enjoyed doing while growing up."
Milan said the reason she picked the topic was due to the fact all the resources were available to use.
"It has been fun canning again and actually breaking all the steps down so the viewer can understand what is happening," Milan said.
For Ross, a junior majoring in communication studies, his topic spotlights the positive and negative effects sports have on a high school athlete.
"What drew me to this topic is that I wanted to know are there more negative effects of high school sports that we don't really think about?" said Ross, who plays baseball at MBU. "So I just kinda wanted to research it more, find out the answer, and I thought it would be a really interesting topic. Something that I can probably relate to."
After wrestling back and forth on which project to tackle, Seffens, a senior majoring in broadcast media, has chosen to raise awareness around a St. Louis-based organization called Basket of Hope.
"My original plan was to do a documentary on the impact media has on the public, using Ferguson as a case study. After four or five months of listening to people tell me to wait, to do it as a graduate project, my professor, Paula Bennett, finally said something along the lines of, 'Katie, I'm making a decision for you, you already have the footage, you're doing Basket of Hope,'" Seffens recalled. "When the executive producer tells you to do something, you do it, so that was that."
Seffens said Basket of Hope is a non-profit organization that brings "the hope that comes from Jesus to seriously ill kids in the hospital."
For Seffens, it's not only a project, it's a mission.
"I have been doing videography for this organization over the last year," Seffens said. "I've done numerous interviews, from people who received baskets 10 years ago to the founder, to NFL players, and I have just been in awe listening to people talk, because I realized God's voice through the footage I have received is incredible."
While the topics they have chosen are creative, interesting and informative, the documentary project certainly hasn't come without its challenges.
"A challenge I have had is finding time," Milan said. "I'm busy and it becomes difficult to find time to interview people that fits my schedule and theirs."
While he has struggled with finding time, Ross has also come up against another obstacle.
"Getting permission to film in various locations has been difficult," Ross said.
Ross has needed to gain permission from a lot of schools where he wishes to film and some of them have turned him down, which has been discouraging.
But the process of finally seeing everything come together has been an encouraging sign for him.
"The interviews I've done, to me those have been fun because I like seeing how everything works," Ross said. "I like making it my own. I get to pick the shots, what shots go into the actual documentary. Overall, I just like the experience it is giving me."
A challenge that Seffens has faced is not so much finding time, or the process of making this documentary, it has been trying to deliver a message that not everyone will believe.
And that belief is the hope that God brings to the sick and broken-hearted.
"Even if you don't believe in God, I know what I have is the proof someone needs to know there's hope … that there is a God, and there are people, people they don't even know, who care," Seffens said. "And even if I fail and no one hears that, at least I'm helping get the word out about something dedicated to sharing that message."
Although they have faced their challenges, all three students mentioned how helpful and supportive Bennett has been to them throughout this entire process.
"Mrs. Bennett has been a phenomenal influence and teacher," Milan said.
Bennett is no stranger to the amount of work and stress levels these students have experienced and has been as supportive as she can while letting them learn for themselves the process of making a documentary.
"This is my fourth time teaching this class," Bennett said. "And every time they do not realize how much work a documentary takes. So my job is just to shepherd them and to prod them to stay on their task."
Despite the amount of work, Bennett and her students are proud of their accomplishments and are excited to showcase their efforts come April 19, at 6 p.m.
"They come through it so proud of their documentary because they have done things they never thought they could do, or never even thought about doing," said Bennett. "I am always very excited because they come out of it with something they are so proud of."
During the showing of their documentaries each student will be given time to talk about the process. It is a time where friends and family will stand and applaud these three students on their hard work and dedication.