While we huddle indoors during the spring showers, many of us like to enjoy the May flowers. With the spring 2016 semester quickly coming to a close, we have outlined a few of the best parks in St. Louis for you to spend your summer time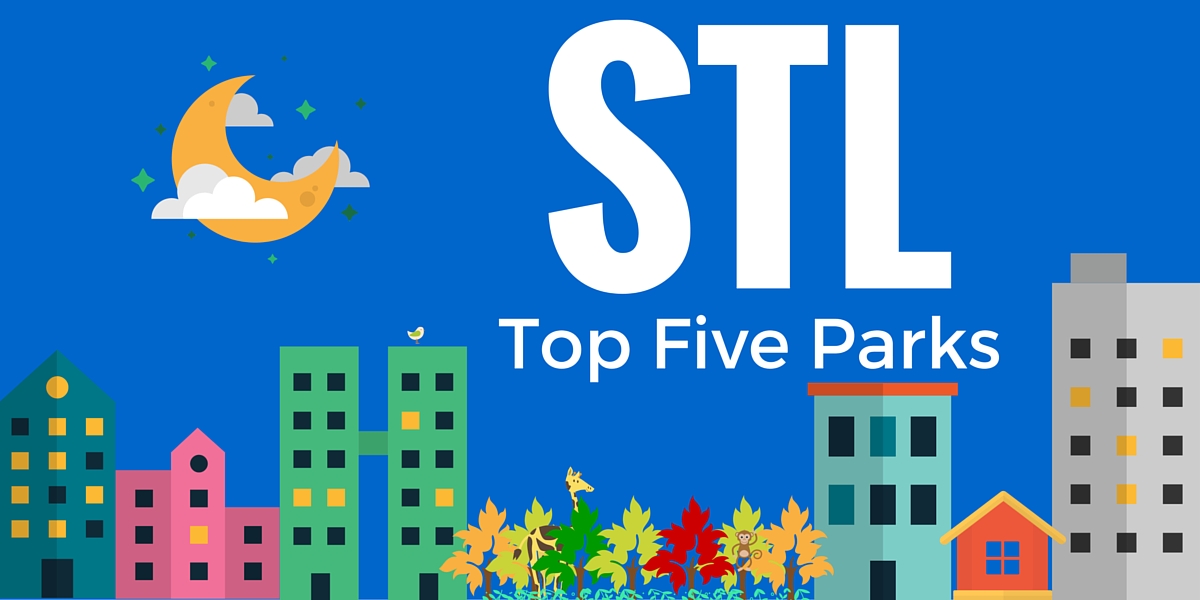 Graphic illustration by Joshua Daugette
__________________________________________________
Being a member of the cross country and track and field teams, I am constantly looking for new and exciting places around St. Louis to run.
Throughout this tireless search, I find myself always resorting back to old favorites.
Thus, I present to you, my list of the best parks to spend your summer in St. Louis.
At nearly 1,300 acres, this is one of the largest metropolitan parks in the nation, and has something for just about everyone.  
The park has an outer paved trail spanning about 5.5 miles with roughly 4 miles of paved and unpaved trail cutting through the park, an ice skating rink, the United States' oldest and largest amphitheater, top-ranked zoo, paddleboating, golf course, tennis courts and arboretum.
As well as sporting physical and social activities, Forest Park also contains separate art, history and science museums, making it impossible to leave this park off the list.  
Playing host to over 13 million visitors annually, it has earned the placement of sixth most visited urban park in the U.S. It's 500 acres larger than Central Park in New York City.
This park hosts many demographics and plays to all of them very well. Because of that, it earns the No. 1 spot not only on my list, but also USA Today's list of Best Urban Parks.
For those looking for an urban park feel without the sounds and distractions of the bustling city, this is the perfect park.  
Equipped with approximately 10 miles of paved trail system, as well as off-road trails and other activities including paddleboating, team rowing, kayaking, tandem bike rental, sand volleyball, ziplining and disc golf, this park panders to a more active crowd.  
The sensation created with the sound of music, scent of barbeque and sun setting over the lake on a summer evening makes this one of my personal favorite parks in St. Louis.
A park perfect for the wandering adventurer looking to experience the beauty of the Earth and grow closer with nature.  
With approximately 27 miles of trails perfect for off-road hiking, running or biking and gorgeous overlooks, this park offers a meditative release from the never-ending haste of life.  
If I would make one recommendation for the summer of 2016, it would be to hike the one and a half miles up to the crest of the River Scene trail.  
Disclaimer: Due to the closeness with nature, ticks and mosquitoes can be an issue here. I suggest a healthy amount of bug spray.  
Another mix between urban and escape, Queeny Park offers a combination of paved and gravel trails for the walker, runner or biker.
Along with about six miles of trails, the park also includes sand volleyball, fire pits and the playground every kid dreamed of while growing up.  
This park is a good way to reach back to your youth or get to know someone on a first date. Because of its simplicity and reliability, it earned the No. 4 spot.  
Moving back into the city, defining the term urban park is Tower Grove Park.  
This 227-acre park offers patrons carriage rides, a playground and wading pool, ball fields, horseshoe pits, tennis and birding activities.  
However, the real attraction with this park would be Food Truck Fridays sponsored by Sauce magazine every second Friday of the month starting in May.  
These events offer nice Friday evenings consisting of music, delicious aromas and good friends. A must go for anyone in the St. Louis area.  
These are my top five park suggestions for your 2016 summer in St. Louis. Between all of these different options, there is something for almost everyone.  
My biggest recommendation of all, when visiting any of these places, is to just relax and enjoy the day … and make sure to wear sunscreen.