The latest addition to the lineup of collegiate athletics at the university will be women's sand volleyball as players will be recruited for the sport that has caught on from coast to coast.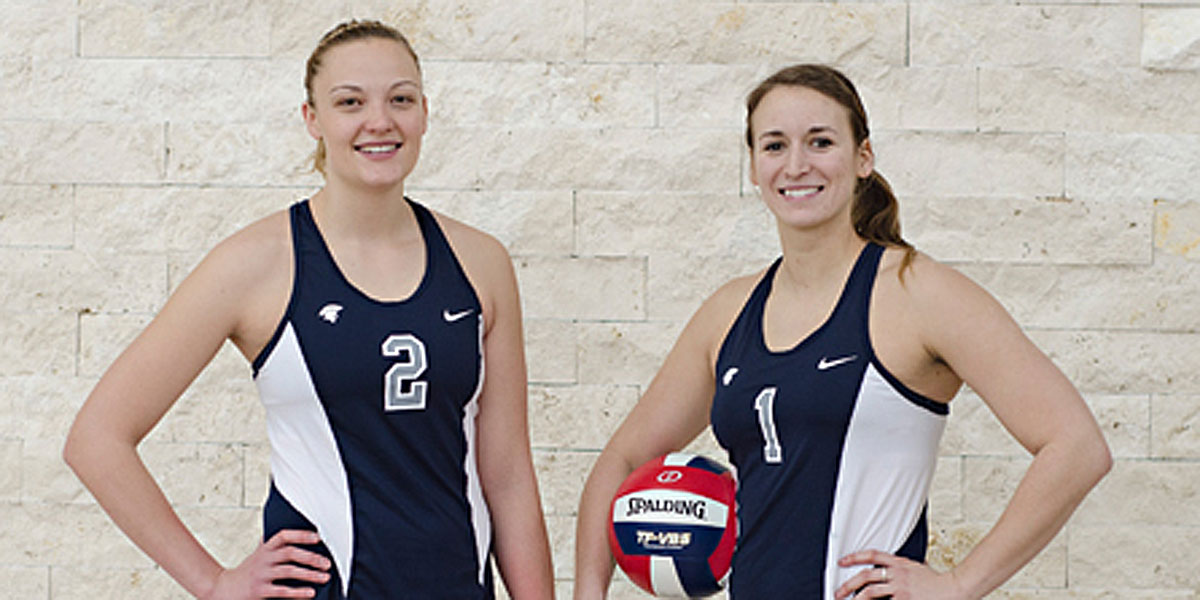 Photo by: Brad Cygan, sports information director
Players are being recruited to begin fielding a new women's sand volleyball team at Missouri Baptist University. Pictured are two of the volleyball program's top players, Hannah Carey (left) and Julia Whitfield (right).
__________________________________________________
Missouri Baptist University announced recently it will be adding sand volleyball to its repertoire of sports this coming school year.
A women's team consisting of 12 players will add excitement and enthusiasm to the university.
"We have such a dynamic women's volleyball program as it is," said MBU Athletic Director Tom Smith. "We're kind of saturated now in the indoor side because we have both a varsity and junior varsity program, but with such a reputation we figured, you know, it might be nice to try to start sand volleyball."
The program will be one of the first sand volleyball programs in the Midwest and will be the first at an NAIA school in the Midwest.
Some 93 teams will be competing next year, said head women's volleyball coach Chris Nichols. "Only seven of those schools are NAIAs. … So that's why it's kind of exciting for us because we're the first NAIA school in the Midwest to have it."
MBU is considering the possibility of also adding a men's team in the future, but the dates are vague and there is not a specific schedule.
As of now only the women's team is set to be under way in the coming school year.
The outdoor sand volleyball season will be in the spring semesters and therefore Coach Nichols will be the coach for it as well as indoor, though they will be two separate teams.
This new step could potentially become a leap for the university.
According to Smith, MBU was one of the first NAIA schools to start lacrosse and women's wrestling, two programs that have become nationally recognized, and therefore Smith has expressed his excitement for this opportunity.
"Missouri Baptist has always been on the cutting edge of starting new things in the Midwest," said Smith.
Nichols has also expressed that it will be exciting and opportunistic for the school as a whole.
"I really think it brings a sport that's very popular on both coasts and … allows us … to really kind of promote it here in the Midwest, which I think should be an exciting thing," Nichols said.
The sport, by nature, is usually played on a beach, which is something that could be exciting for students in the Midwest.
"You go to a beach that's actually on the ocean and you're playing a college sport," said Nichols. "Being able to go to California … and go to a tournament and you walk on to a beach and there's 100 courts set up. That's what these college athletes are going to get to experience."
While most games will be played on beaches along the coasts, Missouri Baptist is working on getting a facility of its own that can function as a home court for the team and a place students can utilize for pick-up games.
"It will provide another extra-curricular thing for … resident students to be able to do. That is always good," said Smith.
Sand volleyball is becoming a noticeably bigger sport year by year, and MBU is planning on getting in the game early and getting ahead of the competition.
"Missouri Baptist will have high expectations for its program, even in its first season," according to a sports article on mbuspartans.com.
Not only will it be a different experience than most other college sports, it will potentially bring in more athletes to the school and even boost the university's reputation.
"Sand volleyball, to me, I see as a market, a target that we can go for that no one else is doing," said Smith. "And even though we'll be club status, I think it will give us an opportunity to … get on the map and have something big. … It'll be another thing to attract more student athletes."