Have you ever wondered if the student research projects your professors assign you really matter in the whole scheme of things? Well, they do matter, as MBU student researchers have learned each year since the first Student Research Symposium back in 2015. This year's symposium will contribute to that body of understanding.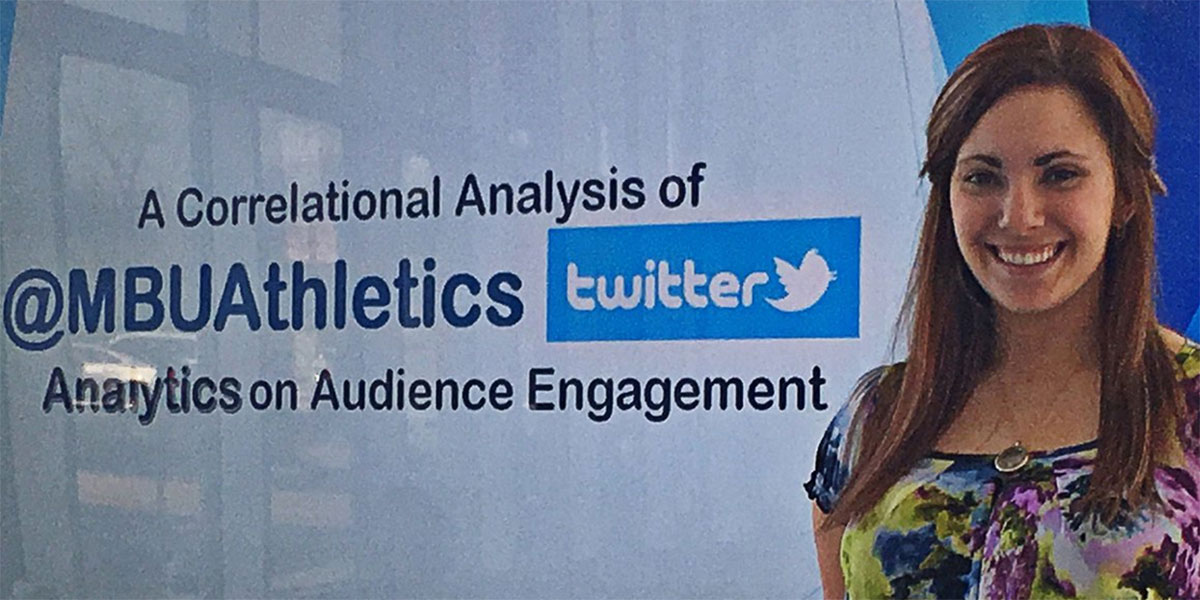 Photo by Guy Danhoff
Nicole Walen, one of the top research performers at last year's Research Symposium, stands in front of her correlation analysis project, which led to significant changes in how MBU athletics handles its social media accounts.
__________________________________________________
The fourth annual
Student Research Symposium
will showcase research and achievements of students and faculty from various departments across Missouri Baptist University on Wednesday, April 11, in the Great Hall of the Pillsbury Chapel Dale-Williams Fine Arts Center.
The theme this year is, "Developing the Researchers of Tomorrow," and students will present their work as poster displays accompanied by two-minute presentations, or in oral presentations.
"Traditionally in the past, the Research Symposium has been a lot of the science programs, because they have specifically done research. But this is more than just research," said Erik Gustafson, symposium coordinator and Academic Success Center data coordinator.
This is an opportunity for students to present work accomplished in classes, such as research projects, literature reviews, experiments, capstone projects, thesis papers, dissertations, public relations and marketing campaigns, professional portfolios or theatre techniques, in front of peers and professionals who can provide feedback and experience.
The Research Symposium "is good for students to showcase what they've been doing in their programs and shows that what they have been doing is not just for the classroom, but can also be taken and put into the real world," said Gustafson.
The event will also host a keynote panel of three MBU professors: Dr. Matthew Bardowell, assistant professor of English; Dr. Mary Vedamuthu, associate professor of chemistry, and Dr. Jessica Stapleton, assistant professor of health and sport sciences.
"In years past, it's been a panel of professors who have talked about their research in their fields. Now it's going to change a little bit. It's going to take more of a shape like a Media Talk," said Gustafson, referring to the Communications Department's Q&A session with industry professionals it hosts each semester.
The panel will field questions from audience members to share their own experiences in research, and will moderate Q&A segments after student presentations.
Rebekah Side, a junior double-majoring in theatre and mathematics, is participating for the first time in this year's event.
"I will be doing an oral presentation about beauty in mathematics. It is going to be pretty much a presentation of my capstone project for my mathematics major," Side said in an email.
The Research Symposium is beneficial for both students and MBU as an institution.
For students, "the benefit would be you have something to put on a resume. It's not just fluff or a line you can put on a CV. It would signal to an employer that you are serious about your work," said Bardowell.
Participating distinguishes students who are looking to use their undergraduate work to get a sense of the professional work environment and the next step in their career path.
"Your ideas about your field won't be so insulated. Unless you have your ideas tested in that way, it's hard to know if you're on track or if you're out of touch," said Bardowell. "You always want to reach up from where you are for the next thing that you would like to do, so for that reason this is good."
For MBU, the symposium allows the university to cultivate an environment of scholarship, and promotes its students toward publishing.
Students may be nominated by faculty if they have strong research or creative projects by emailing Gustafson, and will be contacted and encouraged to submit a proposal for the event.
"I was recommended … to participate, and it sounded like a good opportunity to be able to present to a larger group with diverse expertise and have feedback about a subject I'm interested in, and hopefully others will be interested in it too," said Side.
However, students do not need a faculty recommendation to participate in the Research Symposium, and can submit an application online by clicking here.
Students applying to present at the Research Symposium must verify their decision through Gustafson by Friday, March 2, and will be required to attend a 30-minute workshop on Wednesday, March 21, or Thursday, March 22, covering tips on creating an effective presentation.
If you cannot attend these workshop times, you may schedule an appointment through the Academic Success Center.
The keynote panel is scheduled from 11 a.m. to noon April 11, poster displays will be from 12-1 p.m. and oral presentations are from 12-4:30 p.m.
One winner from each type of presentation will be selected and receive a prize of $25.
"What I would like for the symposium to embody in the future, is a forum to present your achievements as an undergraduate and as a celebration of a community commitment to excellence and expansion of academic knowledge," said Gustafson.