Mercy Hospital's vice president of community relations – integrated marketing shares his advice for students looking to go into the healthcare communications field.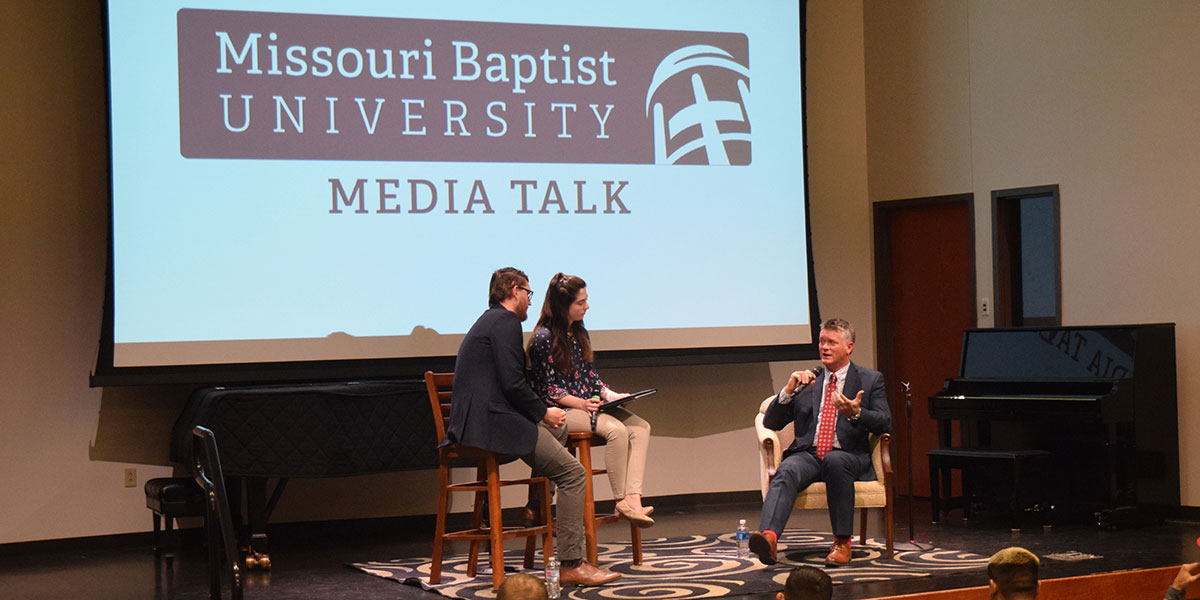 Photo by Michael Klussman
MBU communications students Matt Williams and Krista Krekeler interview Bob Davidson during the spring Media Talk recently in the Performance Hall at Missouri Baptist University.
__________________________________________________
There are three things Bob Davidson tells college students to focus on when preparing to enter the job world: professionalism, pursuing your passions and finding a good work-life balance.
Missouri Baptist University's first Media Talk of 2018 Tuesday, Feb. 13, featured Bob Davidson, vice president of community relations – integrated marketing for Mercy Hospital.
Davidson, who is in charge of community relations for 22 Mercy hospital locations across four Midwest states, spoke to MBU students, faculty and staff about his work, and then fielded questions from the audience.
"In each community in which we serve, we develop a marketing plan, we determine what things are most important to the people in this community," said Davidson. "And we don't determine that from St. Louis, we ask the people in that community, 'What's important to you? What do you need from us? How can we best serve you?' And then we develop that operation plan, we develop that from a communications perspective as well."
Davidson also touched on the importance of finding a work-life balance, especially if you have a family.
"In terms of work-life balance, I found it really helpful to find something you can be passionate about and enjoy that's completely outside of work. Early in your career, it's really tough. You're going to work a lot of hours. You're going to work hard and pay your dues and come up," said Davidson. "Then perhaps you'll have a family and that definitely is a consideration. You have to make time for your spouse and your children and for the other things you need to do, your obligations to them. Those obligations are as important as your obligations to your employer."
In addition to speaking about his career, Davidson also gave advice to students in the audience when it came to their future.
"When you do the thing that you love, professionally, you get better and better at it. And because you get better at it, you get rewarded or you get promoted or maybe you get a job at another place that is bigger and pays more, and it's a chance for you to advance in your career," said Davidson. "If you start out by doing what you love, then you're going to do it well and you're going to advance."
Davidson has worked at Mercy Hospital since 2011 and has done public relations work in a variety of settings, including Shriners Hospitals for Children, SSM Cardinal Glennon Children's Medical Center, Fleishman-Hillard Inc. and even served as an adjunct professor at Webster University.
"Healthcare public relations is the fastest, rapidly rising type of public relations that's out there right now," said Amanda Staggenborg, assistant professor of public relations at MBU, who organizes Media Talk and invited Davidson. "With things happening in politics, everyone wants to know what's happening with their healthcare and the people who are doing the talking are the public relations people."
Davidson's visit to the university highlighted a need for training communicators in the healthcare field, something MBU's Communications Department hopes to tap into as it develops future curricula.
"Unfortunately, at the university level there's not a lot of specific ties to healthcare public relations," said Staggenborg. "So what I'd like to do is eventually create a healthcare communications course and send people out into the healthcare industry, and Bob Davidson is a perfect introduction to that type of world."
MBU's Media Talk series seeks to inspire students to pursue their passions by allowing them to hear from professionals who are successful in their industry.
"The purpose and goal of the Media Talk series is to expose students to professionals outside the university so students can see what realistic job opportunities are there currently and what they could lead to," said Staggenborg. "Having students talk with someone who's already been out there for years and can trust and just highlights every element of the academic process and the program."
With every Media Talk held each semester, MBU hopes to offer attendees practical knowledge in the guest speaker's field and the opportunity to learn something new.
"It's one thing to talk about these things in the classroom and it's one thing to study it in a textbook and read case studies. It's quite another to visit with someone, see someone, hear them talk about their experience and also give active advice," said Staggenborg. "In order to be successful in communications you've got to be a serial networker, so making sure that students have the chance to network, that faculty sees what we're doing over here in public relations and communications and that staff have the benefit to be involved too, it all ties in together."