Dr. David Collum, a professor, researcher, grill master and friend, shares his faith, knowledge and meals with all he encounters.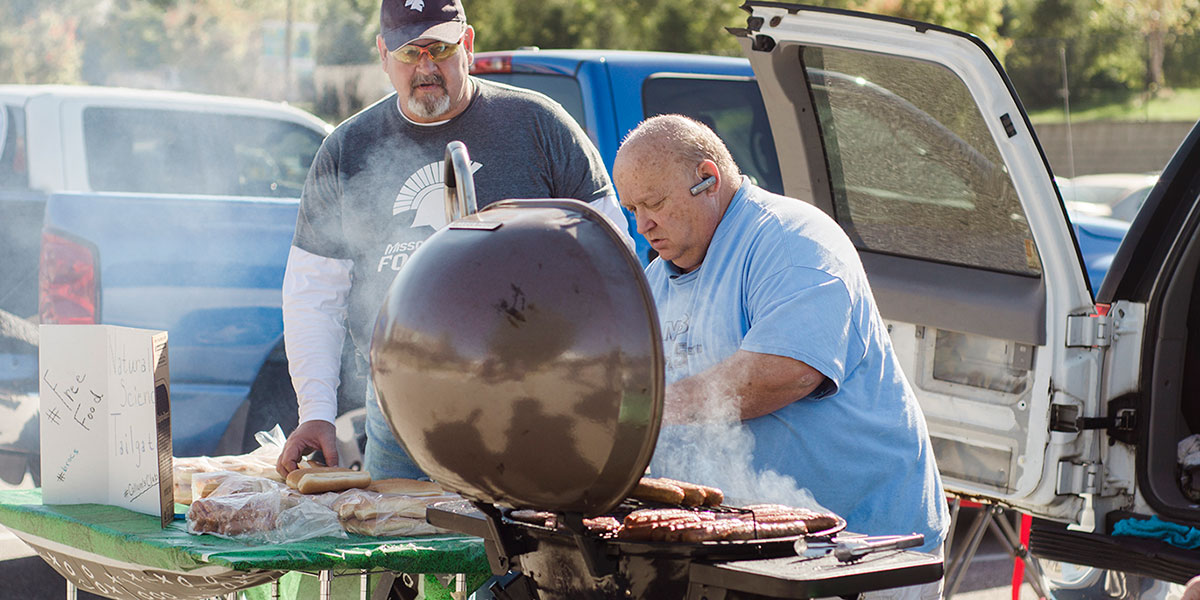 Photo by Missouri Baptist University
Dr. David Collum (right) has fired up his grill and passed out hamburgers and hot dogs at every tailgate party at every home football game since 2014, filling bellies while fulfilling his calling at Missouri Baptist University.
__________________________________________________
Perfect attendance can be hard to attain, but for Dr. David Collum it's his pride and joy.
You may assume it's perfect work attendance or perfect class attendance, but Collum's streak is a bit more unique and includes a fired up grill and chef's hat.
Collum may appear familiar from his science classes or maybe you've seen him in his office accompanied by a 150-gallon fish tank, but you can without a doubt always spot him at an MBU football tailgate.
"Haven't missed a tailgate since we started," said Collum, assistant professor of natural sciences and a data analyst for MBU whose statistical expertise is used in areas like retention and re-accreditation.
Collum can be found behind the grill before game time each fall, handing out burgers, hot dogs or breakfast sandwiches to anyone who comes his way.
Students, parents, professors, housekeepers, security guards and alumni have reaped the benefits of Collum's generosity and perfect attendance score, having fired up his grill before every home game since 2014.
And while it may seem like a fun and light-hearted gesture, Collum's heart behind it is so much more.
"I guess I just feel like it's one of the ways I can give back to MBU and the students that's not academically," Collum said during a recent interview from his  office, which is home to several South American fish kept in a large fish tank just inches away from his desk.
His heart for MBU extends far beyond the grill and overflows into every aspect of his work.
Collum came to MBU six years ago, in 2012, and before coming to MBU he was a pharmaceutical chemist for 23 years and ran baseball and softball tournaments for eight years.
Unfortunately, Collum was forced to close his tournament company in 2007 after an intense storm hit North St. Louis County, resulting in the business being without electricity for a week.
During this storm, the company was to host both the USSSA boys and girls World Series and they were forced to send home over half the teams, resulting in an intense loss in revenue.
After the company closed the following season due to damages from the storm, Collum began teaching chemistry in inner city schools of St. Louis.
The charter school Collum was teaching at then shut down in 2012, but with the close of one chapter came the beginning of a new one.
Through his connections at the charter school, Collum was able to get in touch with Dr. Jerry Deese, chair of the Natural Sciences Division at MBU.
"One week later, Dr. Deese called me out of the blue and I became an adjunct professor. One of the greatest miracles that's ever happened in my life," said Collum.
The following school year, Collum transitioned into a full-time position.
Collum is passionate about his students, pouring his heart into each one.
"What inspires me in my job are the students. For one, I really love working with my students, but in terms of working with my students what inspires me is the ability to share. Share my testimony, share my faith, share my strong belief in prayer," said Collum.
His love for his students does not go unnoticed by those around him. Dr. Tim Delicath, associate professor of educational research, shares an office with Collum and gets a front row seat to his daily interactions.
"He cares for each individual student. He will do whatever he can to help students learn and grow," said Delicath, who also works closely with Collum on institutional research.
When Collum gets time away from his desk or when tailgating is out of season, he enjoys reading and admiring nature.
"I love to sit out on the patio and watch the flowers grow and watch the critters eat when we put food out," said Collum, whose wife of 41 years, Genise, also works at MBU, as a provost office document coordinator.
Together they have a son, Chris, 32, and a daughter-in-law, Blair. Collum describes the two as "truly a blessing from God to me."
Collum also writes, and staying in the theme of how important family is to him, he has outlined a book he hopes to finish, titled, "My Mama's Recipes and the Lessons I've Learned From Them."
"I've realized that I have learned a lot of lessons about life over a dining room table with meals."
Raised in rural Mississippi with a graduating high school class of approximately 80 students, Collum continued to obtain degrees in math and chemistry from Delta State University in 1976 and a master's degree in chemistry from Mississippi State University in 1979.
He initially pursued a career in the corporate world, but eventually decided that environment lacked the Christian culture he desired.
"So when I began to teach and got here, it just felt like the good Lord had rewarded me."
Collum received his doctor of education degree from Missouri Baptist University in 2015, knowing his mom would be proud.
"My mama had always wanted me to be a doctor, so when I got my Ed.D. degree, my doctor's degree in education, she had passed away, but I told her, 'Hey, I am a doctor now. You can call me doctor.' I guess those are the motivating things that I cared about."
Collum said he believes that deep down inside, he always wanted to be a teacher.
"The most rewarding part of what I do is when I have students stop me in the hall and thank me for caring, or thank me for sharing my witness testimony, or thank me for helping their class be less stressful and less anxiety for them," Collum said. "When they come back and say thanks a semester or a year later, that's the most rewarding thing."
And when you catch that spark in his eye as he talks about his students, it would be impossible to disagree that his gut was right, he was always meant to be a teacher. That, and a tailgate party grill master.