"So, yes, I am an Okie from Muskogee and the son of a preacher man, which are two country western songs of another generation."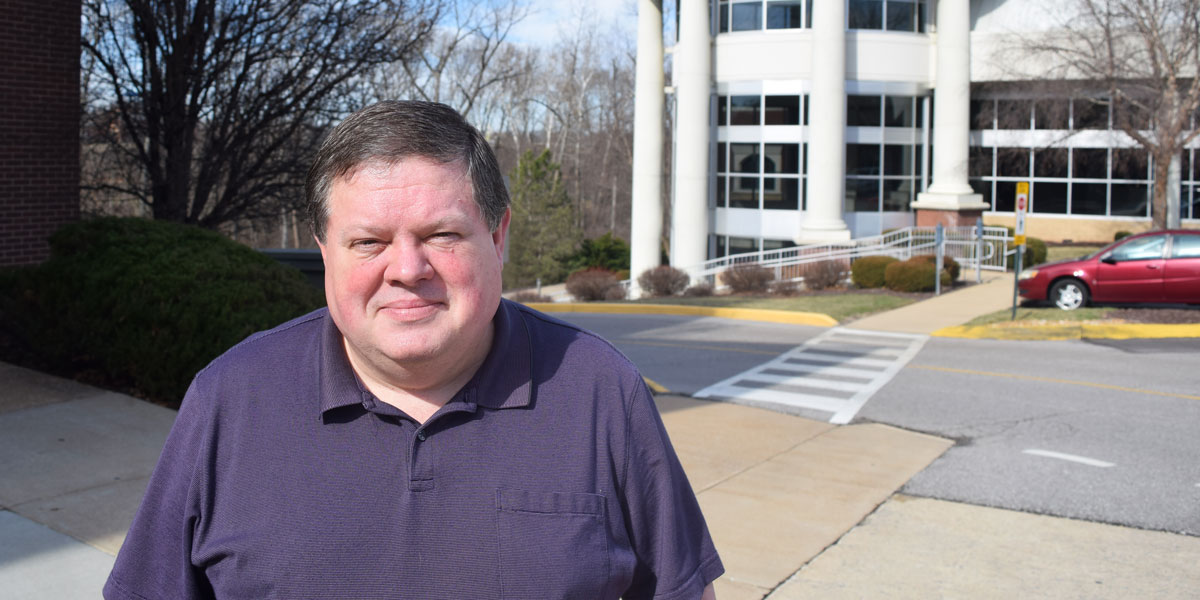 Photo by Shelby Wannemuehler
After this summer's semester, the director of Christian Studies, Dr. Curtis McClain (pictured above), will be celebrating 30 years of teaching and discipleship at Missouri Baptist University. 
__________________________________________________
Sitting in an office full of bookshelves lined with neatly stored books on one wall and a mini-coffee bar on the other makes for an organized office.
He offers a cup of coffee to everyone who enters, complete with all the fixin's, including a personalized coffee sleeve from his daughter's wedding from the weekend before.
We may all know him as Dr. Curtis McClain, the humorous, coffee-loving, Jesus-preaching director of Christian Studies at Missouri Baptist University.
But, what students may not know is the story that brought McClain to MBU nearly 30 years ago.
McClain has been at MBU since the fall of 1988.
"I'm a Baptist preacher's kid, which means we moved every six years or so. I was born in Oklahoma. Muskogee, Oklahoma. So, yes, I am an Okie from Muskogee and the son of a preacher man, which are two country western songs of another generation," said McClain.
McClain's colleagues know him as a humorous man.
Dr. John Han, the chair of the Humanities Division, said in an email, "He cracked a joke when he first called me for a job interview, which pleasantly surprised me.  His humor was a wonderful icebreaker."
Continuing to share his story, McClain said he surrendered to the ministry when he was a teenager.
He went to Howard Payne University in Brownwood, Texas, where he double majored in Greek and Bible.
Afterward, McClain attended Southwestern Seminary where he met his wife, Patsy Carter.
Following their wedding, the McClains stayed in Fort Worth while he earned his doctorate in Biblical Languages from Mid-America Theological Seminary.
Dr. McClain and his wife Patsy, who have been married 37 years, have been blessed with two daughters, two sons-in-law and six grandchildren.
In an email, McClain said his favorite aspect of family is spending time with any combination of his family members, but especially time with his wife.
McClain's love for his wife is evident.
"She is the wellspring of love that flows to all the rest. Just existing in the same space with her delights and contents my soul," said McClain.
McClain began to reminisce and share his testimony.
"I came to Christ as a very young child. I asked my mom the basic questions that were coming to my mind from Sunday School and so she sat me down on the bed. I was an older 4-year-old," said McClain.
Though McClain was a young child when he came to Christ, he felt the Lord deeply in his heart.
"I was sure that you actually died in the baptismal waters. So, when I came up out of the water and gasped for breath, here we are in Northeast Arkansas in a really very square church, a very proper church. And I yell out, 'I'm alive!' So, I came out shouting," said McClain.
But, teaching was not in McClain's original plans for his future.
"Near the end of my doctoral work, more and more people kept telling me that they thought I would be a good teacher. And, I'm like, I'm gonna be a preacher, that's why I did Biblical languages and Bible. That makes sense, doesn't it?" McClain recalled. "But I began to hear so many voices that I said, 'OK Lord, I will teach if that's what You want. And, I'll do it willingly. I gotta tell you Lord, that as I see it — this is not a roadblock or excuse — as I see it, no one is hiring Mid-America graduates. So, You're going to have to find me a job. But, if that's what You want, I'll do it gladly.'"
When McClain surrendered his plans to the Lord, Missouri Baptist University was not on his radar.
At the same time, MBU was looking for a professor and McClain had a friend who sent his resume to every Baptist school he could find.
Missouri Baptist University contacted McClain's friend.
"And my friend says, 'I can do what you want, but if you're really looking for a great teacher, you need my friend Curtis McClain.' So, he gives him my phone number," said McClain.
The chairman of the Board of Trustees met with McClain, where they sat in a diner, had lunch and talked about theology and other things.
Afterward, McClain headed to St. Louis for his formal interview.
Little did he know, the chairman of the board had called the president to share his opinion of McClain before he arrived back to St. Louis.
"So, I arrived for my interview with an approval from the chairman of the board. So, they interviewed me and offered me a job that day. And I said, can I pray about it a little bit? And they said sure. I was going to be there the next day anyway, and so the next day I told them I would take the job. And, I've been here ever since," said McClain.
At the end of the spring and summer semesters, he will be celebrating 30 academic years at Missouri Baptist University.
Though students see McClain as their professor of the faith, they do not get to see the administrative tasks he completes daily.
McClain's colleagues know him as their helping hand, advocate and detail-oriented friend.
Han said in an email, "Although I have been at MBU for 18 years, I still turn to him if I am not sure about some specifics related to the curriculum, policies and procedures."
Dr. Matthew Easter, assistant professor of Bible, echoed Han's remarks.
"Dr. McClain is an excellent administrator.  He directs the Christian Studies Department, which includes managing adjuncts, syllabi, scheduling, budgets and more. Students rarely see this side of Dr. McClain, but this is one particular area where he truly shines," Easter said in an email.
Of all the years he has spent here, McClain spoke to why he has loved teaching at MBU.
"I love teaching Greek. I enjoy watching students as Christians interface with the original Bible and getting things out of it you can't get out of commentaries. Every language group has their own kind of emotive expressions that, even though it is a text, there are still certain expressions that kind of give a feel to something that you can't get in translation without lots of commentary," said McClain.
Bryce Mossman, junior Christian Ministry major, said in an email, "Dr. McClain is in many ways my spiritual grandfather. Even though there might be semesters that I don't see him at all on campus, I still know that he's there. I know that no matter what is going on in my life, his door is always open for me to go in and have a conversation with him where I can get solid, biblical advice."  
Though Mossman feels as if McClain is his spiritual grandfather, McClain realizes the brotherhood/sisterhood stems from a foundation of the Gospel.
"They have had an affection for me that I don't really deserve. The good thing about teaching here, ministry classes are like discipleship classes. We learn together and learning about God together binds you together in some ways," said McClain.
The reason his students care for him is clearly because of the effort he puts into caring for each of his students' faith.
"I tell them that I am not doing this so that you'll be the best theologian and the best arguer and the best defender of the faith. I want this to make a better Christian out of you. Pure and simple," said McClain. "I know it's the Holy Spirit that changes hearts, so I don't hedge the truth. Nor do I beat them with it."
Easter said, "Dr. McClain is also very relatable to students.  He's affectionately known as 'Doc' around our department. Students genuinely love him."
McClain shared specifics about former students who have captured his heart throughout the past 30 years of teaching.
"I've got one kid out there who has a Ph.D. in the Old Testament and he was my work-study, his wife was my work-study, I married them together, they've got 6 or 8 billion children. I think it's 6, maybe 7. It's hard to count with them. They are just precious. I heard him preach and I sat there thinking, I couldn't even do that. The student has gone past the master. If I was that," said McClain.
Overall, McClain's love for the Lord shines through to every student, staff and faculty member he meets.
"Dr. McClain also brings a deep love for God. It seems to me that Dr. McClain wants God to receive all glory for God's own sake, and his love for God shows forth in his desire for others to love and glorify God too," said Easter.
Through all the classes McClain has taught and students he has met, the most rewarding part of his time at MBU has been getting to share the Gospel day in and day out.
"It's been fun and wonderous to be able to explain the Gospel rightly and then watch the Holy Spirit be pleased to use that to change hearts," said McClain.