After spending years collecting experience in boardrooms, Guy Danhoff left the business world and the stage to pass on his knowledge to both undergraduate and graduate students at MBU.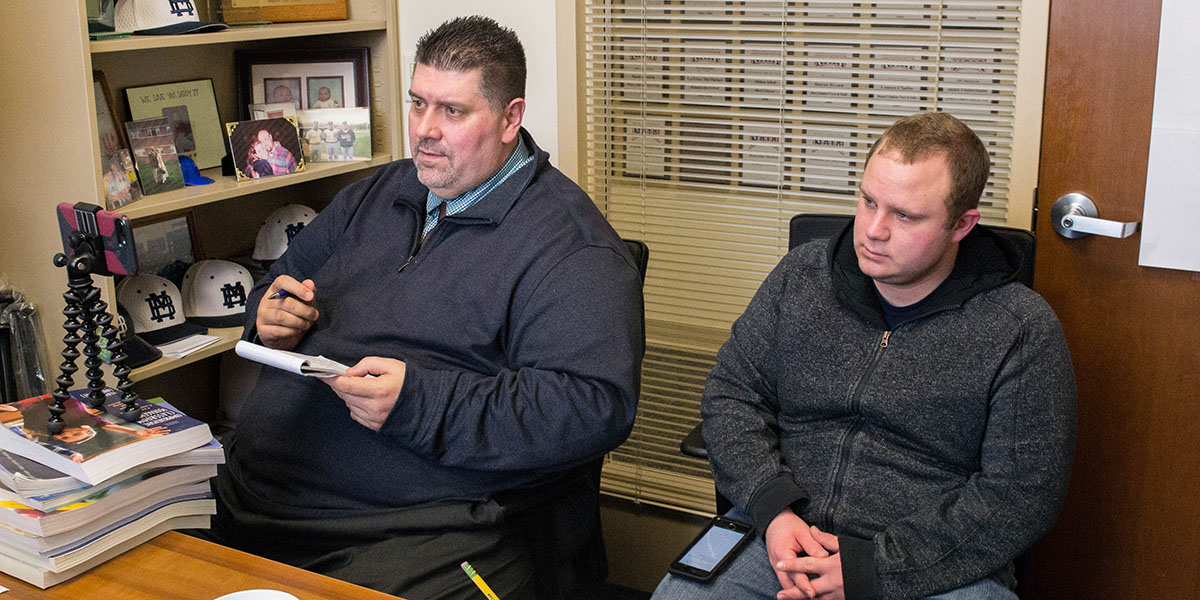 Photo by Ben Randolph
Guy Danhoff broadcasting a Periscope, a live video social media platform, on MBU baseball with Coach Eddie Uschold as student fellow, Andrew Kyle, sits in to observe.
__________________________________________________
A tucked-away office scattered with pictures of family, times worth reminiscing and a 3D rendering of the Fitness Center — a state-of-the-art workout facility just a few feet away that he designed himself — this is where Missouri Baptist University professor, businessman, musician and father calls home.
The influence that Guy Danhoff has on MBU stretches from teaching in the classroom, to broadcasting play-by-plays from the football field, to collaborating with colleagues in disciplines across campus, to, yes, playing lead guitar on stage from time to time.
With a bachelor's degree in corporate fitness from Western Illinois University, where he graduated magna cum laude in 1990, and a master's degree in exercise science from WIU in 1992, Danhoff is now an assistant professor of health and sport science and program coordinator for the master's of science in fitness management program.
Beginning his teaching career at MBU in 2008, Danhoff is currently finishing his doctorate in business administration with an emphasis in marketing at Northcentral University, where he has completed his course work and is now writing his dissertation.
All that aside, what he best brings to the university is nearly 15 years of experience in the fitness industry as a former executive in sales, business development and marketing.
"I was having success, but I was looking for significance. After my youngest daughter was born, I lost desire to travel and chase after what we were doing from a corporate standpoint. My prayer to the Lord was what do you want me to do next," said Danhoff. "God led me to MBU to teach, realizing that I could take everything I learned in the field and pour it into all of the students I teach."
Growing up in the north suburbs of Chicago, Danhoff knew he wanted to go into the fitness industry, and he was initially drawn to persevering his way into the National Football League or becoming a strength and conditioning coach.
On the path to a professional football career, the towering 6-foot-5 Danhoff earned All-American honors as a center on the offensive line in junior college at Harper College in Palatine, Illinois, and was an NCAA Division I football player at Western Illinois University. He even had a tryout for the Detroit Lions in 1989, but eventually ended his career and chose to pursue other outlets in the fitness industry.
"In college I was driven by football and success, and that was a big part of my life. I was willing to put the work in, but sometimes I put too much focus on that," said Danhoff.
After college, he began his career as a strength and conditioning coach at Western Illinois University, but shortly after, he moved to the business side of fitness and got involved in sales, which opened up doors to experience that began leading him to where he is today.
"When I got into the fitness industry, I got into design work and now I've designed over 2,000 fitness centers in my career," including the facility in the Sports and Recreation Complex at MBU. "When I got in, I realized that I really loved the business side of fitness, which is why I am now the graduate fitness management program coordinator. It all kind of ended up together, and God made that all possible."
However, transitioning from the corporate side of fitness to teaching was not an easy task for Danhoff. In fact, it is one of the most challenging things he has done in his career.
"Transitioning from living in boardrooms and making million-dollar deals to being a professor has somewhat of a learning curve," said Danhoff. "Teaching is similar, but at the same time it is a whole different type of exchange. It was tough in the beginning because of the transition of trying to make a deal versus making an investment into students."
Even though it was difficult making this change, Danhoff sought help from his Health and Sport Sciences Division chair, Dr. Greg Comfort, who "saw these things based on my background and had the vision to help with a lot of things," said Danhoff.
With offices right across the hall and an open-door policy, Comfort and Danhoff meet regularly to ask questions and provide insight whenever they can.
"Mr. Danhoff is highly regarded by his students, peers and his division chair," said Comfort. "He constantly finds new ways to increase student interest and academic production. His incorporation of social media, video clips and video blog assignments are just some of the reasons that students look forward to attending his classes each year."
Danhoff's student fellow, Andrew Kyle, has been one of the many students Comfort was talking about who look forward to having him as a professor each year.
"He provides the best real life experiences to what he talks about in the classroom. He's fun to be around and it makes for a better learning experience. He genuinely cares about you succeeding," said Kyle.
Even with years of his own success, the most rewarding part of his career is just that. Seeing the success of his students.
"While Mr. Danhoff approaches the delivery of course content with great enthusiasm, his real passion is in making sure that students have the tools necessary to succeed in their chosen careers," said Comfort.
With 14 years of experience in the field, Danhoff knows what it takes to make it in those careers, and he has the passion to pass that knowledge on to his students.
"When you hear about those hard interviews that they get selected out of a pool of a few hundred, it's kind of cool to see that God has used you in some way to help them achieve what they want to do," said Danhoff.
In the future, Danhoff hopes to find ways to expand opportunities for students at MBU that will allow for them to be even more successful.
First and foremost, he would love to create another building on campus or nearby that would double as a research center with a lab for students to do their own research projects and a teaching center with more classrooms.
"We have some extremely talented students here, that if we only had more resources and more opportunities, they could be doing greater things," said Danhoff.
He would also like to use this space to partner with surrounding companies and do research for them in order to answer some of the problems that our country is facing. To be a part of a team that solves a world problem in the field.
While it is extensive in the fitness industry, Danhoff's experience is not limited to just that. For two years, he performed as a professional lead guitarist under the stage name Big Daddy G, for The Blues Dawg Band, successfully playing the blues scene in Chicago.
"There was a year where our company went bankrupt, and thankfully I had been playing music. I started to really play and put out a CD. I shared the stage with some Grammy winners and some Dove award winners (Margaret Becker and Rex Carroll). I very much loved that," said Danhoff.
Playing guitar is still something he enjoys doing in his free time, while also spending time with his three daughters and his wife.
"One of my challenges is wanting to be the best dad possible," said Danhoff. "I was moved by the fact that when my youngest daughter was born that I wanted to be home and I didn't want to travel all over the world. That is why my wife and I made that change, and it was very intentional. I've been blessed to have three amazing daughters and I'm just trying to always get better."
Danhoff is married to Sheila Danhoff, who is a graduate of MBU, was a member of the very first Spirit Wing musical group at the university and has also worked for the university Theatre Department.
"She is part of the reason I got here," said Danhoff, "but we've never directly worked together."
Even when it seems as if there is no more time left in a day for him to do much more, on top of his other responsibilities, for the next year Danhoff will be writing a chapter of a new textbook and providing editorial assistance on the other 15 chapters.
The book is called, "Health Fitness Management," and is on marketing your own program related to the fitness industry, which aligns perfectly with his professional experience. It is set to release in late 2018 or early 2019.
In a modest office in the corner of a campus fitness center, this guitar playing father of three uses his small piece of the campus to make large impacts on the fitness industry and the lives of the students here at MBU.