A conversation about life and faith with Dr. John Han, professor of English and creative writing at Missouri Baptist University and chair of the Humanities Division, whose past struggles make him even more appreciative of his position now.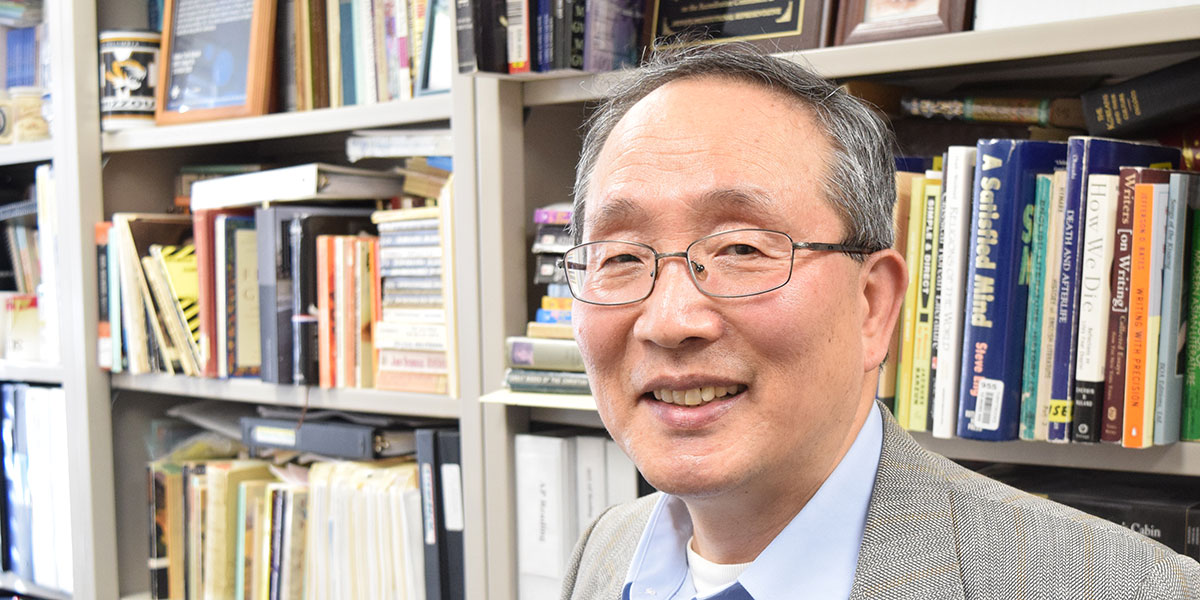 Photo by Michael Klussman
__________________________________________________
In a narrow office filled with books, Dr. John Han sits at his desk waiting to pull his tea out of the microwave. "I want to live long and healthy, so I drink tea."
For Dr. Han, professor of English and creative writing at Missouri Baptist University and chair of the Humanities Division, life has been a difficult journey. As a Korean immigrant, Han grew up in a part of South Korea known for its farming life, but not much else.
"I grew up in a farming village in the south-western province of the Korean peninsula," said Han, referring to Yomshin village, Chukdong neighborhood, Yomsan township, Younggwang county, in the South Cholla Province, South Korea. "It is located across from the Western Sea, across from mainland China."
Life on his family's farm was hard and Han had ambitious plans for his future. However, his father wanted him to live a typical life for someone in that part of South Korea.
"My father didn't have ambitions for me, he just wanted me to go to a provincial two-year teacher's college so I could come back and then marry a girl with an elementary education so that I could have a very stable life as an elementary school teacher, tilling the land on the side, so that I would have a very wonderful life on the countryside," said Han. "I didn't like it. I had bigger goals for myself."
Han convinced his father to send him to Kookmin University in Seoul where he discovered English literature and decided to pursue it as his major, a popular choice for many Korean college students at the time.
"Many Americans are curious how a Korean man decided to study English, American literature. But it was a fashionable thing to do," said Han. "English was a very popular major and at the time we wanted to learn everything American so we could modernize our country."
After earning his bachelor's degree in English language and literature from Kookmin University and a Master of Education in English from Yonsei University in Seoul, Han came to America in 1988 to teach and pursue a master's degree in English from Kansas State University and a doctor's degree in English from the University of Nebraska-Lincoln.
While he was teaching in America, Han noticed a difference between American academia versus Korean academia.
"In Korea you have to consider the hierarchy in society. So when you speak to a professor you are speaking to a god, in a way," said Han. "In America the relationship between professors and students was more informal and we addressed our professors by their first names in many cases."
But even with these differences, there were some aspects of Korean academia that Han viewed in a more favorable light.
"I was teaching as a part-time instructor in South Korea and I got the respect from my students, even though I was part-time," said Han. "So there was a prestige attached to your status. But over here, nobody cares. You have to do your job, as a student, as a professor, as a part-timer and that's it."
After teaching at Kansas State University, the University of Nebraska-Lincoln, Nebraska Wesleyan University and Washington University in St. Louis, Han came to MBU in 1999. Not long after his arrival he fell in love with the school and immediately felt at home.
"Before I came here I worked at two state universities. I liked some aspects of public education, but it was not a hospitable environment for a Christian scholar," said Han. "So I wanted to teach at a small Christian liberal arts college like MBU."
For Han, life at MBU has been a dream come true. He enjoys teaching at the school and working with fellow Christian scholars.
"Professors at a Christian college are like family members," said Han. "We pray for each other and help each other."
Han enjoys the fellowship he has with his colleagues and students and tries to encourage them to do their best at everything.
"I very much appreciate his dedication to his work and the trust that he puts in his faculty to do their jobs well," Dr. Julie Ooms, assistant professor of English at MBU, said in an email. "I also appreciate how he emphasizes scholarship, and encourages the faculty and the students to write and to publish their work."
One of reasons Han likes teaching at MBU is because he can be open about his Christian faith, including how he did not come to know God until later in his academics.
"In high school, the local Gideon Club distributed free Bibles. The Gideon Club in the provincial capital brought free copies of the Gideon Bible, which had the The New Testament and the Psalms. The club convinced the administration to get together all the students. It was a non-Christian high school," said Han. "So we gathered on the grounds and each of us got a copy of the Bible and I really liked it. It was such a new world. I grew up in a country with Confucian culture, which I didn't like at all."
After receiving his Bible that day, Han began to read through it and became interested in the Christian faith. It was unlike anything he had heard of and was different from the Confucian culture in Korea.
"I like freedom. I just wanted to get away from Confucian culture and Christian culture was so opening, it opened up a new world and I liked it," said Han.
Over the years Han has stood strong in his Christian faith and trusts in God, even during the hard times. One of those times was when his doctor diagnosed him with kidney cancer back in 1996.
"I had cancer surgery in 1996 and some people thought I would die," said Han. "It was interesting to get diagnosed. People automatically assumed I was going to die. It was interesting. But I survived."
Since his battle with cancer, Han has focused on his health and trusts that God will take care of him.
"I am healthy, so I want to have a fruitful and comfortable life," said Han. "I don't know how many years are left for me, but that's my hope."
Along with his health, there have been other challenges Han has faced in his life. When he first came to America in 1988, people treated him differently once they learned about his field of study.
"Because of my major, I have always been expected to be perfect in English. When you come here, people expect you to speak perfect English, especially when you are in English. People are not going to be forgiving to you. So I have tried to do better than native speakers in some ways, which is through writing," said Han, who also serves as the editor of Intégrité, a faith and learning journal which is distributed nationally and to some universities in South Korea. "I can write better than many native speakers. I'm an editor, so I have tried to prove myself. That has pushed me really hard. And in that way I have accomplished a lot of things. I've been pushed to prove myself as a non-native speaker."
With all of the challenges he has faced, Han is no stranger to hardship. Having been a student himself, Han understands the stress students in today's academic world face.
"And life is hard. College life is hard, but it is manageable if you have time management skills and if you work hard," said Han. "But life after college will be hard."
Han suggests that young people read certain books to gain a sense of the challenges people used to face and appreciate how fortunate we are, living in today's world.
"Some young people do not know how their ancestors lived 50 years ago, 100 years ago. Life was very hard. And there was nothing free in those days," said Han. "So I would recommend that young people read some books written 50, 60, 70 years ago."
It is evident that Han cares about his students and wants to see them succeed both academically and professionally. He has done his best to ensure his students learn the skills they need for later in their lives.
"In addition to my formal studies, I learned a great deal about the publishing world from Dr. Han," said Rebecca Klussman, a former student of Dr. Han's. "He helped me sharpen my skills as an editor and has given me many opportunities even after graduation. He's the type of professor who goes above and beyond for his students."
In addition to his students, Han's fellow colleagues speak to his love of teaching and passion for helping others.
"His love of learning is contagious, and you can see in his classes how he inspires students through his own life examples," Jessica Wohlschlaeger, instructor of English at MBU, said in an email. "In spite of his busy schedule, he always makes time for students as well as faculty because not only does he have a passion for learning, but he also has a passion for people."
In addition to a career, Dr. Han has a loving family. He has been married to his wife for 33 years and they have two daughters. His wife is a lifelong church musician who currently composes Christian songs and does missionary work. Han's older daughter is an attorney and his younger daughter works for a consulting firm.
Overall, Dr. Han has lived a fruitful life full of experiences and challenges. In addition, he has been able to achieve many of his own personal and professional goals, something he is proud of.
"I have accomplished almost everything that I wanted to accomplish," said Han. "I want to have a healthy, fruitful, comfortable life and then die quickly. That's my hope."