MBU Honors continues to inspire students five years after its establishment as the growth rate of membership has soared nearly 200 percent. While this year is presenting unique challenges never seen before, the group is managing to stay focused and connected.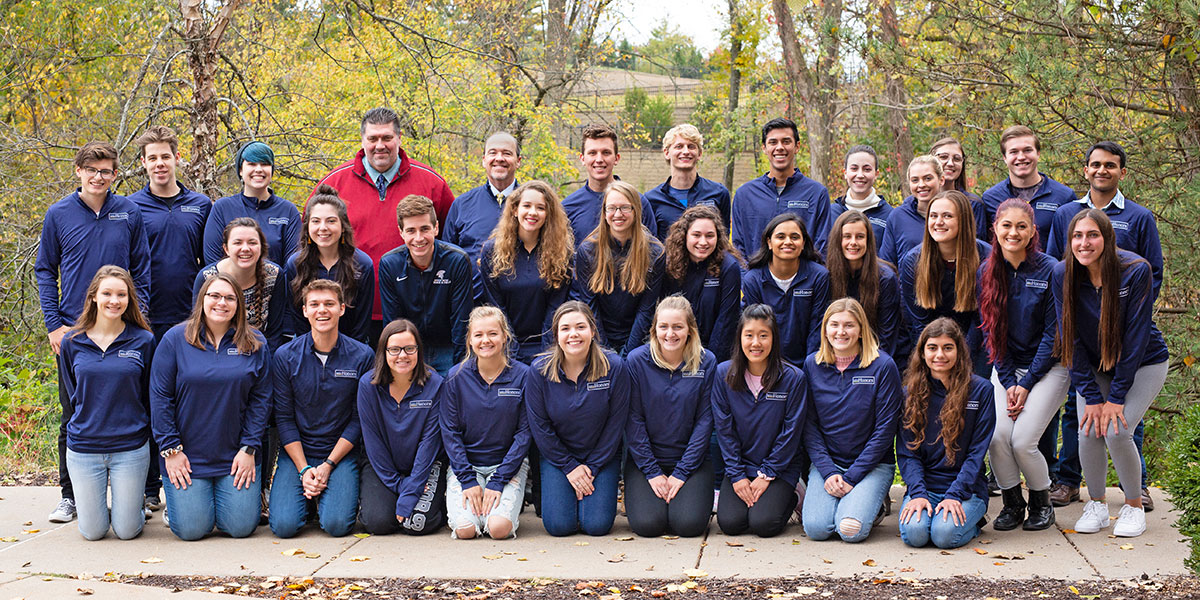 A group photo of  MBU Honors students , taken pre-COVID, shows how much the program is growing, and continues to grow this semester.     Photo by Shelby Boos
Front row, left to right: Olivia Dixon, Madisyn House, Alexander Menz, Mikayla Williams, Kati Brummet, Kirenda Brown, Grace Hahn, Jenny Rice, Emily Kohnen, Lorraine Linson
Middle row, left to right: Mikayla Harrison, Krista Biesiadecki, Luke Little, Sophia Slay, Cherith Laubinger, Sophie Karase, Elma Sulthana Mohammed, Savannah Rodgers, Meredith Linn, Victoria Zilke, Brianna Fischer
Back row, left to right: Gavin Harrell, Christopher Williams, Jessica Davlin, Guy Danhoff, Larry Smith, Robert Lee, Andrew Andersen, Daniel Heinrich, Olivia Leek, Alyssa Beaudoin, Allyson Trask, Zander Smith, Rafathulla Mohammed-Sulthan
__________________________________________________

MBU Honors, a program aimed at inspiring students to achieve their academic potential, has nearly tripled in numbers in just five years of existence, from 15 members in its inaugural 2016 class to 44 members this year.
MBU Honors started as a vision in 2014 when then-Provost Dr. Arlen Dykstra approached Dr. Larry Smith, Fine Arts Division chair, with the idea of a program aimed at challenging students to go above and beyond what is expected of them in order to achieve higher academic success.
The expectation of Honors students includes extra projects and research in order for students to become proficient in more areas than their declared majors. 
After a year and a half of training, preparation and recruitment, the first class of the Honors Program began in fall 2016. 
The program began with only 15 students, many of them dropping out the second year. However, the program has steadily grown despite challenges, and now there are 44 active members along with several students committing to join next semester. 
Meredith Linn, who graduated in spring 2019 with degrees in social sciences and history and now works at MBU as North Hall's resident director, was one of the original members in the first class to graduate with Honors.
"I love academic challenges," said Linn. "It was one of the things that brought me to MBU, and it was an exciting opportunity to help build a new program."
One major reason students enjoy being a part of the program is the community it brings. Even underclassmen understand the program emphasizes acceptance.
"My favorite part has been joining the community and seeing how much of a little family it is, regardless of where you are in the program," said sophomore Kirenda Brown, a nursing major from O'Fallon, Missouri.
Another important aspect of the Honors Program is the skills it teaches students in order to succeed academically. 
Luke Little, a junior nursing major from Pacific, Missouri, said: "It's important because it is a program that brings together people from all disciplines and teaches them how to work together, how to think critically, and probably the biggest part is research."
The program is unique because it gives students opportunities to be creative and expand their academic skills in unique ways.
Each student completes Honors projects in order to graduate from the program, allowing them to study what they are interested in more deeply, contributing to growth of the program as a whole. 
The program is led by Smith, who has invested immense effort to help the program grow and succeed. 
"The program has grown because we have a program that is valuable. We now have a community of students that is very inviting and welcoming. Several of the students who were approved for membership in the fall (2019) interviews have come back to be a part of other interview sessions," Smith said. "That is a very encouraging sign for the future of MBU Honors."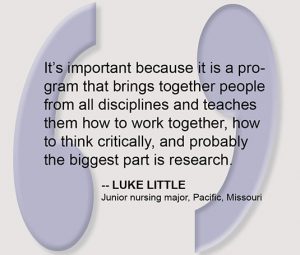 The fact that new students are already excited to be in the program demonstrates successful growth and appeal of the Honors program.
Rebekah Haas, a freshman English and secondary education major, is excited to begin her journey as an MBU Honors student. 
"I am looking forward to meeting new people and making fun memories, as well as challenging myself to learn more," said Haas. 
The program's growth has contributed to MBU's plan to host an Honors conference in 2022, a tremendous honor that adds credibility to the MBU Honors Program. 
MBU was asked to host the Great Plains Honors Conference in spring 2022, a conference attended by Honors programs in Texas, Oklahoma, Kansas, Arkansas and Missouri. 
"This will be the first time the conference has been held in the state of Missouri. MBU will be the lead host and St. Charles Community College and Jefferson College have agreed to assist," said Smith.