When Ethan Metzler graduated in spring 2019, he believed his time at MBU was over. However, when the position of resident director at Pillsbury-Huff Residence Hall became available, he felt the Lord call him to lead the building of young men he was a peer with just one semester before. Regardless of the position change, Metzler continues to deeply and meaningfully connect with everyone he is around at MBU, pointing to Christ through his actions.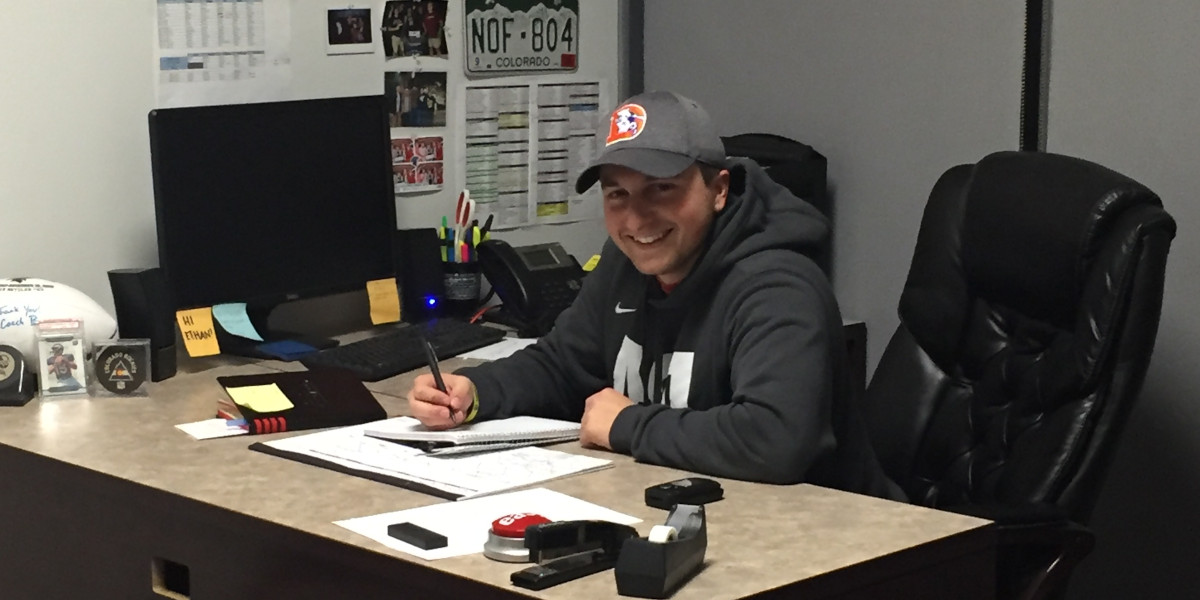 Ethan Metzler works at his desk in his office at Pillsbury-Huff men's dormitory, with his Colorado license plate in the background. Metzler, a Colorado native, has been in the MBU family as a student-athlete, and now as a valued staff member.     Photos by Hannah Chaney
__________________________________________________
Story by HANNAH CHANEY — Interview by DYLAN WHITE
Missouri Baptist University is a place where students learn and grow while earning their college education with the hopes of successfully moving on to bigger and better things, but for some, such as Ethan Metzler, MBU is his bigger and better thing.
Metzler has been part of the MBU community for five and a half years, entering as a freshman student from Frederick, Colorado, and has since returned to MBU after graduating in spring 2019 with a Bachelor of Science in Physical Education to accept the position of resident director for MBU's men's dorm, Pillsbury-Huff, in summer 2019.
"I wasn't expecting to come back but I was given the opportunity and I was more than happy to remain part of the MBU community," Metzler said. "It's been a great place to live for the past half decade."
As a student, Metzler learned and grew at MBU through playing on MBU's football team as a kicker, representing as a Fellowship of Christian Athletes leader and serving as a resident assistant, which all contributed to his growth from being a student to an RD.
"I learned how to love better through being an RA, good work ethic and how to compete with integrity through football, and how to be patient when God grows things through FCA," Metzler said.
But growth was not always easy for Metzler as a student in his many differing roles, and even now as an RD.
"Of course there were ups and downs, that's just life. There would be times when I was homesick, which still happens because I grew up in Colorado. It was tough being 800 miles away from family when there were hard times going on and I couldn't go back until Christmas or Thanksgiving. I have dealt with break-ups here, which isn't easy. I have learned how to manage my time," Metzler said. "These were all tough things, but I have grown through the tough times and [have] become more steadfast as the Bible talks about. I am grateful for those times because God has used them to allow me to relate well with others." 
Bryson Barnes was one of Metzler's MBU football teammates before graduating in 2018 with a major in sports management and minor in business administration, and one of the many students who witnessed Metzler's steadfastness in the dorms and on the field. 
"I mean he doesn't change up," Barnes said. "How he was in the dorm was how he was in the facility, in front of people. He was really positive and sometimes things didn't go our way, but he was always really encouraging as a Christian as well as just a friend. All that together, I think that made him a really great teammate and leader."
Meredith Linn, who has worked alongside Metzler in her student years as a fellow co-leader of FCA and in her alumni years as a fellow co-worker on the Resident Life staff as North Hall's senior resident assistant, agrees with Barnes that Metzler is a leader and Christian by example. 
"He loves the Lord first of all, and he's a leader by example. He walks the walk, cares for people, checks up on people, remembers what your prayer requests are and he's wise," Linn said. "He has that presence where people feel like they can come to him and ask him questions without feeling judged or hurt, and they also respect him."
The opportunity for Metzler to influence students only grew after he had graduated and received the position of RD at P-H, which Taira Schertz, MBU's director of resident life of 15 years, is thankful for. 
"Ethan has been a great influence in the resident life program from the first day he stepped on campus as a student. He was a resident assistant and we are grateful for the opportunity to add him this year as a resident director," Schertz said. "He is well respected by both his colleagues and students. He represents the values and mission of the university."
One of Metzler's PH residents, Patrick Griffey, a junior at MBU majoring in communications and minoring in missions, has appreciated Metzler's leadership from being a resident assistant to his resident director.
"He has a great sense of faith and community," said Griffey, who this year is a resident assistant. "Whenever I was a freshman, he was a great mentor to me and the other freshmen, pushing us in our faith and forging community."
___________________________________________________________________________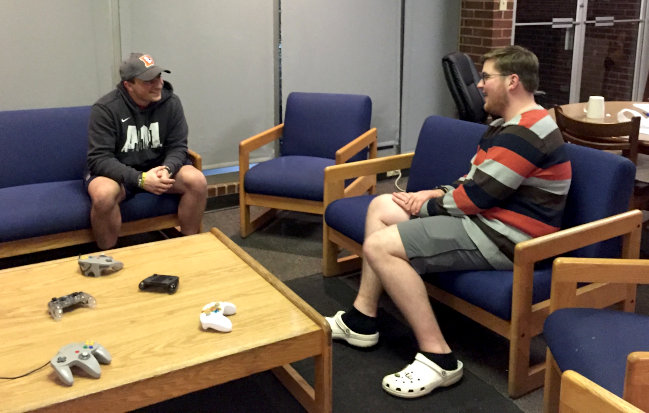 Metzler sits and talks to Carter Kennedy, one of the resident assistants he oversees, in the lobby of the Pillsbury-Huff residence hall. ___________________________________________________________________________
More than his residents, Metzler's RA staff, such as Carter Kennedy, a junior at MBU majoring in social sciences and minoring in political sciences and psychology, are consistently around Metzler and appreciate the servant-leadership qualities shown to them as well as Metzler's residents.  
"I think the biggest one is his servant's heart. He always wants to do what needs to be done. He finds ways to serve people as a leader and it encourages me to go out and serve my guys and PH," Kennedy said. "I think another quality with Ethan is his kindness and his patience. They go hand-in-hand with him. Whenever we get worked up, he's the one who takes a step back. He never puts people down and he validates everyone's feelings. He does that because he's so intentional and patient."
For Metzler, the opportunities at MBU like FCA, football and resident life, were impactful to him as a student, but then as a student and now as a staff member, the people are what Metzler loves most about the university. 
"The people are my favorite thing about MBU. The community and the family atmosphere. It's a small enough campus that you get to know people really well and you get to make deep, meaningful connections," Metzler said. "We're unapologetically Christian and the faculty and staff genuinely love and care for their co-workers and students and anyone that steps foot on this campus."