A St. Louis area broadcasting legend, the senior producer for the Nine Network has decades of valuable experience to impart on students as part of the twice-per-year event hosted by the Missouri Baptist University Communications Department.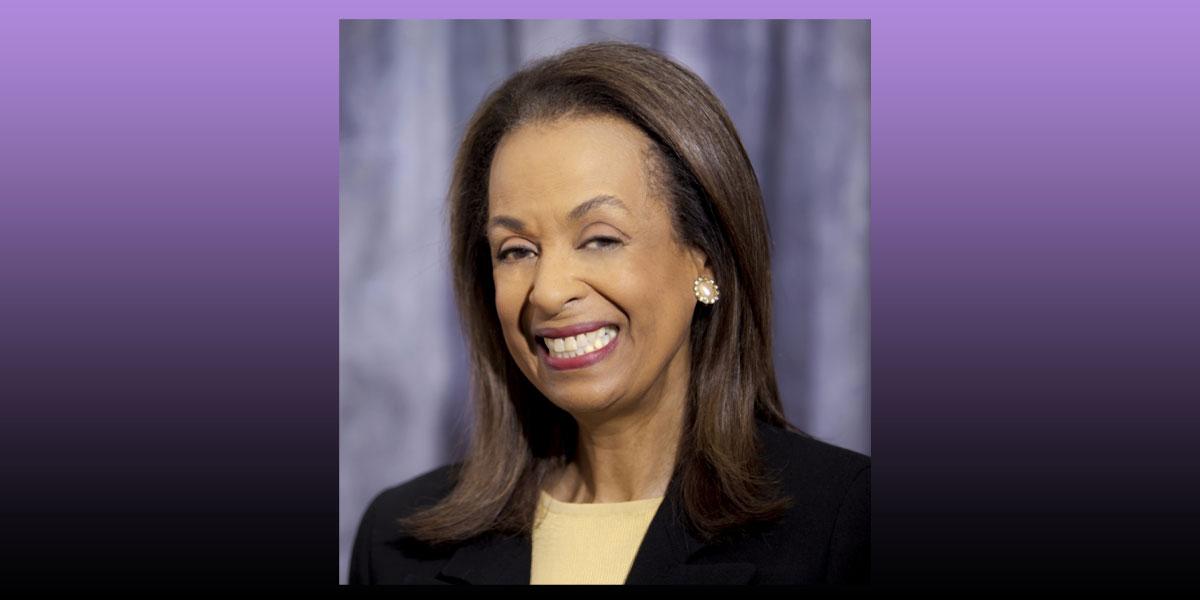 Ruth Ezell currently works for Nine Network of Public Media, and has also worked for KSDK, among other media outlets. It is nearly impossible to talk about St. Louis broadcasting without mentioning Ezell's name.      Photo courtesy of James Kyle
__________________________________________________
By AUTUMN HEATON
Ruth Ezell, senior producer for Nine Network of Public Media, will be speaking from noon to 1 p.m. Tuesday, Nov. 17, at Missouri Baptist University, during the Media Talk series, hosted by the MBU Communications Department and organized by Dr. Amanda Staggenborg.
Ezell, who has been a professional reporter, anchor, on-air host and producer for several years, will be speaking via Zoom. Click this link to join the presentation. After the live presentation students can find the Media Talk on MBU's Facebook page.
Staggenborg, associate division chair for communications and assistant professor of public relations, said she is excited to host such a renowned St. Louis media professional.
"Ruth Ezell is a phenomenal journalist and producer. … I like to call her a St. Louis gem. She's thorough, she gets the story, and she communicates it in the most interesting way," Staggenborg said about Ezell, who has also worked for KSDK. "I truly admire her, and so I think the students will love this Media Talk, I hope they will."
During her career Ezell has been able to produce effective media content while meeting her deadlines, and she is also proficient in monitoring national and international news sources to identify opportunities for feature stories.
"It's the only university event that the Communications Department has and so it's really good for the other areas in the university to see what we're doing and to recognize that communications is really in everything that we do," Staggenborg said. "If you major in sport management or business or education you're still gonna be using different aspects of professional communications."
Ezell's job is to determine program content, direct videographers in the field, conduct interviews, write and edit segments, and maintain story archives. She possesses more than 10 years experience in collaborating with public relations professionals, and 15 years experience in managing interns in the areas of archiving, storytelling and interviewing skills.
Each MBU Media Talk speaker is selected to represent various types of communication-related professions in St. Louis.
Previous MBU Media Talk speakers include: Missouri Governor Michael L. Parson, KSDK news anchor Christina Coleman, St. Louis Post-Dispatch columnist Bill McClellan, Fox 2's Tim Ezell (no relation to Ruth) and several more.
"Media Talk was started in 2012 and originally it had a focus of bringing communications professionals to Missouri Baptist University to expose the Comm students to all of the different areas in the industry that they could then go into," Staggenborg said. "It really is a nice blend of community engagement and making sure the students are exposed to real life day to day from lots of different fields. Communication is a huge field so I like to pick people that can show the students in journalism, broadcast media, public relations, here are the different areas that other people have made successful and hopefully it can inspire them. So, seeing that, no matter what your major is or even if you haven't declared a major, it's so important."
Media Talk typically runs twice a year, one in the fall semester and one in the spring.
"I think there was one year we had four a year and that was really hard to organize. It takes a lot of time to organize a Media Talk because you have to make sure that schedules are coordinated, you have to make sure that there's no conflict with anything that's going on already at the university, and then it is sensitive to the students' schedule as well because this is tied to the media interviewing class. We have to make sure they aren't overloaded and that they have enough time for training."
So, in addition to bringing top-level media professionals to MBU, it is a valuable training tool for students heading into the industry upon graduation.
"I love organizing Media Talk. I've always loved going through all of the motions and my favorite part is communication from somebody else because this is such an incredible field. … There's something tangible for them and I really enjoy seeing that," Staggenborg explained. "And every Media Talk is different, but it's such a great feeling."
Staggenborg pointed out that few if any area universities host an event like Media Talk, setting the MBU Communications Department apart from other institutions.
"I just want to add that the Media Talk is something that I'm very proud of and something that I think no other university really has, a communication speaker series, and we've been able to brand it in the most valuable way for every single communication student to get something useful."