Graduation will be here before we know it, and countless thoughts are going through the minds of seniors, concerns about the future finding a place alongside thoughts of wonderful memories made in college.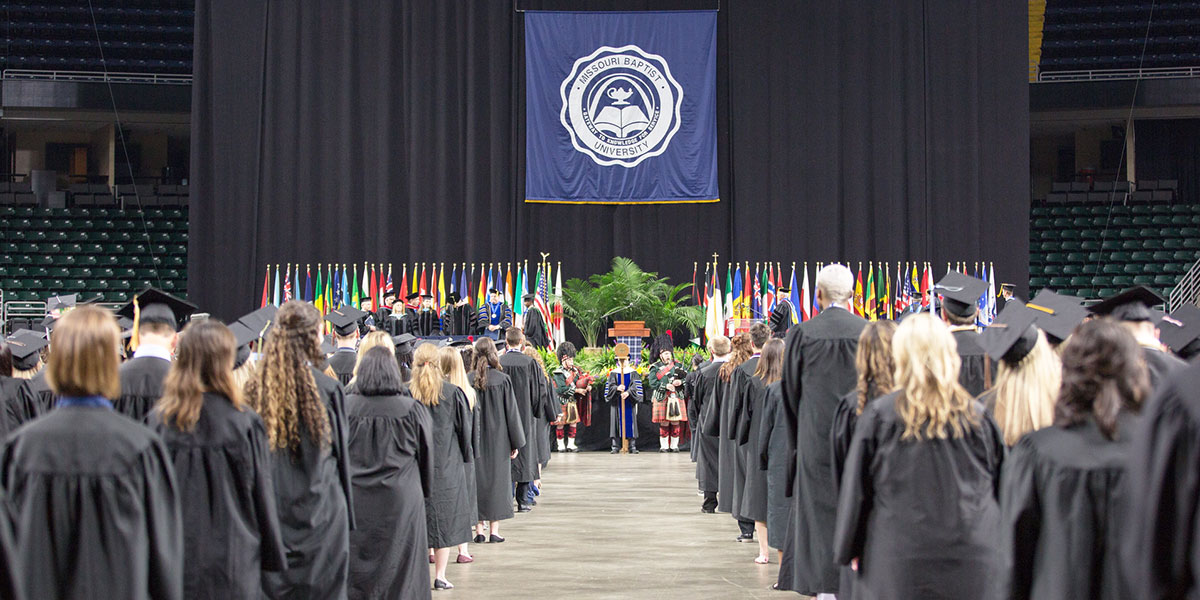 The longstanding tradition of Commencement is not only a day of historic significance in the life of every university, but more importantly a day of significance in the life of each graduating student who walks across that stage and collects a diploma. It is an ending and a beginning, thus the word, "commencement."       Photo Courtesy of MBU Communications
__________________________________________________
As spring semester moves into full swing and we find ourselves counting down the weeks until graduation, a few thoughts loom large for seniors, particularly graduation and the future. 
Graduation is the end goal that all students look toward, a ceremony and celebration for all of the hard work that students put into learning their field of study.
But this celebration of accomplishment is not something all seniors feel especially confident about facing. 
Logan Mills, a Christian ministry major from St. Louis, said recently that he was having mixed feelings about the prospect of graduating. 
"Feeling pretty good, but I would definitely say anxious," Mills said. "I'm not 100% sold on what my plans after graduation are. So some of that is still in the air. There is definitely anxiety about that." 
For some, the day cannot come soon enough as getting finished with college looms heavier than whatever the future might bring.
"I'm just really excited to be graduating," said Maggie McDaniel, a history major from Wildwood, Missouri, "because to be honest I'm kinda tired of being in school."   
But others are not as excited for the day that their college journey finally comes to an end. 
"You know, it's weird," said Veronica Pointer, from Florissant, Missouri, who will be graduating with a degree in social sciences. "It's like I want to head out but at the same time I don't want to take for granted all these memories."
It's almost inevitable to find mixed feelings among college seniors when it comes to such an important moment in life.  
In the case of many students, graduation marks the transfer out of the life students have been living for years and ushers in a new stage.
"I think college has prepared me well for the future, and I am excited to begin the next chapter of life," said Mason Arledge, from St. Louis, who has graduated with a degree in English. "Even if I did not feel ready, I think it would be necessary to move on." 
Some may choose to continue their studies and earn advanced degrees, but the experience is unlikely to be similar to their time as an undergraduate.
"I'll be doing graduate school online and then working here in the area," said Mills, "but it's probably something of two part-time jobs." 
For others, graduate school is just one of the possibilities being investigated. 
"Kinda playing it by ear. I applied to graduate school and I'm starting to hear back and if that works out we'll roll with that," said Arledge. "If not, there is always the option to get a job or, you know, go take the time to pursue my passions, what I really want to do."
This major life change that comes with graduation is welcomed by some students but embraced with an understandable hesitancy by others. 
"It's almost like reaching a point of freedom where you can pursue your passions to a greater degree without having to worry about the responsibility of school and continuous homework," Arledge said in an email. 
This idea of being prepared to pursue passions and find a place in the world is hopefully what all graduating seniors are feeling. 
But this preparedness to move out into the world doesn't always come easy as many students find themselves falling into the trap of complacency as the end of the road becomes easier to see.
"I have caught a case of senioritis, even though I didn't go through it in high school," Arledge said as he headed down the home stretch of college. "From my experience, senioritis makes you highly apathetic and willing to test your ability to procrastinate, although the desire to do well is still there."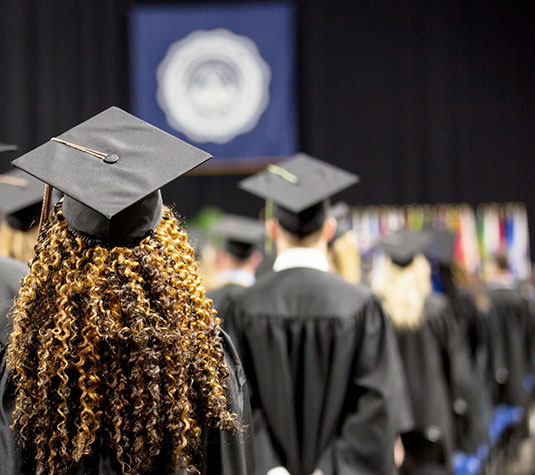 For students at MBU, like college students everywhere, graduation is a day of celebration, but can also be a day of anxiety as the transition begins from college to the workplace. 
    Photo Courtesy of MBU Communications
Other students have even felt the effects of senioritis earlier than their final year.
"I definitely would say right now I'm just feeling the burn of like just everything that's happened as far as like school assignments," said Pointer. "But I felt senioritis a little bit last year more so because that was when I was digging deep into my major."
Regardless of whether motivation to finish strong is there or not, all seniors realize the end is coming and it is helpful to look back at all the memories they have of their college experience. 
"My time at MoBap has been really fun, and I've loved playing lacrosse here and getting to know all the faculty and students," said McDaniel.
They are realizing that, despite all the work, the growth they have undergone and memories they have made is worth it.
"I definitely feel like a senior 'cause I feel really burnt out, but it's in a good way, like I'm learning a lot," said Pointer. "I've definitely learned how to grow so I feel more mature, so I definitely feel like a senior."
They realize that they are about to reap the benefits of all their hard work and fully understand just what an achievement that is.   
"All joking aside, it feels rewarding, knowing four years of work have come to fruition," said Arledge. "It is a big accomplishment, and it feels like one." 
Graduation, whether students are ready for it or not, should feel just like that: an accomplishment. 
The idea of graduation and the conferral of degrees is the university telling students they are ready. 
The students have put in the work and are ready to move on and start making a difference in the world. 
So, despite the worries some students have when approaching this new stage of life, they should celebrate the achievement and know they have an entire university and community rooting for them to succeed.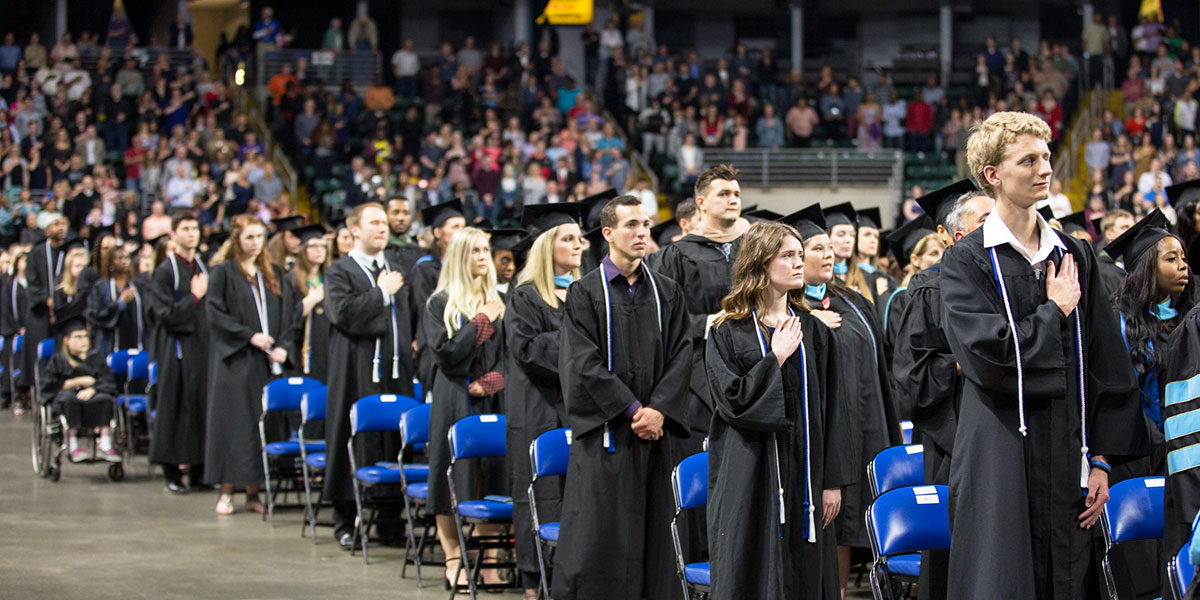 While this photo was taken at the last graduation prior to the pandemic, so therefore no masks were required, the memories and reflections going through the minds of this record number of MBU graduates were very much the same as one would internalize at any graduation. It is a special time in the lives of college students.      Photo Courtesy of MBU Communications