With the first meet behind the Lady Spartans, the head coach sat down and discussed the current feelings, goals and adversity the team is facing this season.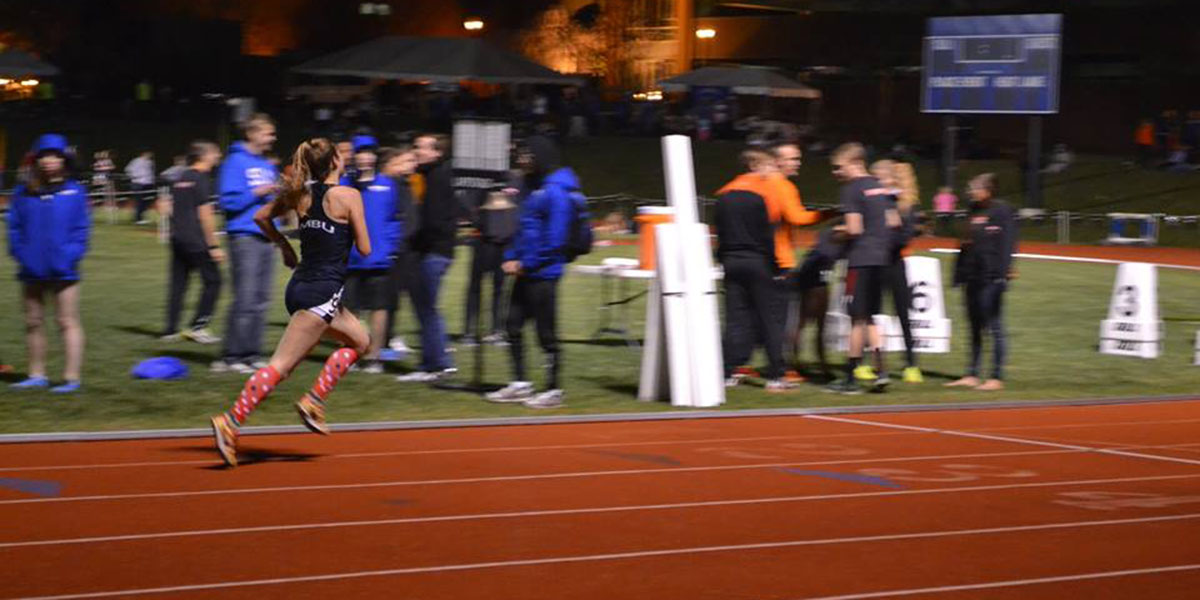 Photo by Vanessa Snowbarger
__________________________________________________
The women's track and field team kicked off its season on Friday, April 1, and Saturday, April 2, at the Washington University Invitational and are heading to Greenville College Saturday, April 16.
"We were down quite a few on both the men's and the women's side, so we didn't have that many numbers," said Katie Cline, head coach of the track and field team.
Cline discussed how she was already pleased with the result from the first meet even though the team was low on participants for various reasons.  
"From the women's side, I was very impressed by our freshmen," Cline said. "For their first outdoor meet, a lot of them all set [personal bests] in all their events."
While personal bests are impressive no matter what the setting, it is important to also note the adversity of the meet as a factor, making personal bests even more impressive.
"The wind [Saturday] was terrible," said Cline. "I don't remember a more windy track meet in my life. So, I was really impressed with how they did."  
Cline's goal for the team regarding the rest of the season is to get the team injury free and to see continued improvement on everyone's part.

"Get everyone healthy and back competing, and also see everyone get better," said Cline, who hopes the returners improve as well as the freshmen.
While upperclassmen often set the dynamic of success on a team, Cline cited a couple freshmen who are looking strong this season, including long-jumper Victoria Younge.  
"She is a jumper and I really expect her to qualify for nationals," said Cline. "She PR'd by two feet in the first meet. If she keeps that up, I know she can do it."
Younge is joined in Cline's national qualifying expectations for the National Championship meet May 24-28 by a couple other freshmen who barely missed qualifying marks during the indoor season.  
Though a few freshmen have stood out during practice and competition, Cline is quick to hit on the upperclassmen, like Aliyah Reams, who set a precedent for success in the program.  
"I think she will be able to qualify in the 100 and 200; she is one of the greatest sprinters in our conference, definitely the strongest on our team," Cline said. "I have a lot of hope for her."  
Cline also discussed the national champion race-walkers, Natalia Alfonzo, Nirvana Zalba, Ioulia Barakou and Molly Josephs.   
"They are top in the nation, so I have no doubt that they will [qualify] as well," said Cline.   
With so many national qualifiers on one team, Zalba knows who she is up against and what they are capable of producing on the track.
"There is a lot of competition among my teammates and it is going to be very exciting and interesting," Zalba said.  
However, for the women's track and field team, members don't have to qualify for the national meet in order to show the rest of the team their drive for success and level of competition.
Sometimes, it just takes the guts to keep going through the worst wind a head coach has ever experienced, and through other unforeseen circumstances … like getting a shoe ripped off by an opponent's spike only one lap into the 12-lap 5,000 meter (3.1 mile) race.  
For senior Kaitlyn Winter, this nightmare every distance runner became a reality.  
"She spiked enough for it to come loose and when I felt the back of the shoe under my foot I was mad because I knew I had to shake the shoe off," Winter said in an email.
Winter had to deal with hitting the track almost barefoot with no protection except a sock every other step, and was constantly reminded about this with the passing of every lap.  
"Every time I passed the point I lost my shoe and saw it on the sidelines, I was so annoyed but I knew it would take too much time to put it back on," Winter said.  
Cline was unaware of the challenge Winter was struggling with until she had finished the race.  
"It did seem like something was bothering her because she really didn't look like herself during the race, but I never looked down at her feet," Cline said.  
Though the race didn't go as well as Winter or Cline would have liked, both of them are now focusing on the rest of the season.  
"I definitely want to see her break 19 [minutes] for outdoor, she did in cross country at Forest Park," said Cline.  
Winter is turning her eyes toward really enjoying her senior track season.
"I just want to have decent times and do several different events to have fun since it is my last year," Winter said.
Hopefully, that won't be too difficult if she can keep both shoes on.
For a full roster of the women's team click here.