The Disney+ release makes for an enjoyable movie night for a group of family or friends to sit down, relax and share a few laughs together without anyone having to think too hard.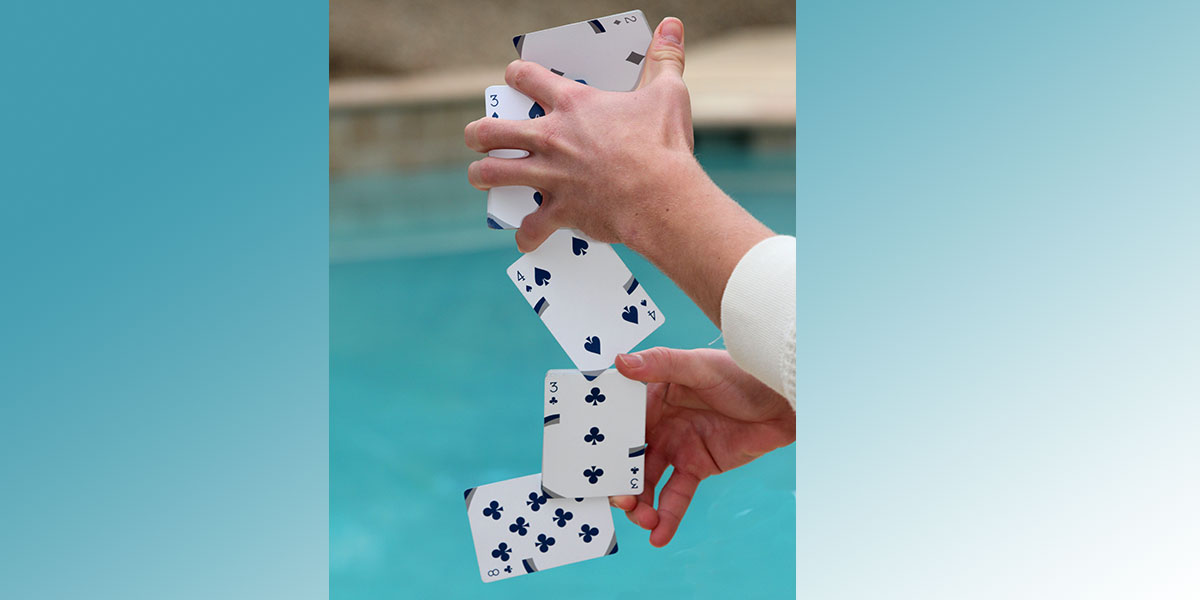 In the movie, "Magic Camp," the specialty of  camp counselor Andy Duckerman's star student, Theo, is slight of hand magic, including card tricks like this one.       Photo by Sheri Hooley
__________________________________________________
"Magic Camp," while predictable, is a lighthearted comedy that families can sit down and watch together. This PG-rated movie should be a recommended film for someone who wants to enjoy a somewhat mindless comedy that does not require a lot of attention.
While it is not complex, it is funny and has a heartwarming message of love and teamwork, which I deeply appreciated.
This movie has been  exclusively on Disney+ since Aug. 14, 2020. Directed by Mark Waters, the movie piqued my interest due to the several well known actors such as "Pitch Perfect's" Adam Devine, "Arrested Development's" Jeffrey Tambor and "Community's" Gillian Jacobs.
The film was made in 2017 with a 2018 scheduled release date. However, the spot was taken by Disney's "Christopher Robin," therefore "Magic Camp" was pushed back to be released on Disney+, which launched on Nov. 12, 2019.  
The acting, while not amazing, is decent. The actors portray their characters well enough to be invested in the storyline without being distracted by terrible acting techniques. 
The storyline follows a Las Vegas taxi driver, Andy Duckerman (Devine) who is approached by his old Magic Camp director, Roy Preston (Tambor) to be a counselor at his childhood summer camp. Duckerman reluctantly agrees to become a counselor to teach kids how to be magicians. 
Throughout the summer, Duckerman learns how to take care of and teach his campers to believe in themselves and follow their magical passions. He is faced with the realities of teaching children, major career decisions and an old rivalry with a famous counselor, Kristina Darkwood (Jacobs).
The campers in his cabin, the "Hearts," learn to connect with their talent and be successful in the magic world. The kids face fears, find summer love, and ultimately become successful through working hard and developing strong teamwork. 
The plot of the story was realistic at parts, like the concept of a summer camp to learn a skill like magic.
However, several of the subplots were unrealistic, including a famous magician going on hiatus for a low-income summer job, or the fact that Duckerman misses his huge opportunity to perform magic professionally in Vegas in order to watch his team perform in the final competition.
While there is minor conflict, the film is lighthearted and does not require heavy thinking, making it a good movie for kids or families to watch together. 
Considering its $24 million budget, its IMDb rating of 6.3/10 stars shows that it definitely is not the best movie out there. However, it can be enjoyed if the viewer isn't looking to be overly amazed.
Overall, I would give this movie a rating very similar to IMDb's. The acting is OK and the storyline is sweet despite the unrealistic subplots. Overall the message is simple yet heartwarming. I would recommend this film for a simple family movie night and to anyone looking for mindless entertainment.