Like the times, music is always changing, but classics have a way of surviving the tidal wave of new artists and their sound. The iconic Frank Ocean pioneers a whole new way in delivering an album to his loyal fans and all music lovers.
Frank Ocean performs in a 2012 concert, demonstrating then what he continues to exemplify today, an uncanny ability to adapt and evolve as a musician and performer.       Photo courtesy of Wikimedia Commons
____________________________________________________________________
The highly anticipated album, "Endless," never fell to the mainstream audience after constant delays by Frank Ocean back in 2016, but the beautiful visual album did make its way to Apple Music then eventually to YouTube for the world's viewing pleasure. 
Under-appreciated and underrated, "Endless" is better than "Blonde," another Frank Ocean album released the day after "Endless" that got more publicity and praise from the media.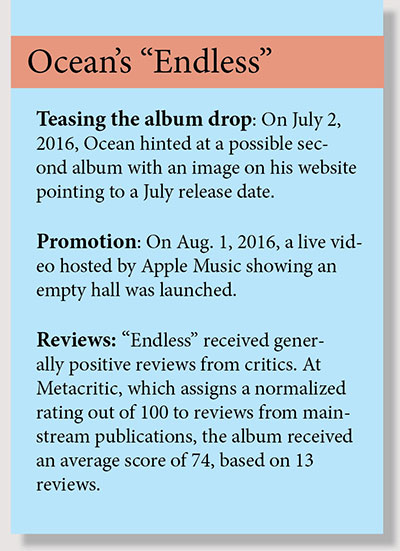 The 45-minute runtime makes "Endless" sound like one continuous masterpiece, sticking to what Ocean knows best as well as exploring new horizons in his own sound, effectively taking listeners on an exhilarating rollercoaster of sound. 
The visuals themselves aren't the most entertaining part of the "Endless" experience but the uniqueness of an all-visual album places this work in its own category musically. 
With every pause he takes you to a new world, sending a different vibe with every inner changing guitar string or gentle drum beat or stroke of the keys.
He uniquely builds up anticipation at the beginning of the video using computerized beats to lead into the smooth orchestrated tone of the first piece. 
Ocean's voice speaks to the listener's soul like a calming lullaby, his lyrics talk about a love that ended too soon, reflecting on the pain and sadness that he felt from past experience. 
Transitioning to more of an upbeat tone Ocean continues to admit the mistakes he's made in past relationships and asks, "What can I do to know you better, what can I do to show my love?"
He sings with passion, talking about a subject most people can relate to, making the music more than relatable, but in a way causing the listeners to call back on past memories of failed love.
Ocean's melancholy tone draws you in, making you want to sing along with him, making his pain your pain. 
In a therapeutic way Frank Ocean goes from talking about lost love to accepting his mistakes, to finding hope in new beginnings and looking forward to the future. 
Throughout the visual album he uses different ways to deliver his message, not only singing but using spoken word to share his poetic lyrics. 
"Endless" is not an album … it is a musical experience, a studio session that seems more like a concert than a recording for an album. 
Overall the visual album is food for the soul urging you to continue listening all the way through.