Recent MBU graduate and athlete, Mike Asleson, becomes new head coach of men's junior varsity basketball.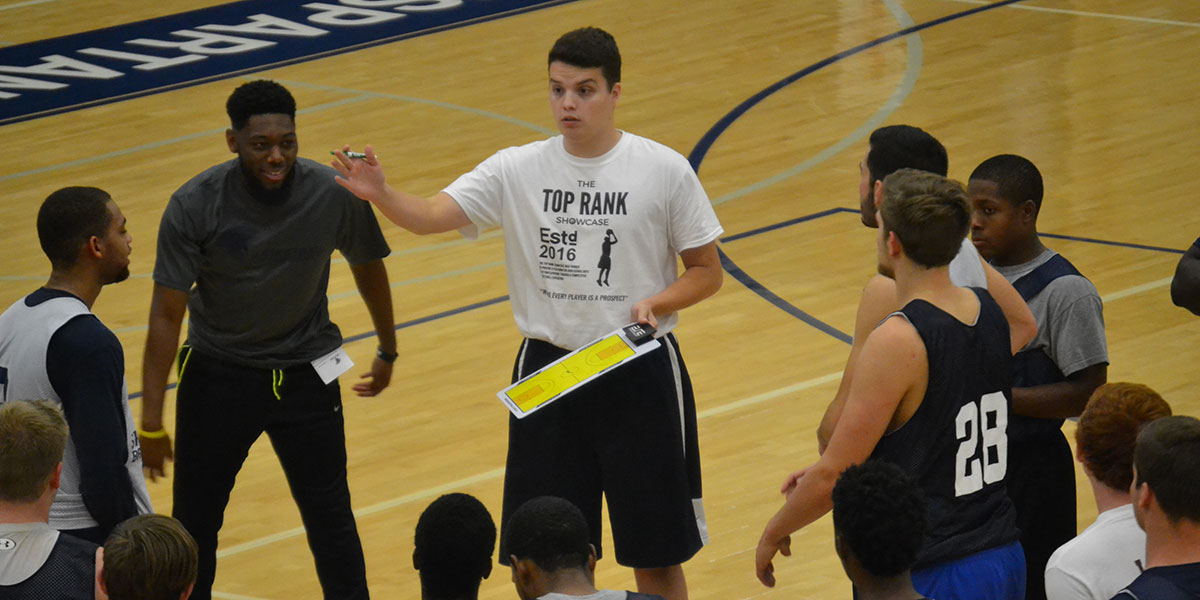 Photo by Michael Aylor
__________________________________________________
Mike Asleson graduated from MBU this past spring, but his career at MBU has only just begun.
Asleson, an accounting major from St. Louis, accepted a position as a grad assistant to be the men's junior varsity basketball head coach for the 2016-17 season.
Asleson, who was a Spartan basketball player himself for three years, with two years on the JV team and his final year on varsity, went from player to coach in just a matter of months.
Asleson has enjoyed working under men's varsity coach Matt Brock and assistant coach Jared Goodwin, who have been helpful in his transition to coaching.
"It's been tough, but it's a good transition to have when you have really good guys like Coach Brock and Coach Goodwin here that make it pretty easy for me," said Asleson.
Although the transition from player to coach is significant, this isn't Asleson's first coaching experience.
"It's a little bit different, but I've been coaching some summer ball the last couple years, so it's pretty seamless," said Asleson.
Once a JV team member himself, Asleson has a lot to offer to his former teammates and incoming players.
"I like being able to help the guys who I was once in their position," said Asleson. "I know, especially being on a JV team, how hard it can be and that you're not always getting the biggest crowds, but you know, just being able to help these guys achieve their dreams in some way."
New team member Dazzon Jones, a freshman from Kansas City, thinks highly of his new coach.
"He played JV before, so he's been super helpful for us new guys on the team," said Jones, who added that Asleson's own experience puts him in different standing with his players. "Since he played before, it's like he's one of us. He doesn't coach us from a coach's perspective, but from a player's perspective."
Asleson looks to challenge his players this season and create a new energy around the JV men's program, a team that posted only three wins in the 2015-16 season.
JV basketball player Jonathan Nathaniel, a junior majoring in sports administration, reflected on the struggles of last season.
"Last season was difficult because we had no team chemistry, no positivity, and poor leadership," said Nathaniel.
Asleson addressed what needs to change in order to get the program back on track.
"I think just being positive, because it's definitely been a culture the past couple of years that it's easy to become really negative," he said. "I think if we can maintain a positive culture, only good things are gonna happen for us."