As the new year begins at Missouri Baptist University, a new organization looks to provide support on campus. Senior Rae Guice initiated the Association of Black Collegians at MBU to create a positive environment on campus for all students.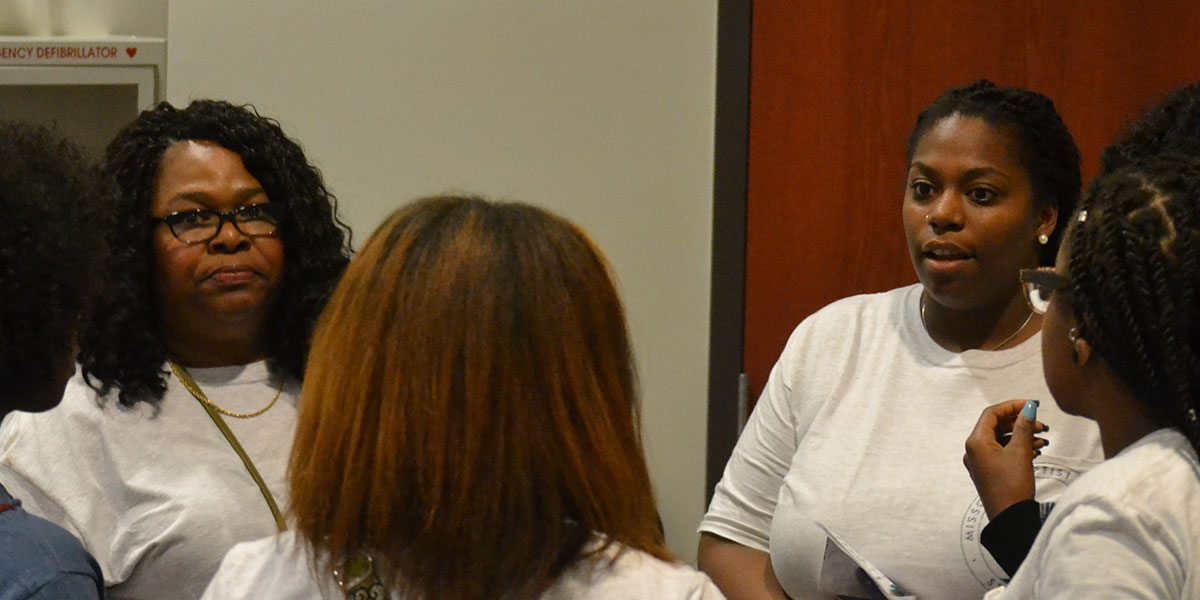 Photo by James King
Professor Brenda Bradford (left), Business Division chair, and Rae Guice, a senior at Missouri Baptist University who founded the Association of Black Collegians, speak to local dancers during a recent performance at the Chapel.
__________________________________________________
Click on the play button below to see the full video of our interview with Rae Guice, MBU senior and president of the newly formed Association of Black Collegians
Video by Dr. Allin Means and Ryan Rerich
__________________________________________________
By ESTHER GILLIAM, KARA SASIELA and SIERRA THOMPSON
In a university, it is the students' responsibility to come together to build a community, support one another and create an environment that encourages diversity.
The Association of Black Collegians began in February 2015 to help students realize and embrace that role at Missouri Baptist University.
Led by Rae Guice, president and founder of ABC, the university's newest organization looks to provide support for students spiritually, educationally and socially.
"It is not a group that is going to segregate the school, but kind of push students to be integrated in every single aspect," explained Guice, a senior ministry major from Chicago. "The mission and purpose is to support the African-American student, whatever that looks like."
The group began with four members who had a dream of building an association on campus that would bring family, community and spiritually based support to black students at MBU and, in fact, students of all ethnicities, Guice said.
"It is a very inclusive group. We would love for people who see the need for the African-American community on campus, and want to step in as someone who is not African-American," Guice said. "It takes diversity for anything to run successfully."
After overcoming several hurdles, the fledgling group quickly grew to 17 members in a matter of weeks.
"We wanted to bring a part of our culture here to the university and share it with everyone else, so they had a chance to see what our culture looks like," Guice said during a recent interview. "My mom ran her ABC, so to be filling my mom's shoes is very rewarding."
Guice said that crucial in the initial planning phase was professor Brenda Bradford, chair of the Business Division, who offered support and mentoring to Guice and other club founders.
"Her character is loving and caring," said Guice. "Having Mrs. Bradford on our team opened many doors for the program."
Bradford added, "You have to have faith."
The ABC was initiated by Guice, her vice president, Grace Adams, a psychology major, and other students: Ky Quarterman, Elisha Dotson, Chris Watts and Jaron Woods. Two more key individuals were Paul Faber, director of diversity priorities and initiatives, and assistant professor of business administration and management, and Lara Hines, director of student activities.
In order to join the ABC, students must maintain at least a 2.0 GPA and fill out an application.
For more information about how to join the group, students can text or call Guice at 847-612-1905, or email the ABC at abcmbu@gmail.com.
You can also visit their facebook, twitter or instagram page to learn more about the ABC.
Though the club is designed to support and showcase the African-American population on campus, Guice noted the various events being planned are geared more toward integrating and teaching about the different cultures on campus, not separating them.  
"Our cultures are different. How we worship is different. How we grew up is different," Guice explained. "We want it to be integrated."
ABC states on its Facebook page: "This organization seeks to develop and cultivate a culture that encourages and supports diversity."
They strongly encourage all students to join to help complete their mission of seeking diversity and shared culture.
"One thing the ABC does not do is separate," Guice said. "So one big thing that we push is taking the ABC people and push them into other aspects of the university."
As ABC grows the group will continue working with other organizations on campus such as A Mighty Passion, Student Government Association and the Academic Success Center to develop events throughout the year.
On the first Tuesday of each month ABC will begin holding a study table in the Café with division representatives to help students with homework or any other matters they may have.
By providing study sessions and faculty mentors, the ABC plans to create a successful learning environment that encourages asking questions.
"The mentors will sit down with their students and offer them information about classes that they're taking, the teachers that'll be teaching their classes, what their tests are like, what their class load will be like, how to succeed educationally at Missouri Baptist University," Guice said, "so that they don't fall through the cracks and come into the next semester with a poor GPA, when someone just had to reach out."
Other upcoming events include multiple chapels in the spring, Urban Up, which is MBU's organization devoted to service and leadership, and games of Ultimate Frisbee.
Ranging from a recent culturally immersive step show to glow in the dark capture the flag, it is clear the activities are meant to reach a variety of different individuals.
"We have a lot of members on our executive board and in our membership that play sports, so we have glow in dark capture that flag," Guice said. "Just a chance to get with all your friends and just be kids again, run around campus, chasing each other down and just providing more things to do on campus."
According to ABC's profile on its MyMBU Life page, the organization "will secure racial equality, unity and create an awareness of African-American culture," pushing for "academic excellence by developing a spiritually minded, well-rounded individual who can communicate beyond racial and cultural boundaries."
The future looks bright for the ABC and some goals have been set to accomplish over the next five years.
"Five years from now I would love for the ABC to have people who donate into this organization and are able to send students of color into places like Haiti or into places like England, just so they have the opportunity to give back to this bigger mission, which is saving the lost world," Guice said. "Any good leader knows that one day you will be gone from this position. … But what kind of legacy you leave for the upcoming generation will help set the path for the years after you are gone."
Contributing to this story were: Vladymi Joseph, James King II, Holly Flieg, Elizabeth Harris, Brittany Gammon, John Hough, Joshua Daugette, Spencer Randolph, Chelsie Bartley and Ryan Rerich.