The MBU Writing Lab will host a variety of different events and activities starting Oct. 20 to educate students and faculty on the joy and process of writing.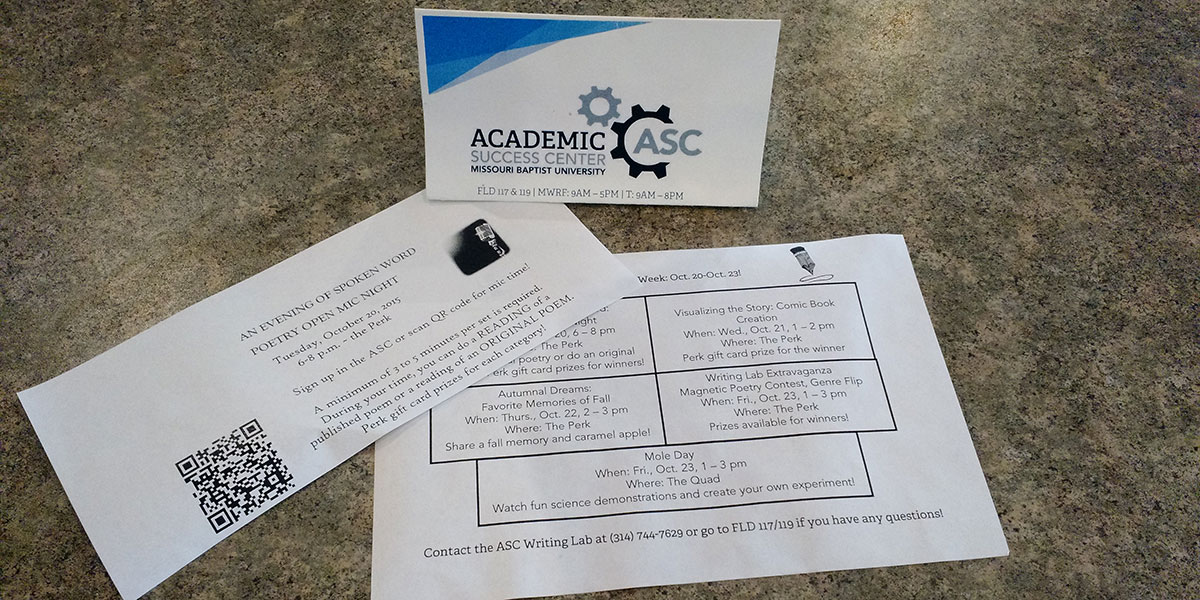 Photo by Joshua Daugette
________________________________________________________
The Missouri Baptist University Writing Lab will be kicking off the third annual Writing Week beginning Tuesday, Oct. 20, in the Perk, with an evening of spoken word: a poetry open mic night.
The poetry night is open to any students and faculty members wanting to participate, following the rules that poem(s) do not contain any vulgar language or inappropriate references.
Poems should be between three and five minutes long and can be presented in any format. Experimentation is highly encouraged for participants.
Works will be judged by a panel of judges for two categories: poetry reading and original poetry, with Perk gift cards being awarded to the winner of each category.
To participate, sign up in the Academic Success Center or online by Thursday, Oct. 15.  
Writing Week will run Tuesday, Oct. 20, to Friday, Oct. 23.
"It's a way for us to present writing in a different way … create different perceptions of writing," said Writing Lab Coordinator Elizabeth Busekrus.
Complete activities for the week include:
Poetry night,  6-8 p.m., Oct. 20
Comic book creation, 1-2 p.m., Oct 21
Favorite memories of the fall, 2-3 p.m., Oct. 22
6-Word Story competition going on all week.  
Mole Day celebration in the Quad on Friday, Oct. 23
Writing Week Extravaganza will feature games such as the genre flip, magnetic poetry, as well as other fun writing activities.
The 6-word story is back by popular demand as a favorite of Writing Week participants.
To enter the contest, the participant just has to write a story with six words; it does not even have to be a complete sentence.
Participants can begin to submit their stories to the Writing Lab from now until noon on Friday, Oct. 23.
The winner will be announced later that Friday during the Writing Week Extravaganza and will receive a $25 Perk gift card.
New to this year's Writing Week, the Writing Lab is partnering with the Math and Science Club to present fun experiments and writing exercises to students and faculty featuring Diet Coke, Mentos, vinegar and balloons.
Mole Day is a celebration observing of Avogadro's number, 6.02 X 10 ˄23, a number important to chemistry calculations.
"We are going to give some demonstrations then, have students write their own science demonstrations just to show that step of creation, how writing is a process of creation," Busekrus said.
The full list and descriptions can be found signing into MyMBU and visiting the Life Acedemic Success Center Page.
For more information, contact Busekrus or Dr. Mary Vedamuthu at Vedamuthu@mobap.edu.