If you've seen a professor traveling around campus with his guitar in tow, then you've seen Dave Smith, an MBU math professor who exemplifies servant leadership and a heart of true worship on and off campus.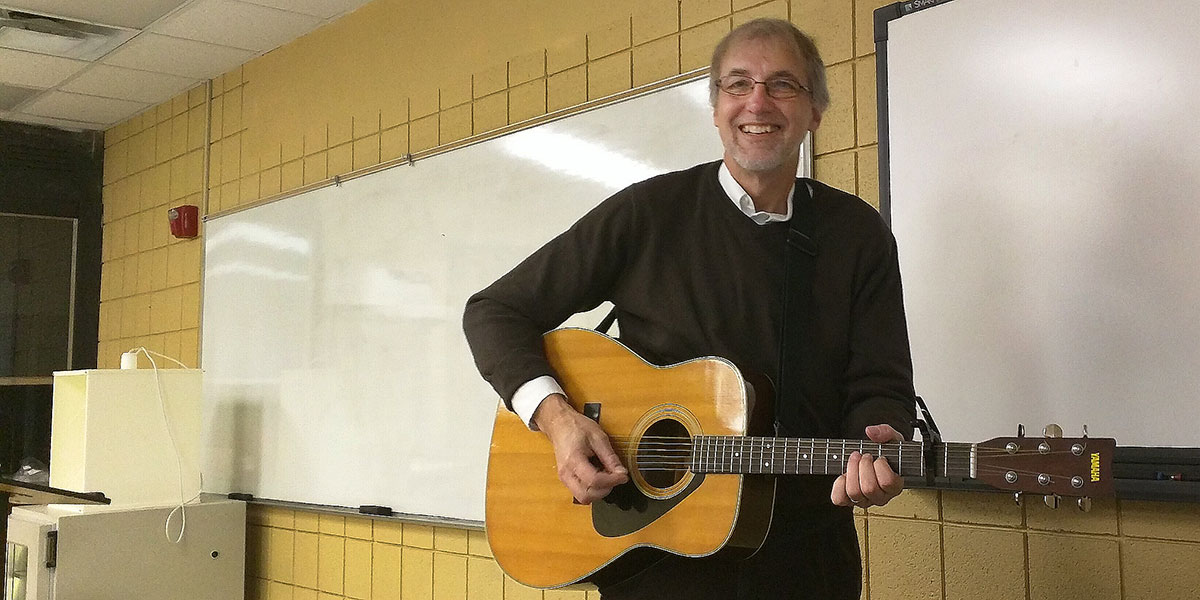 Photo by Andrew Andersen
Professor Dave Smith smiles and plays the guitar with joy, playing for his students to brighten up their Monday morning. A softspoken Renaissance Man, Smith also enjoys running marathons. He runs over 2,000 miles each year. And he's won the highest faculty award at MBU.
_____________________________________________________
By ANDREW ANDERSEN
Professor Dave Smith arrives at Missouri Baptist University around 7:45 a.m., but the day started well earlier for the Chevrolet Tahoe-driving, guitar-playing, banjo-shredding, mandolin-picking math professor.
Smith arrives on campus early, goes to the Academic Success Center before it opens, and practices guitar or looks for a Biblical truth to share with his students.
To this point in his career, Smith has received the Emerson Excellence Teaching Award in 2013 and the MBU Distinguished Professor Award in 2014, but in light of his accomplishments, Smith's humility, desire to serve, and quiet sense of humor shine.
Upon receiving the Distinguished Professor Award, Dr. Arlen Dykstra, MBU provost and senior vice president for academic affairs said, "David Smith invests in his students sacrificially and in a way that encourages true learning."
Dr. Jerry Deese, division chair of the Natural Sciences Division at MBU, recognizes the willingness of Smith to help and serve students.
"Professor Smith will do anything he can to help a student learn mathematics and he's always willing to help a student whenever they need it," Deese said.
Smith makes it a point for students to know his willingness to provide help, with only two stipulations: "I'll do anything to help a student as long as it's legal and as long as it doesn't hurt."
Rather than working out of an office, Smith works in the Academic Success Center between his classes, and serves as a tutor to all students who need help with mathematics at all levels.
The students who get to know Smith refer to him as Smithdiddy or Diddy, and recognize how much he pours into the lives of his students as a mathematics teacher, a role model and a spiritual mentor.
In and out of the classroom, Smith engages those he interacts with regarding the Christian life, either through conversation or through his musical talent, which he often uses to strum his way into the classroom.
"He's a great man, has a great heart, and cares about all his students, and he's a good-looking guy," said John Hagan, a member of the MBU baseball team and student of Smith. "I can do anything with Smithdiddy as long as it doesn't hurt and it's legal."
Smith grew up in Chicago, rooting for the Chicago Bulls, and attended Illinois State University for undergraduate work in mathematics and education and for graduate work in mathematics.
Before beginning his career at MBU, Smith served as a public school teacher at the middle school and high school levels for over three decades.
Smith currently resides in Troy, Missouri, where he serves as a worship leader at his local church, First Baptist Church of Troy, Missouri, but he can also be seen running through the town both as a hobby and for exercise.
Outside of the classroom, Smith is constantly on the go as a dedicated runner, having run numerous marathons and 5Ks, and in the past he has offered extra credit to students who participated in the MBU 5Ks and finished before him.
Early in 2017, Smith suffered from a stress fracture in his leg that could have prevented him from completing his 2017 goal of running 2,000 miles in one year; however, Smith recovered quickly and returned to his passion for running in order to achieve his milestone.
Smith's dedication to reaching his personal goals is unmatched, and his dedication to his students and their wellbeing is also apparent.
He offers simple wisdom stemming from years of life experience that goes a long way, such as: "Get enough sleep, sleep is so important you can't function without it," and, "When you're not sure of something, seek advice from wise people."
For many people, Smith serves as the wise person people seek advice from, and he continuously finds ways to live out his Christian life.
As a school, MBU focuses on making classrooms personal settings, encouraging educational relationships, and Professor Smith embodies and exemplifies servant leadership in all the lives he touches.