The Missouri Baptist University Jazz Band has grown exponentially under the direction of Shane Williams, who leads the bands at MBU and teaches in the Fine Arts Division. For this band of talented student musicians, the sky is the limit.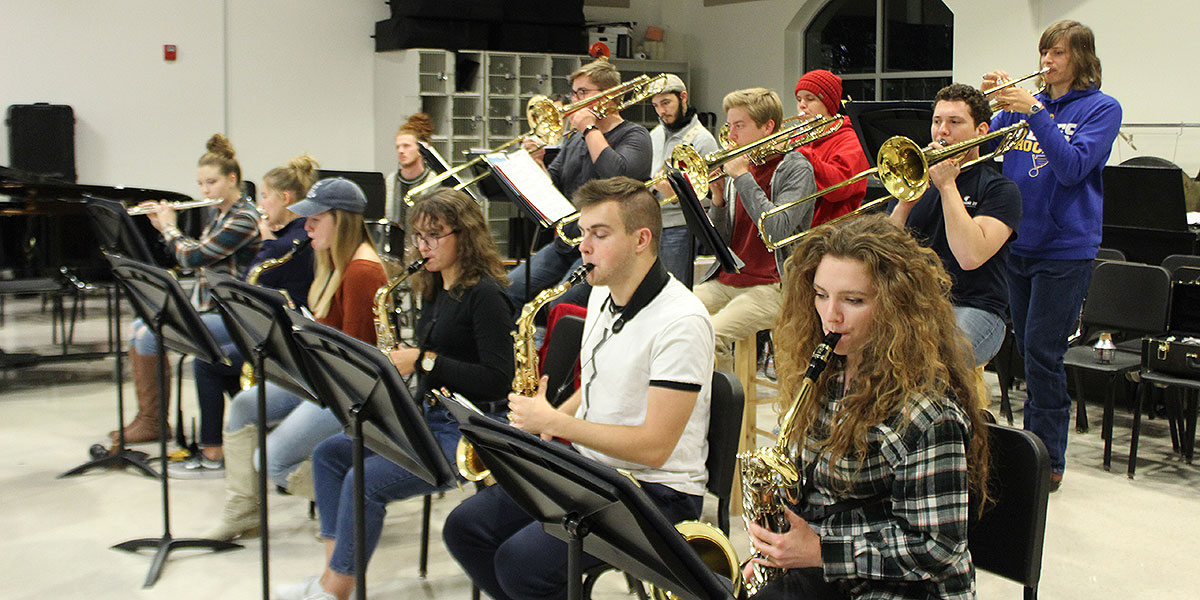 Photos by Peter Lee
The MBU Jazz Band rehearses for an upcoming concert. The Jazz Band performs Tuesday, Nov. 27, in the Perk following the Hanging of the Green festivities, and again Friday, Dec. 7, in the Mabee Great Hall, during a private show for donors that precedes the annual Christmas Concert.
__________________________________________________
By J. DYLAN WHITE
In the MBU Fine Arts Center at 4 p.m. on a Tuesday,  the stray growl of a saxophone, the percussive thud of a drum or the dominant punch of a trombone may be heard echoing down the halls and filling the rotunda with sound.
After hours of rehearsal and preparation, the initial wrong rhythms and notes from an unfamiliar piece give way as a perfected musical tune takes a life of its own.
According to Shane Williams, associate professor of music and director of the MBU Jazz Band, the students behind those sounds have created a bond between each other through a love for what they do, and now they are ready to make some noise.
The MBU Jazz Band is a group consisting of students from a wide array of backgrounds and majors gathering with the common purpose of having fun, playing jazz music and glorifying Christ.
Williams began directing the MBU Jazz Band in 2015 and took initiative to build a program that would yield the greatest benefits for students in the future.
"When I got here I made a decision to have it just be students because prior to this they had a big band but everybody was paid so there were only a few students in it," Williams said. "The path I chose was a building path. We've been growing slightly each year and now this year was the full bloom. … It's been very exciting and a steady building process."
The MBU Jazz Band had seven members on its roster last year at its peak enrollment. Fifteen students compose the group this year, with freshmen and transfer students accounting for the increase in numbers for the ensemble.
Emma Bushery, a freshman alto saxophone player and music education major, said that making the transition from high school to college band was vastly different from what she had previously known.
"The practices were a lot different compared to my high school. It was more intense since it was two hours long, we work at a faster pace and we only meet once a week, so we have to bring our best to every rehearsal," Bushery said.
Despite the influx of new members who did not know each other before the year began, Williams said he tries to foster a sense of family.
Alaura Dalgetty, a freshman flute player and early childhood education major, said she believes his plan is working.
"I think we have a really good relationship as a jazz band. We don't fight over parts, and we are fair with things. Overall I feel like it's a family feeling rather than 70 other people being there," said Dalgetty.
The jazz band extends its sense of family beyond the typical instruments found in a jazz band; both Dalgetty and freshman Sarah Baumann play the flute.
Dalgetty had never played jazz music before joining MBU's jazz band, so she said learning to play a different style of music was difficult at first, but she's learned to embrace it.
"Coming in not knowing how to play was a little intimidating but with hard work you can pretty well pick up on the differences pretty easily," Dalgetty said.
Gabriel Landrigan, a junior trombone player who is majoring in business administration, said he believes another characteristic the MBU Jazz Band possesses is a demonstration of humility among the members.
"I don't think there's any one player that stands out from our band. … I've been in bands where one person always got the solos and one person was favored by the director, but it seems like everyone's on equal terms here," said Landrigan. "There's plenty of opportunities for anybody involved to solo or to do something. We all view each other as equals. … We're not too worried about what other people are doing."
Bushery echoes similar sentiments in her thoughts on the attitude of the band members.
"I don't think there's that much pride going on. I think we all know each other and we know what's going on in each other's lives … so we don't compare ourselves to each other," Bushery said.
Spencer Toft, a sophomore trombone player who is returning to the band from last year, said he believes this attitude has a positive effect on the group's sound.
"In our group there's not very many selfish players. We all share solos and we all are good enough to know what it means to blend. We play with the sound of a group rather than the sound of a group of individuals," said Toft, a music education major.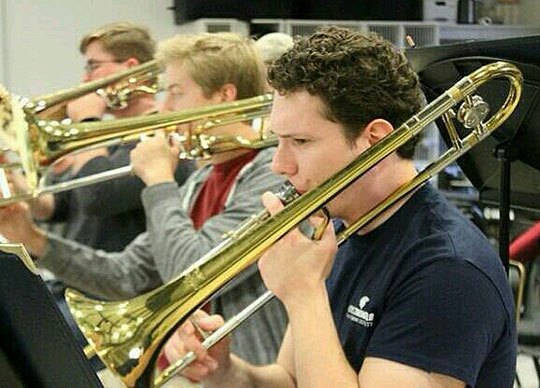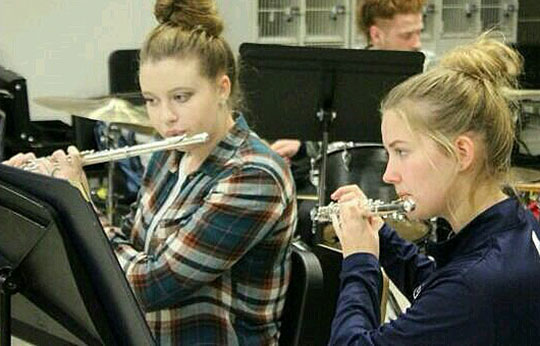 Being a veteran member, Toft has the benefit of seeing the similarities and differences from last year's band to this year's group.
"Whenever you're with a smaller group you have to know your part extremely well because it's very exposed, but when you're in the larger group you can get away not knowing your part as well … but at the same time you have a bigger sound and more opportunities with different timbres and stuff," Toft said. "It can also be more fun, you can solo above a bigger sound so you don't feel like you're just blasting away. There's also more opinions for like musical interpretations … we have more ideas."
Those ideas and opportunities coupled with the hard work lead to large payoffs and great satisfaction, according to Bushery.
"I think the end result is really satisfying. Just being on that stage and playing all that I've practiced … and just being able to show what I have. I don't really have to worry about playing everything perfect because I know I've practiced it all, and I just have to enjoy being up there, and I think that finishing after that and hearing the applause is really fun," Bushery said.
For Landrigan, fellowship and growing together spiritually and relationally with other members of the jazz band are what he gains most from playing in the ensemble.
"It seems like me and my fellow musicians are all working towards the same goal together to make awesome music and to glorify God while we do that, so I'd say what it brings to me is that spirit of fellowship and growing together, whether that's in musical ability or friendship itself," Landrigan said. "Music is definitely a key part of spirituality in any sense."
Since the MBU Jazz Band is representing a Christian university, one of its main goals is to glorify God and make Him known through its work.
Dalgetty said the gifts the members possess to make music can be an inspiration and bring glory to the Lord.
"We are able to use the gifts that God gave us to show people what we're capable of. Our gifts are shining when we're up on that stage. I think a really big thing about band is we use what we got from God to inspire others," Dalgetty said.
Williams, who pushes for the product of the MBU Jazz Band to be nothing short of excellence, said he believes this is how the band not only brings glory to God, but exemplifies the values of MBU.
"The first thing that is probably most apparent to believers and non-believers [about the band] is excellence, and God is a god of excellence. If you go look in 2 Chronicles it talks about those that played worship and it said that young and old alike, they were skilled, and so I think that excellence comes from being skilled in what we need to do," Williams said.
Additionally, Williams said faithfulness will naturally lead to showing others Christ through actions instead of words.
"The next thing is being faithful. God gives you something and if you're faithful with that he'll give you more," Williams said. "And then with all of that taking us into places where we can be the salt of the earth with a simple thing of even holding a door for someone, they see what you represent and you didn't have to tell them about Jesus verbally, but you did by your actions because you acted Christ-like."
As the holidays approach, the MBU Jazz Band's schedule ramps up as it will be performing at events around campus.
On Tuesday, Nov. 27, the band will be playing in the Perk at the Hanging of the Green following the outdoor festivities, and on Friday, Dec. 7, the MBU Jazz Band will be playing a private show for donors in the Mabee Great Hall preceding the MBU Fine Arts Christmas Concert.
Additionally, Williams plans to take the band on a local tour in the spring to various high schools to showcase the group and recruit new members.
Williams said he believes there is great potential for the group and an excitement in the members to demonstrate their skills and use their gifts to glorify God.
"I think for those who have been in a smaller group it's incredible excitement because now we've [gone] full, and for those that are new I think it's excitement for them because we've got some players now," Williams said.
Williams' vision has cultivated the atmosphere he desires to create: one of a family.
The family he has made is one he pushes to make Christ known while embedding in each other bedrock principles of Christianity, like humility and encouragement, and as Landrigan said, they are making a "joyful noise for the Lord."