Classic Musical "Anything Goes" Sets Sail at MBU
Missouri Baptist University's Theatre Department is bringing the classic Broadway musical, "Anything Goes," to the stage this week, opening Thursday and running through the weekend, as the fourth show in MBU Theatre's 2018-19 season.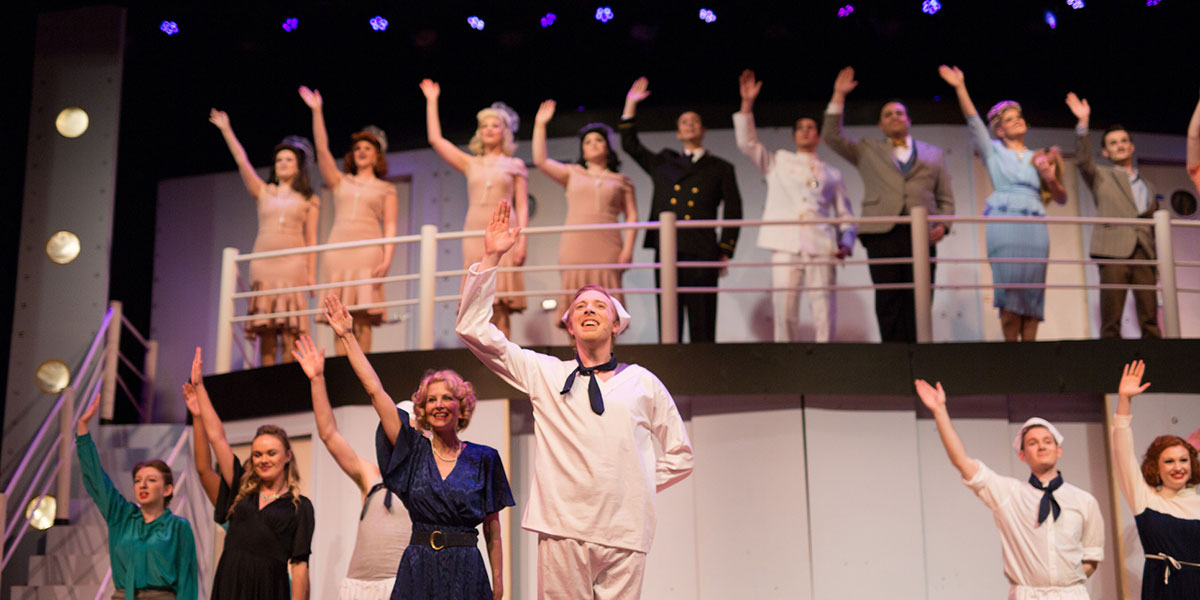 Photo by Shelby Boos
Rehearsals have been ramping up and wrapping up in the past couple of weeks as "Anything Goes" opens Thursday in the MBU Chapel, running through the weekend.
_________________________________________________
With loads of dancing and music, the age-old tale of boy meets girl is brought to life in "Anything Goes," a story of crazy antics happening aboard an ocean liner bound from New York to London in 1934 in one of Cole Porter's most beloved musicals.

"This show is unlike anything you have seen yet on the MBU stage," Kasey Cox, the director of the musical and director of theatre at MBU, said in an email. "I truly believe it sets the stage for what is to come in our department with the new dance minor and with the excellent talent we already have and also expect to be coming in this fall."

The performances will run from Thursday, March 21, through Sunday, March 24, on the stage of the Pillsbury Chapel & Dale Williams Fine Arts Center at MBU's main campus. The musical begins at 7:30 p.m. Thursday through Saturday, with a 2 p.m. matinee performance on Sunday.

There is also a free reception with light refreshments for faculty, staff and alumni at 6:30 p.m. on Friday, March 22, preceding the performance that night. Click on this link to register for the reception.

This classic musical, with music and lyrics by Porter and book by Guy Bolton and P.G. Wodehouse (which was later heavily revised by Howard Lindsay and Russel Crouse), has enjoyed popularity since its Broadway debut in 1934, including two movie adaptations in 1936 and 1956. The 1987 and 2011 Broadway revivals both won three Tony Awards including "Best Revival of a Musical."

"'Anything Goes' is Cole Porter's hilarious take on the wealthy during the Great Depression. It's also a biting satire on the celebrity culture of the time and the elevation of criminals to celebrity status," said Cox, pointing to Bonnie and Clyde as examples. "It was written in 1934, but it is every bit as relevant and fun today as it was when it was penned."

_____________________________________________________________________________

PRODUCTION TEAM AND CREW:

♦ Director – Kasey Cox
♦ Music Director – Michael Frazier
♦ Assistant Director – Sarah Dickey
♦ Choreographer – Claire Horrocks
♦ Stage Manager – Rachel Yarbrough
♦ Assistant Stage Manager – Alexis Womble
♦ Costume Designer – Andrea Robb
♦ Assistant Costume Designer – Jon Ellison
♦ Set Designer – Jason Stahr
♦ Lighting Designer – Sarah Dickey
♦ Sound Designer – Jon Zielke
♦ Props Designer – Melissa Harlow
♦ Run Crew – Christian Akridge, Will Launsby, Whitney Weber, Victoria Zilke

_____________________________________________________________________________

TICKET INFORMATION:

—General Admission in advance: $15

—General Admission at the door: $18

—Seniors (65+)/Alumni/Faculty/Staff: $10

—Non-MBU Students: $5

—MBU Students: $2.50 (limit two per school ID)

For more information or to purchase tickets, contact the MBU Box Office at (314) 392-2345 or visit www.MBUBoxOffice.com

Contact MBUTheatre@mobap.edu for online discount codes.

_____________________________________________________________________________

CAST MEMBERS:

♦ Reno Sweeney – Eliana Steele
♦ Billy J. Crocker – Cameron Tyler
♦ Hope Harcourt – Lindsey Peters
♦ Sir Evelyn Oakley – Tyler Gruen
♦ Moonface Martin – Nathanael Pezzo
♦ Erma – Alle Head
♦ Mrs. Evangeline Harcourt – Melody Valen Quinn
♦ Elisha J. Whitney – Chandler Spradling
♦ Captain – Jason Mallory
♦ Purser – Daniel Dilworth
♦ Chastity, Angel #1 -Kayla Dressman
♦ Charity, Angel #2 – Jenevieve Lafferty
♦ Purity, Angel #3 – Lindy Elliott
♦ Virtue, Angel #4 – Rebekah Side
♦ Minister Henry T. Dobson/Sailor – Joel Brown
♦ Sailors – Aaron Williams, Brandon Janssen, Hayden Bennett
♦ Ensemble – Priscilla Case, Jamie G'Sell, Brea Johnson, Lance Leonard, Erin Morris, Alicia Neale, Cody Peters, Haley Sandvoss, Madelyn Shotton, Gabriel Stahr
Tags: Aaron Williams, Alexis Womble, Alicia Neale, Alle Head, Andrea Robb, Anything Goes, Brandon Janssen, Brea Johnson, Broadway, Cameron Tyler, Chandler Spradling, Christian Akridge, Claire Horrocks, Cody Peters, Cole Porter, Daniel Dilworth, Eliana Steele, Erin Morris, Gabriel Stahr, Guy Bolton, Haley Sandvoss, Hayden Bennett, Howard Lindsay, Jamie G'Sell, Jason Mallory, Jason Stahr, Jenevieve Lafferty, Joel Brown, Jon Ellison, Jon Zielke, Kasey Cox, Kayla Dressman, Lance Leonard, Lindsay peters, Lindy Elliott, London, Madelyn Shotton, MBU Theatre, MBU Timeline, Melissa Harlow, Melody Valen Quinn, Michael Frazier, Nathanael Pezzo, New York, P.G. Wodehouse, Play advance, Priscilla Case, Rachel Yarbrough, Rebekah Side, Russel Crouse, Sarah Dickey, Tony Award, Tony Awards, Tyler Gruen, Victoria Zilke, Whitney Weber, Will Launsby

Daniel Dilworth
Daniel Dilworth is a staff journalist for MBU Timeline. Daniel majors in theatre and communications studies with a double minor in journalism and public relations. He also works as the public relations intern for University Communications. Daniel enjoys being a part of telling meaningful stories, through performing arts and modern media.