The Wolf Cafe, located in Ballwin, features live music and a comprehensive menu riddled with healthy options capable of fulfilling the most discerning expectations of anyone's palate.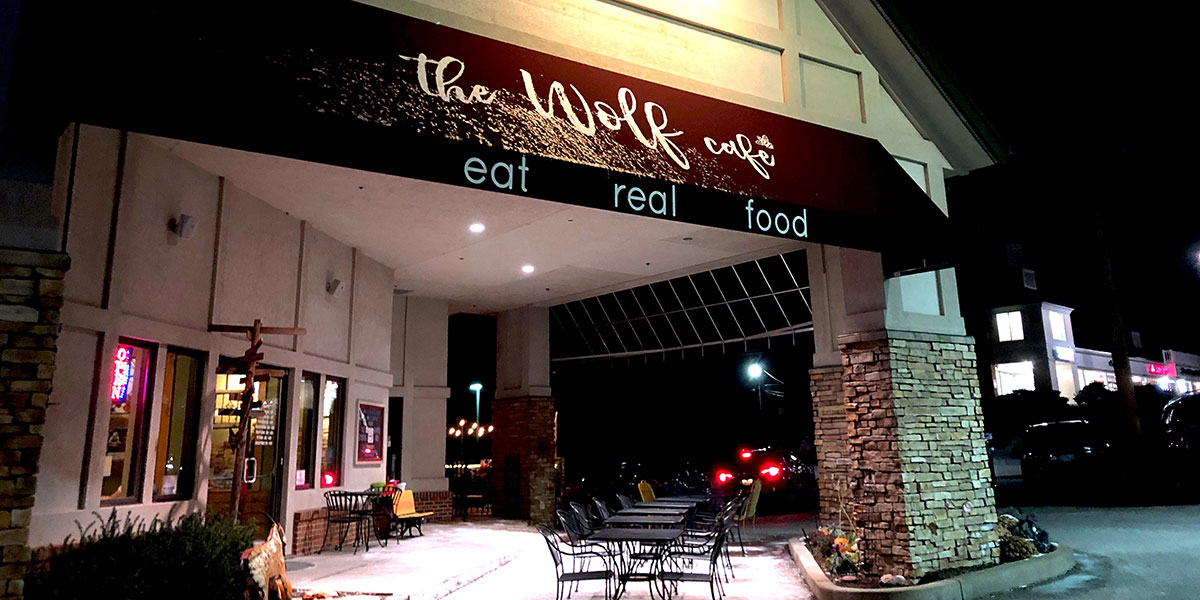 Photos by Trevor Chaney
Name:
The Wolf Cafe
Location: 15480 Clayton Road, Ballwin
Price: $$
Rating: ****
__________________________________________________________________________
The Wolf Cafe, owned by Denise and Bob Diribin, is classy on the outside but homey on the inside. Stepping inside and seeing the classic coffee shop chalkboard menu adds a level of comfortability as a new customer.
The seating is odd but in a pleasant way. The tables are different shapes and finishes, and the chairs are different colors. There are two different dining rooms and a bar. Yes, this cafe has a bar with beer on tap focusing on local brews as well as an impressive wine list.
The menu at The Wolf Cafe is full of healthy options that accommodate both vegetarian and vegan diets.
As I browsed the menu, I was curious as to what would separate this place from other food establishments that lean on the healthy side. Most menus like to brag about how healthy they are by including buzz words like "organic" and "non-GMO," and some will even put a leaf symbol next to an item to remind you it's a healthy option. Not at The Wolf.
The menu speaks for itself. All the meat is from sustainable, ethical farms. They are also a certified member of the "Green Dining Alliance," meaning they are fully sustainable as a business and are committed to helping the planet by recycling.
The Wolf also provides a list of farms and vendors where its owners get their ingredients.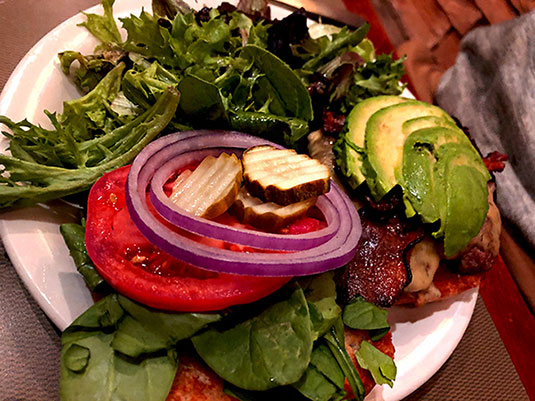 This is not the place to go if you want a buttered burger with onion rings. This is the place to go when you want something full of flavor that doesn't threaten your belt buckle.
As soon as I walked in, I was greeted by two workers behind the counter. After some thought, I decided to get their Portabella Rueben sandwich, and my friend ordered the Dill-bert Burger. Together we agreed to split an appetizer called the Companion Pretzel Bun.
The appetizer was a pretzel style bun with a blackberry mustard as well as a beer cheese dip. The beer cheese was not overly thick, and the flavor was deep. As you first taste it, the cheese is normal as expected, but the longer you chew the beer becomes evident.
The blackberry mustard was something I didn't expect to work, but it remains one of my favorite parts of the night as it exceeded my expectations. Its sweetness from the blackberry as soon as it hits your tongue followed by the bite of the mustard was something I wish I saw more of in the food industry.  
The only downside to this appetizer was we ran out of bread before finishing the cheese or mustard. A small price to pay for a wonderful starter.
The Rueben sandwich completely amazed me. It included grilled portobello mushrooms, sauerkraut, Swiss cheese and Russian dressing on rye.
The main reason why I was surprised is I had overlooked the fact that this sandwich has no meat. A Reuben sandwich without corned beef is a risky thing to put on any menu.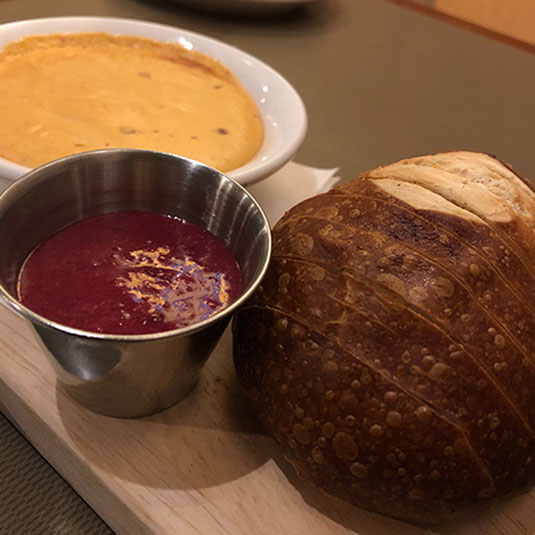 But here is the craziest part: It didn't take away from the flavor of the classic Reuben sandwich. It took me two bites to realize there was no meat. Instead of meat, they load it full of portobello mushrooms.
The whole point of ordering this was to see how well they prepared food at The Wolf because, in all seriousness, I hate sauerkraut and I don't like mushrooms.
But they managed to completely confuse my taste buds and make me appreciate the flavors I have always neglected.
Though I did not try the Dill-bert burger my friend ordered, he enjoyed it tremendously. It included nitrate-free bacon, avocado, dill havarti and dill pickles on a brioche bun.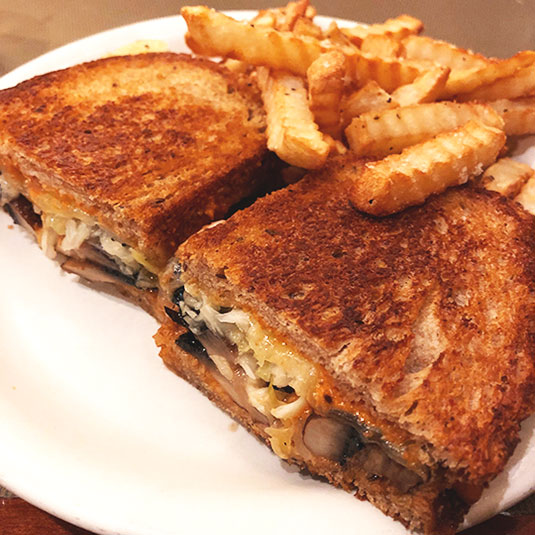 He did mention the side salad that came with it was sweet and tasted nothing like any salad he had before. It was also the first time he wished he had more salad to eat before getting to the main dish.
The service was great. The place wasn't packed but was in no way dead. About 22 people. We didn't require multiple visits from the hostess and any drinks we ordered were brought out to the table in an appropriate amount of time.
After dinner, we decided on the caramel pecan bar for dessert. I had mine with an American cappuccino.
I wish I could give you a sample of what the pecan bar tasted like. The second I took a bite I looked up to the front counter in amazement. How could they do something so special with flavors so simple?
This was something even grandma wouldn't be able to top. It capitalized the entire meal and sent me home satisfied and eager to try more of what The Wolf has to offer.
I highly recommend this place to anyone and everyone. It's very cozy and caters to the relaxed environment we all need to de-stress. I saw people at the bar watching the Blues game, I saw people with headphones typing on computers, and people, such as myself, having dinner and enjoying good food in a place that can't be duplicated elsewhere.  
I will be going back soon, whether it be for the food, coffee or comfort, and I am confident The Wolf Cafe will remain the humble, family owned jewel that I experienced.