After a record-breaking season in 2015, young Cole Stevenson is set to coach the Missouri Baptist men's and women's tennis teams this spring, while also working on his master's in business administration.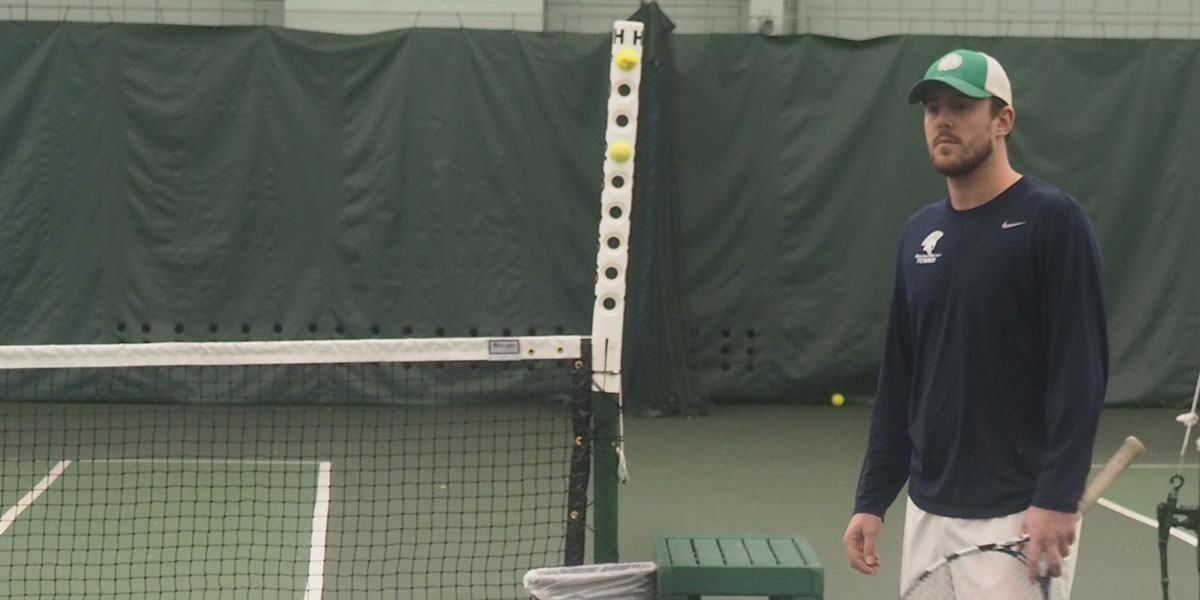 Photo by John Hough
____________________________________________________________
Sitting in a small but comfortable office on a cold winter day recently, Cole Stevenson was taking care of some matters on his desktop computer.
The 25-year-old from Florida, who was a player on the Missouri Baptist University men's tennis team just a few years ago, is going into his third season as head coach.
Stevenson is also the new head coach for the women's team, as he took over the reins for that team in July.
Apart from being the tennis coach at MBU, Stevenson is also a tennis pro at Creve Coeur Racquet Club, located less than a mile away from campus off Conway Road, where he teaches private lessons and clinics about 30 hours a week.
"It's a full workload," Stevenson said, who added that coaching tennis was never in his plans. "It never even crossed my mind. The plan was to get my master's in business administration and see where that goes."
One of his eventual goals is to be in the front office of a professional sports team.
As for Stevenson's coaching duties, he can't wait to start the season off again on Feb. 12 against McKendree University. "We took a big step from two years ago."
Last season he guided the Spartans to a 10-7 record and the team beat Grand View University, 6-0, to give MBU its first-ever conference tournament victory in school history.
Five players were listed to either the first team or second team AMC-All Conference.
Drew Morris was First Team All Conference in singles, while Quinton Argent got First Team All Conference in doubles. Conner Stevenson and Yano Herve earned Second Team All Conference honors in doubles.
The Spartans lost a couple key players, who were some of the top singles players on the team, but Stevenson retains most of his roster.
"Graduated my No. 1 and No. 3, but brought five new guys that will all play top eight," he said. "We're pretty excited."
Stevenson was raised in Florida and attended Southeastern College in Lakeland. Even though he played tennis at Southeastern, baseball was his primary sport.
"I played baseball through my first year and a half in college and I played tennis as well, but not as much as baseball," he said.
However, when Stevenson transferred to MBU he had to choose one or the other because baseball and tennis seasons coincide. So he chose tennis.
He describes himself as "a doubles player" that "liked getting to the net, volley, chip and charge."
Because of his late start as a tennis player, Stevenson found life at the net more suitable.
"Since I started late — most tennis players start young — my ground strokes weren't as polished as most people I was playing," Stevenson said. "I found getting to the net suited me better."
Getting to the net and doubles play are what Stevenson specializes in through his coaching method, and he instills it in his team.
"For the last couple of years as a team we've been even a better doubles team than we are a singles team," he said.
One example of that was when the Spartans played Graceland College, who was ranked in the top 20 of the NAIA polls. MBU beat the Yellowjackets 2-1 in doubles, but eventually lost the match.
In the conference tournament the Spartans beat everyone in the doubles department, including a couple of shutouts.
For this upcoming season Stevenson has high expectations for his doubles squad.
"We've always been a good doubles team and this year's no different," he said.
Last season the Spartans went 32-18 in doubles competition and look to continue the trend this upcoming campaign.
"We're going to have eight really good doubles players and only six of them can play, so it's a good problem to have," he said.
The players he's inherited and recruited have been great in terms of character and behavior.
"I've been really lucky and blessed that I've gotten real high character players, real easy to deal with," Stevenson said. "In that regard it's been pretty easy because I haven't had to deal with a lot of drama, behavioral issues, suspensions, academic problems, anything like that."
The team practices, travels and does fundraisers together to create team bonding.
After opening up with McKendree, the Spartans will play host to Lindenwood University on Feb. 26 at 7:30 p.m.
Later in March MBU will travel to the University of Illinois Springfield on March 4 and will come back home to host Fontbonne at 4:30 p.m. three days later. For more scheduling information click here.
The Lady Spartans are coming off a 3-11 season, but are also relishing the prospects of the upcoming season with six incoming freshmen.
The trend has already started to improve as MBU went 2-2 in fall preseason play. Click here for more scheduling information on the Lady Spartans.
The first match of the season takes place Friday, Feb. 5, at Principia College in an early season tournament.
Next week the Spartans play at McKendree University at 11 a.m. on Feb. 12 and then host Lindenwood University at 7:30 p.m. on Feb. 26.
The job of being a tennis coach has given Stevenson some challenges, but overall he claims to have settled in with the position, starting with the players he has to coach.
"It's been pretty smooth," he said. "At times it's tough. I got both teams now, just being by myself with two full teams of 14 kids each, but the players have been really good about it."
Then there is the recruiting game, which is always interesting.
"I have a lot of different recruiters that I talk to on a weekly basis," Stevenson said. "It's a tough mix because we do have a lot of players from St. Louis, but our men's (team) has a lot of internationals too."
The men's tennis team has tennis players hailing from a host of countries from all over the world.
Argent and James Tobin come from Australia, Lucas Oliveira and Ricardo Martin are Brazilians, Dylan Walker and Nicoy Rolle hail from the Bahamas, while Igor Dudun is from Ukraine.
"A lot of international kids have recruiters that help them find schools and get connected," Stevenson explained.
Creve Coeur Racquet Club is where the Spartans host their tennis matches as well as practice.
Stevenson is grateful for how he and the teams are treated at the club.
"They're really good to us," he said. "They give us a lot of court time. We do a lot of indoor practices there and all of our outdoor matches on their outdoor courts."
Officially Stevenson is a business administration major, but his track record has proven that MBU has made a shrewd move to hire him as head coach of the men's and women's tennis teams.
So far, under his guide, the future is looking bright at MBU tennis.