Taylor Klingelhoefer, who has recently overcome the 1,000-point mark in her collegiate basketball career at Missouri Baptist University, discusses the struggles and challenges along the way.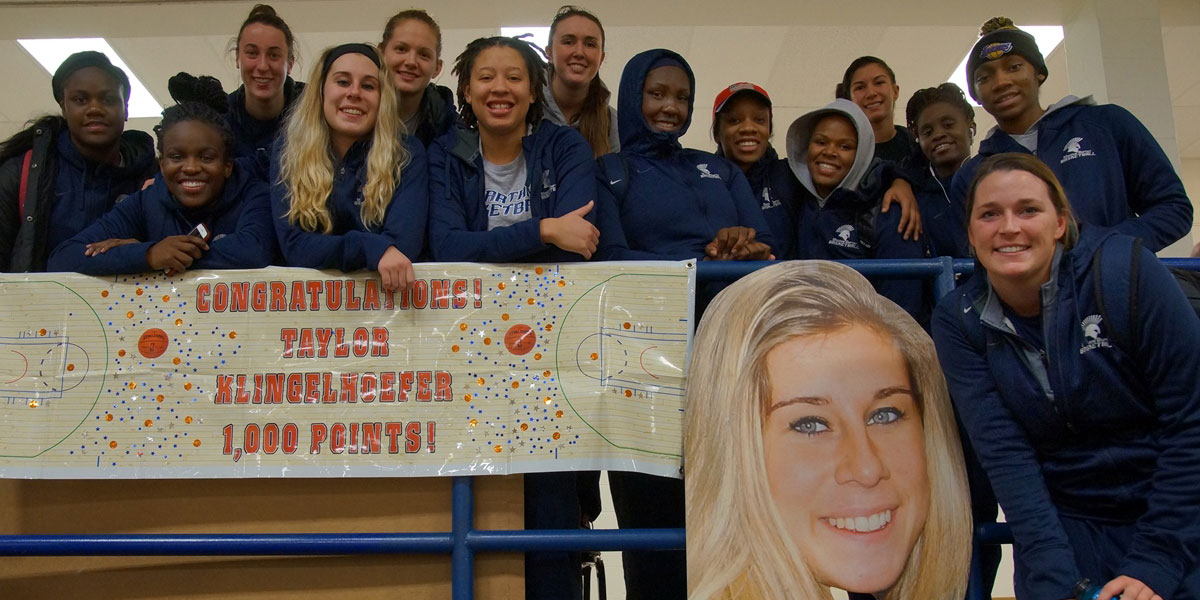 Taylor Klingelhoefer, fourth from left, poses with her teammates who are congratulating her on reaching the 1,000-point milestone.
__________________________________________________
"I thought just about quitting, because it was too much," said Taylor Klingelhoefer. One thousand points later, the MBU women's basketball standout is glad she changed her mind.
Klingelhoefer, a senior guard from O'Fallon, Ill., said she talked to her friends and parents who told her to never give up.
After reaching the 1,000 career point milestone Jan. 14, Klingelhoefer admitted: "This was worth it." Klingelhoefer averages 10.7 points per game.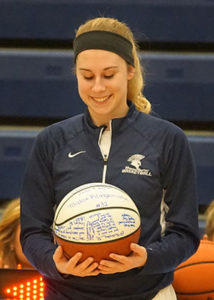 She also reached 1,000 career points at O'Fallon Township High School in 2012, but trying to decide on a college was a real obstacle.
Klingelhoefer said she had to overcome a lot of rejection throughout her career.
"Division II schools were saying I wasn't big enough and strong enough and they said I have the talent, but not the body to play. It was heartbreaking," she recalled.
God eventually led her to MBU. Coach Iris Dixon said Klingelhoefer was recruited out of high school for both her basketball abilities and also her cross country skill.
Coach Dixon gave her the chance to play her freshman year and Klingelhoefer thought if she did it in high school she could reach 1,000 points again as a Spartan.
"It just started from there. My parents always said, 'Oh you know you're at the 500-point mark' right after my sophmore year ended. So I was like, 'Hey, I'm on pace, I could actually do it.'"
With all her stress and anxiety she didn't know who to talk to about her struggles.
She said she just prayed about it, asking God, "You know what I should do, you're the only one that knows my plan. … I just never gave up on God and finally when I reached my thousandth point I was just like, 'This is all You.'"
After achieving her goal she recalls her encounter with Coach Dixon.
"She's a coach here, she's a teacher, head of NAIA eligibility center … she just does a lot for someone just to see you grow," Klingelhoefer said. "She gave me a hug. Said I'm proud of you. It was just very heartwarming."
Starting off college with the feeling of defeat and heartbreak, to ending with a heartwarming triumph, Klingelhoefer is a true example of what it means to be a Spartan who never gives up and who always remains persistent.
"I am extremely proud of her for starting here as a freshman and finishing her degree here at Missouri Baptist," Dixon said. "I'm extremely proud of her in everything she's accomplished."
From here she still has aspirations of increasing her free throw percentage, currently 80 percent, and national ranking, along with finishing school with a 4.0 GPA.