New MBU student John Hagan seeks to make a difference in the lives of his baseball teammates.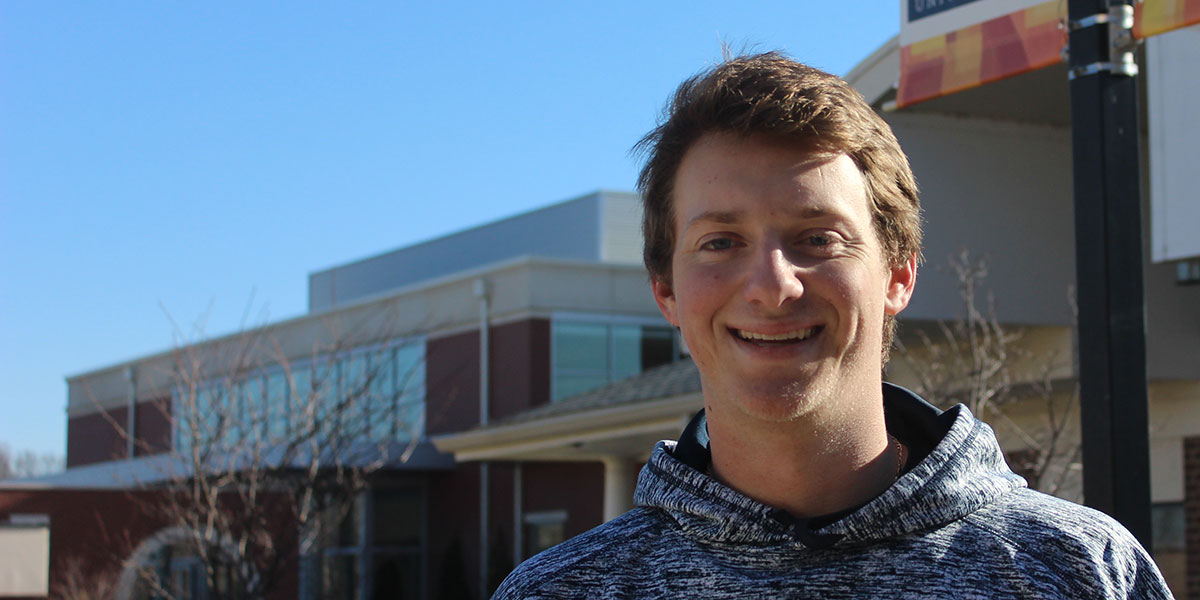 Photo by Jesse Kassebaum
__________________________________________________
For 21-year-old sophomore John Hagan life could not be better.
Playing first base for the MBU baseball team and majoring in marketing, Hagan said he believes he is in a place he has been praying about for a long time.
Things would never have been this way, however, had certain events not transpired.
This past August, Hagan wasn't even enrolled at Missouri Baptist but at a Seminole State College in Orlando, Fla.  
"I was getting ready for the season, I had already gone through orientation and I found out my classes had been dropped. … I wasn't going to be able to return to my junior college and play and I was beginning to wonder what God had in store for me," said Hagan.
A couple days went by before Hagan got a call from MBU's head baseball coach, Eddie Uschold, asking him to come and play for the Spartans.  
"I had never heard of Missouri Baptist before and I get the call on a Monday night and by 6 a.m. Tuesday morning my car was packed and I was headed up here."
During the drive from Orlando to St. Louis, God spoke to him the whole way, Hagan said.
"He told me that he was going to give me the fresh start that I had always longed for, he told me that I needed to trust in his plan," Hagan recalled. "But most importantly he mentioned how I was coming up here to minister to the guys on the team."
The last one in particular scared Hagan the most as he felt like he was not equipped to minister as he himself wasn't even a strong believer in God at the time.
"I had never truly been saved and had never truly lived for the Lord," Hagan said. "I was lost and was in a dark place at this time and God really challenged me to move forward and grow in him."
Hagan's second day on campus fell on a Thursday when MBU has its weekly chapel service.
The speaker that particular morning was pastor Marc Sikma of Matthias Lot Church, located in St. Charles, Mo.  
The message Sikma gave to the students that morning was on why we fear God's plan for our life. The message was perfect timing for Hagan.
After chapel, Hagan went up to Sikma and told him all of the things that were on his mind and what God had been speaking to him.
That day Hagan truly gave his life to God and submitted to him and his plan for his own life.
"Next thing you know I become friends with a guy on the team, Rickie Ross, who is also a believer and he brings me to his church (Matthias Lot) and from then on I really have just been encouraged and loved on by a bunch of awesome people that God has put in my life," Hagan said. "And I can't be more thankful for that."
Ever since that day Hagan has been a changed man with a different perspective on life.
"Before I came to know the Lord I had really just focused on myself and not other people. But through growing in my relationship with Christ, I have come to the realization that it is not about me and that I deserve nothing," Hagan said. "I feel like I have been humbled and have become less selfish and now my main focus in life is to just live for the Lord and to truly be a light in the dark for those who don't know him."
These perspectives have also changed his outlook on baseball and the way he approaches the game.
"I know that I am not playing for myself anymore, I am playing for the Lord and there is power in that," said Hagan.
However, he has not forgotten the reason God brought him to MBU and is actively talking to his teammates about God and bringing them to church.
One recent Wednesday night at church, Hagan was joined by seven of his teammates.
"I have been praying to God for this entire team since the day I got here. It was kind of hard last semester but now I am truly starting to see God work and I can tell you there is nothing more amazing than just watching God's plan and God's power unfold and devise right before your eyes," Hagan said. "It has truly been the most amazing thing that I have seen in my entire life. I am just so thankful and so overwhelmed with God's love and grace that it is just hard to put into words."
The story of Hagan and how God is using him is inspiring many across campus, and it is encouraging to know the work God has started in Hagan is not over, it has only just begun.
__________________________________________________
The video is MBU Timeline staffer John Hough's interview with Hagan, focusing primarily on the upcoming baseball season: