The 2015 men's soccer team finished the season with a 6-12 overall record, but they closed strong and head into next season with high hopes of major improvements, returning all but two of their starters.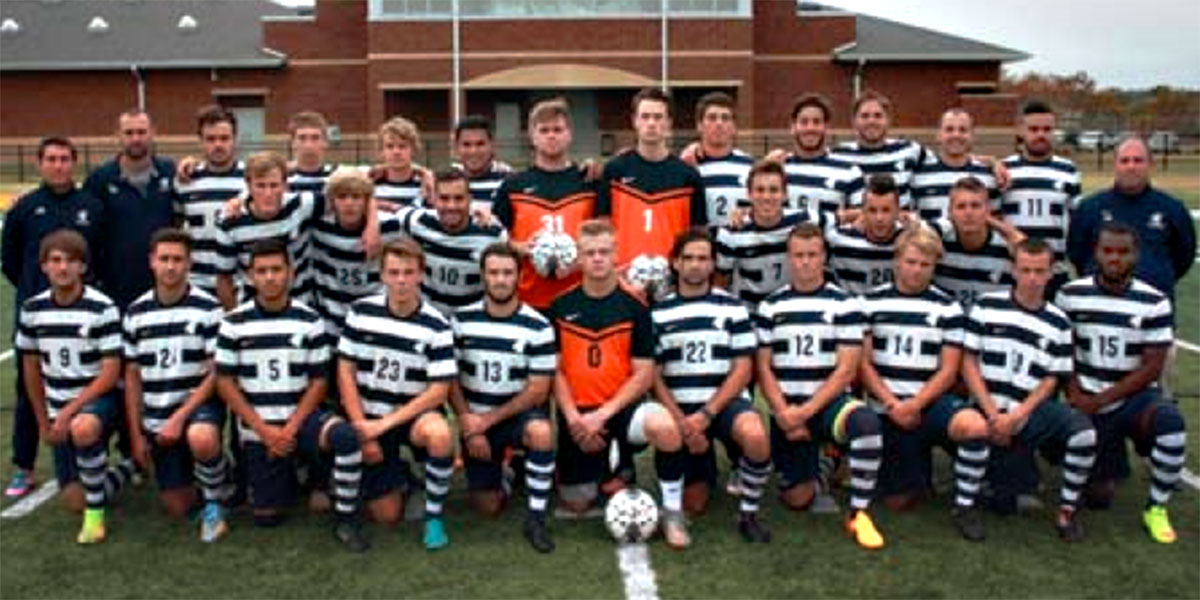 Photo courtesy of MBU Sports Information
__________________________________________________
The Missouri Baptist University men's soccer team was dealt an early exit in the 2015 post-season by conference champions Columbia College, losing a tough game, 3-0.
While the loss was heartbreaking, and the team finishing with a 6-12 overall record, it comes with a tremendous upside.
The team finished the year winning four of its last six games, with both losses coming to the Columbia College Cougars.
Of the 28-man roster, the Spartans are graduating only six seniors from the team, and only two starters.
Head coach Jake Alvernia is confident about returning key assets to the team next season.
"We are returning a good ammount of our guys from last season, as well as gaining a few players that we didn't have due to eligibility issues," Alvernia said. "We will miss Chad (Otec) and Chiva (Jose Villatoro) in the backfield, but the young guys looking to fill those spots are talented and have time to grow."
Sophomore Jerry Espinoza and freshman Josh Phillips combined for a total of 14 goals last season, scoring seven apiece.
With these two players returning for the 2016 season, the Spartans should have no problem scoring.
Espinoza has been spending his offseason time wisely, working out on a consistent basis and playing for a semi-professional indoor team, the Illinois Shockwave.
"I just have been lifting a lot, trying to get bigger and stronger, and working on my touches as well," he said.
The two main roles that need to be filled for next season are in the heart of defense, as both of the team's starting center backs from the 2015 season are graduating.
Sophomore Benjamin Randolph and freshman Christian Suarez both had considerable roles on the team this past season, and look to further those roles next fall.
Randolph has also been no stranger to the weight room this offseason, as he wants to be ready to take the reins.
"I have been lifting and running every day, and I have been watching my diet and adding supplements to help get my body where it needs to be," he said.
The Spartans are looking to be in great shape for next season, which starts Aug. 1, and if the returners keep up the work, it could lead to a successful campaign.
Connar Armstrong and Erick Ocampo are also among the returners, and will be seniors next season, hoping to provide the team with some veteran leadership.
With the winter workouts and spring season approaching, it should be great to see all of the hard work paying off on the field.
"The level has been pretty high in the training sessions so far, it is like we are training with the same team from the fall," Alvernia said. "The guys will really get a chance to prove themselves in the spring season."