Last year was a time for change at MBU. Most significantly, President Keith Ross was inaugurated as Missouri Baptist's seventh president in October 2018, and is now completing his first full year in the position.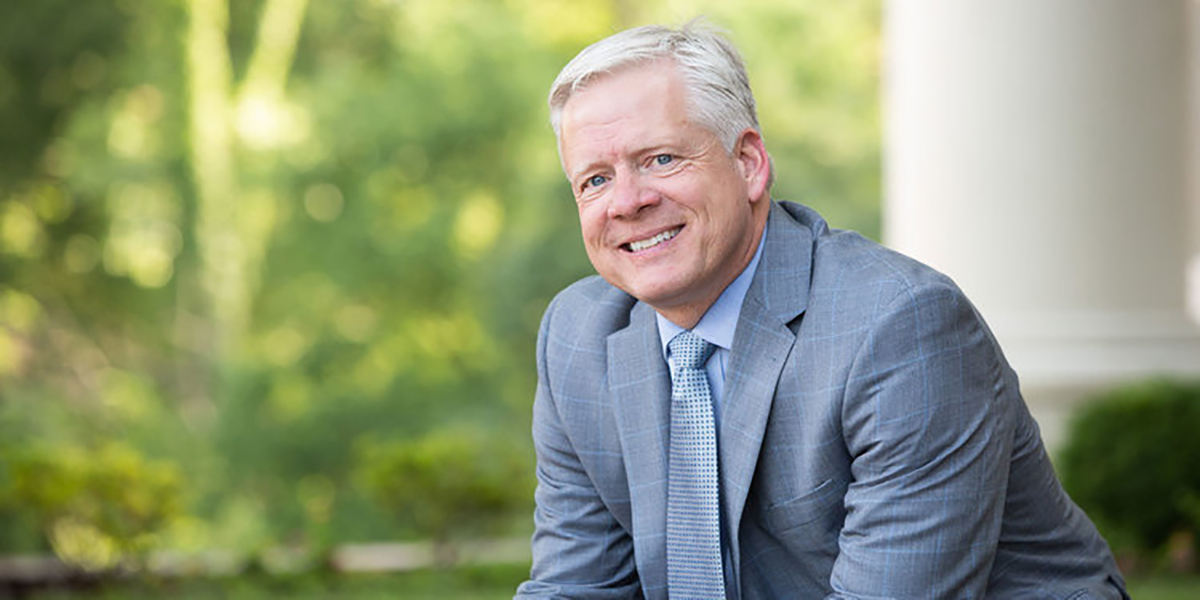 Photo courtesy of MBU

_________________________________________________
President Keith Ross was inaugurated as the seventh president of Missouri Baptist University this semester, and that afternoon in mid-October was a day full of celebration and reminiscing on MBU's past, while also looking toward the future.
Students, faculty, friends and family were invited to celebrate the occasion and learn about MBU's history as well as Dr. Ross' history with the university.
The event started with a walk through campus by Dr. Ross, followed by a processional of MBU faculty accompanied by the John Ford Highland Pipe Band.
Tess Boyer, former director of the Spirit Program and Community Relations, then performed the National Anthem in the Chapel.
Everyone attending joined in hymns as well as the congregational prayer for the president, written by Aaron Lumpkin, campus minister and director of faith and service.
Through the program, there were several mentions of Dr. Ross' history with MBU. He was a student at MBU, where he received his undergraduate diploma.
MBU is also where Dr. Ross met his wife, Ginger, campus first lady, who can be seen around campus planning and decorating for events.
Ginger's grandfather, Thomas S. Field, after whom the Field Building is named, was the interim college president from 1991-95 when he told his granddaughter she should finish her degree at MBU.
Ginger Ross was also part of the team involved in designing the new tartan, a traditional cloth woven into specific patterns, as well as Kaylee Adams, senior admissions counselor, Jenna Moore, freshman admissions counselor, and Jenny Sinamon, senior communications specialist.
"It took probably 10 months for it all to happen. I really enjoyed creating and working through the meanings behind each of the colors in the tartan," Adams said.
Each color represents a core value of MBU. The crimson color on the tartan stands for the blood of Christ, the light blue is like the sky reminding us to look to Heaven as we go through life. The dark blue symbolizes trust, loyalty and wisdom as we strive for excellence. The white stands for the integrity of the university and cultivation of character, and finally, the gray represents change achieved through alumni.
This is a season of change for the university. Through the past two semesters, students have seen apparent changes to campus.
Phase 2 of Spartan Field is in the works as well as other campus additions to improve student life. More details on this are mentioned in the embedded video.
Dr. Ross has also reflected on MBU's history, and the traditions MBU will maintain to preserve the small school culture and community as the university grows.
MBU has always embraced a culture of community, caring for neighbors and students, and keeping the faith.
Ross has been part of the community and culture since he was a student when he hung out at The Perk and participated in many campus activities that students do today.
He wants to foster the culture and continue to make steps toward a successful future for MBU. 
Dr. Ross also reflected on lessons he learned from Dr. Alton Lacey, the university's sixth president who was at the helm for 23 years.
"He was invested here," said Ross. "One of the things that stands out about Dr. Lacey, to me, is that he came in here and he had a vision of what he wanted to do. He had a plan. He helped us all develop a strategic plan."
Students, faculty and staff have much to look forward to in the future, as well as remembering MBU's core values and importance of community and culture as MBU changes with its students.